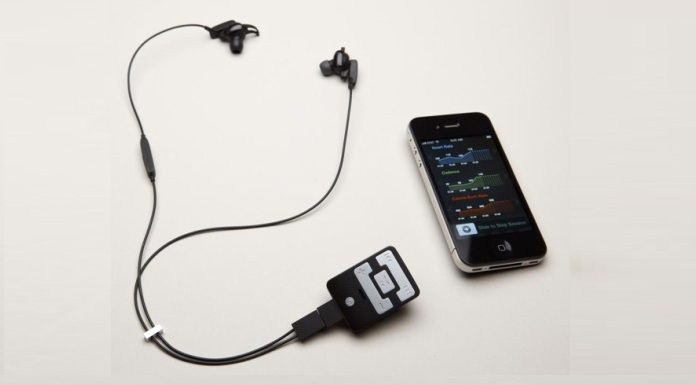 Valencell, the leading innovator in wearable biometric data sensor technology, and FIIL, a leading designer and innovator for audio products, today announced that Valencell's PerformTek® technology has been integrated into FIIL's new Carat Pro Wireless Earphones, delivering accurate monitoring of fitness biometrics in a stylish wireless earphone device.
FIIL will launch the Carat Pro at CES® 2017, taking place January 5-8, 2017 in Las. A media event featuring the FIIL Carat Pro will be held in the Valencell CES booth (Tech West, Sands Expo, Level 2, booth #44330) on Friday, January 6 at 10:00 a.m. PST.
The Carat Pro are innovative in-ear wireless earphones with the ability to deliver accurate tracking of fitness biometrics, real-time audio coaching, voice search and music storage with a nine-hour battery life. The Carat Pro incorporates Valencell's patented PerformTek biometric measurement technology, which enables users to monitor multiple personal biometrics such as: heart rate, VO2 and VO2 max, calories burned, distance, duration, speed and cadence, among other biometrics.
Additionally, the Carat Pro features patented Speed Dependent Sound (SDS) Technology, an innovative technology that monitors the user's heart rate and speed and provides corresponding sound effect beats – switching between bass and normal music level with a balanced treble and bass – to move the user through a workout.
The Carat Pro supports five different fitness activities, including running, cycling, walking, yoga and indoor training, and will enable the end-user to monitor fitness levels and train with unmatched accuracy. The Carat Pro earphones also feature a nine-hour battery life, the longest on the market for a wireless earbud product that combines superior audio quality and biometric monitoring technology.
"We designed the Carat Pro to deliver the best audio quality and the best heart rate monitoring in a stylish, innovative wireless design," said Wang Feng, FIIL President. "Valencell's PerformTek technology is the most accurate biometric technology in the world, enabling us to create a high-performance fitness earphone unlike any others currently on the market. We are confident that it will exceed user expectations in form and function."
"We continue to see massive growth in hearables, particularly in wireless sports earbuds, where more accurate biometrics, smaller form factors and longer battery life are driving growth," said Dr. Steven LeBoeuf, president and co-founder of Valencell. "FIIL chose Valencell because we provide a complete biometric sensor system for hearables and wearables, and our team has unmatched experience and expertise in designing, testing, and manufacturing biometric wearables at scale."
Valencell's PerformTek sensor systems provide accurate, robust and flexible technology, powering more biometric hearables and wearables on the market than any other company, at the ear, arm, and wrist. The technology gives wearable devices the ability to continuously and accurately measure blood flow signals, even during extreme physical activity or when the optical signals are weak. These signals can be translated into biometric data, including continuous heart rate, VO2 and VO2 max, resting heart rate, heart rate response, heart rate recovery, continuous energy expenditure (calorie burn), cardiac efficiency and heart rate variability assessments.
Valencell provides its biometric sensor technology through it Benchmark sensor system, a turnkey biometric sensor system with the complete PerformTek technology package ready for immediate integration into wearable and hearable devices. Valencell also offers product licensing and patent licensing, to enable customers to create custom-designed biometric hearable and wearable devices.
Valencell has the most cited patent portfolio in wearable PPG in the industry, which includes 39 patents granted and more than 90 additional patents pending.
Valencell's PerformTek technology is the choice of popular consumer electronics brands, including Bose, Sony, LG, Intel/SMS Audio, Jabra, and Scosche, among numerous others. To learn more about acquiring Valencell technology, visit valencell.com/access.
Valencell will be showcasing its highly accurate PerformTek biometric sensor technology in Tech West, Sands Expo, Level 2, booth #44330 at CES® 2017, taking place in Las Vegas from January 5-8. To arrange a briefing, please contact: 
media@valencell.com
.
About FIIL
Established in 2015 and headquartered in Beijing, China, FIIL designs and produces audio products that accommodate the needs of massive musicians, who love music and are picky with the quality of sounds. Our core team members include popular rock music artist Wang Feng and experts from top-notched companies like Huawei, Plantronics, Lenovo, BMW, etc. We are committed to making fairly priced, fashionably designed, and most importantly, superiorly sounded products that could accommodate to every subtle circumstance, and fulfill every unsatisfied need.
About Valencell
Valencell develops performance biometric sensor technology and provides this patent-protected technology to consumer electronics manufacturers, wearable and hearable device makers, sports and fitness brands, medical device makers, and gaming companies for integration into their products. Valencell's PerformTek® biometric sensor technology employs active signal characterization, the process of segmenting raw signal data from biometric sensors into biological, motion, and environmental signals and noise. Valencell has invested years into the research and development of its PerformTek sensor technology, protected by dozens of granted patents and independently validated by the Duke Center for Living, North Carolina State University, the Human Performance Laboratory and a fellow of the American College of Sports Medicine.