Dr. Steven Nissen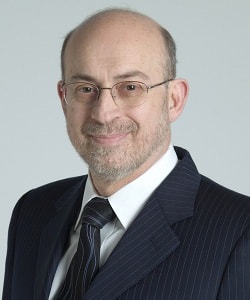 Steven Nissen, MD, is the Chairman of the Robert and Suzanne Tomsich Department of Cardiovascular Medicine at Cleveland Clinic's Sydell and Arnold Miller Family Heart & Vascular Institute. He was appointed to this position in 2006 after serving nine years as Vice Chairman of the Department of Cardiology and five years as Medical Director of the Cleveland Clinic Cardiovascular Coordinating Center (C5), an organization that directs multicenter clinical trials.
Dr. Nissen's research during the last two decades has focused on the application of intravascular ultrasound (IVUS) imaging to study the progression and regression of coronary atherosclerosis. He has served as International Principal Investigator for several large IVUS multicenter atherosclerosis trials.
Specialty/Clinical interests: General cardiology, intravascular ultrasound (IVUS), diabetes and the heart, drug safety, coronary intensive care
Experience: Dr. Nissen has more than 35 years of experience as a physician. He is world-renowned for his work as a cardiologist, patient advocate and researcher. Equally as significant is his pioneering work in IVUS technology and its use in patients with atherosclerosis.
Publications and Speaking: Dr. Nissen has written more than 350 journal articles and 60 book chapters, including many published in the New England Journal of Medicine and the Journal of the American Medical Association. In recent years, he has also written on the subject of drug safety and was the author of manuscripts highlighting concerns about medications such as Vioxx™, Avandia™, and muraglitazar.
He has testified in both the Senate and the House of Representatives on the topic of drug safety as well as the need to reform the Food and Drug Administration (FDA).
As a physician/scientist, Dr. Nissen is often called on by pharmaceutical companies to consult on the development of new therapies for cardiovascular disease. He maintains a long-standing personal policy that requires these companies to donate all related honoraria directly to charity.
Dr. Nissen is currently the editor of Current Cardiology Report. In 2007, he was listed as Time Magazine 100 Most Influential People in the World – Scientists and Thinkers."
He is heavily involved with the American College of Cardiology (ACC), serving as President from March 2006 to March 2007, a member of the ACC Executive Committee from 2004 to 2008, and spending 10 years as a member of the organization's Board of Trustees. In addition, Dr. Nissen has served several terms on the Program Committee for the ACC Annual Scientific Sessions.
Dr. Nissen served as a member of the CardioRenal Advisory Panel of Food and Drug Administration (FDA) for five years, and as chair of the final year of his membership. He continues to serve as a periodic advisor to several FDA committees as a Special Government Employee.
Dr. Nissen frequently lectures at national and international meetings. He has served as visiting professor, or provided Grand Rounds, at nearly 100 institutions.
About Dr. Nissen: "I am fiercely independent and don't accept compensation from industry for consulting or speaking.
Leisure time activities: In his leisure time, Dr. Nissen likes to bicycle whenever possible. He is also an advanced amateur photographer.
Cleveland Clinic is a nonprofit multispecialty academic medical center that integrates clinical and hospital care with research and education. Located in Cleveland, Ohio, it was founded in 1921 by four renowned physicians with a vision of providing outstanding patient care based upon the principles of cooperation, compassion and innovation. Cleveland Clinic has pioneered many medical breakthroughs, including coronary artery bypass surgery and the first face transplant in the United States. U.S. News & World Report consistently names Cleveland Clinic as one of the nation's best hospitals in its annual "America's Best Hospitals" survey.
Among Cleveland Clinic's 51,000 employees are more than 3,500 full-time salaried physicians and researchers and 14,000 nurses, representing 140 medical specialties and subspecialties. Cleveland Clinic's health system includes a 165-acre main campus near downtown Cleveland, 10 regional hospitals, more than 150 northern Ohio outpatient locations – including 18 full-service family health centers and three health and wellness centers – and locations in Weston, Fla.; Las Vegas, Nev.; Toronto, Canada; Abu Dhabi, UAE; and London, England. In 2016, there were 7.1 million outpatient visits, 161,674 hospital admissions and 207,610 surgical cases throughout Cleveland Clinic's health system. Patients came for treatment from every state and 185 countries.