Huseyin Sancar Bozkurt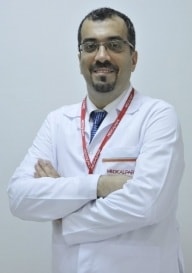 Huseyin Sancar Bozkurt has completed his PhD at the age of 24 years from Trakya University and İnternal Medicine at the age of 30 from Çukurova University. He has completed gastroenterology education at the age of 33 years from Adana Başkent University.
He had first documented cases about clinical applications.He is interested in gastrointestinal microbiota and  He added two hypothesis about microbiota in medical literature.He is the owner of Intracolonic Bifidobacterium Application.He has published multiple national and international papers.
Membership
American Gastroenterological Assocıation as a member Academy of Educators and Forum Community
Turkish Gastroenterology Assocıation
Getting into the act in the Turkish hospital business since 1995, Medical Park Hospitals Group serves patients in 29 hospitals located in 17 cities. It is, now, the pioneering actor of the sector with closed area of 718 thousand and 965 square meters, 211 operating rooms, 5 thousand 240 beds and more than 16.000 employees.
Enabling all patients, irrespective of socioeconomic status, access healthcare services at international standards based on the principle "healthcare for all", Medical Park not only closely monitors all advanced technologies and therapeutic methods worldwide, but it also aims to serve as a model which supports science and innovative practices.
Gathering specialists, patient-oriented service approach and multi-disciplinary work in one roof, Medical Park Group of Hospitals provides quality diagnostic and therapeutic services in all hospitals, including four accredited by Joint Commission International (JCI).
Medical Park continues adding new members to the chain in accordance with the principle "it is every people's right to live healthy and have equal access to healthcare services and it takes firm steps to spread all regions of Turkey and to increase healthcare standards based on advanced technology, with no sacrifice from medical ethics.Continuously setting higher service standards and combining ease of access, experience and volume with patient oriented treatment approach, our Group aims to create a totally new vision in the healthcare sector with the brand"VM Medical Park".