Nancy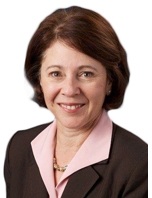 Nancy is committed to delivering the level of clinical effectiveness required in a post-Affordable Care Act world while executing the AirStrip value proposition: transforming healthcare through mobility and interoperability, and optimizing operational effectiveness both internally and with clients.
An American Society of Quality Certified Six Sigma Black Belt, Nancy served most recently as Senior Vice President, Chief Quality and Safety Officer at St. Joseph Health. Nancy previously spent ten years as Senior Vice President – Clinical Effectiveness of Sharp HealthCare in San Diego and led the initiative that resulted in Sharp HealthCare receiving the 2007 National Malcolm Baldrige Quality Award. In both positions, Nancy also served on the steering committees responsible for strategic IT decisions.
Before that, Nancy served as Vice President of Clinical Services at CliniComp, Intl., where she supervised product design, implementation, training, testing and quality including technical documentation of newly developed software applications and enhancements.
AirStrip® (www.airstrip.com) provides a complete, vendor- and data source-agnostic enterprise-wide clinical mobility solution, which enables clinicians to improve the health of individuals and populations. With deep clinical expertise and strong roots in mobile technology and data integration, AirStrip is empowering leading health systems globally as the industry continues to evolve at a rapid pace. Based in San Antonio, Texas, AirStrip allows health systems to unlock the full potential of their existing technology investments with a complete mobility solution that provides access to critical patient data across the care continuum. AirStrip is backed by investments from Dignity Health, St. Joseph Health, the Gary and Mary West Health Investment Fund, Sequoia Capital, Qualcomm, Inc., Leerink Partners, Hospital Corporation of America (HCA) and the Wellcome Trust. AirStrip's base of visionary clients includes HCA, Tenet Healthcare, Dignity Health, St. Joseph Health and Ardent Health Services.