Boca Raton Regional Hospital is an advanced, tertiary medical center (BRRH.com) with 400 beds and more than 800 primary and specialty physicians on staff. The Hospital is a recognized leader in Cardiovascular Care, Oncology, Women's Health, Orthopedics, Emergency Medicine and the Neurosciences, all of which offer state-of-the-art diagnostic and imaging capabilities. The Hospital is a designated Comprehensive Stroke Center by the Florida Agency for Health Care Administration (AHCA).
Boca Raton Regional Hospital was recognized in U.S. News & World Report's2017 – 2018 Best Hospitals listing as a Top Ranked Regional Hospital in the South Florida metropolitan area and the highest ranked hospital in Palm Beach County. For the second year in a row, Boca Regional earned the 2016/2017 Consumer Choice Award by National Research Corporation (NRC). Boca Regional was the only hospital in Palm Beach County to earn such a distinction.Boca Raton Regional Hospital was also the recipient of the 2014 Distinguished Hospital Award for Clinical Excellence™ for 10 years running and was named one of America's 50 Best Hospitals in 2011, 2012, 2013 and 2014, both by Healthgrades®.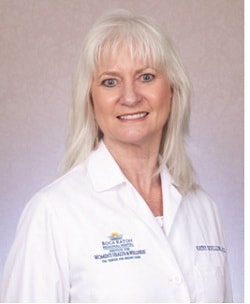 MD
Kathy Schilling, MD, is a board-certified radiologist and the Medical Director of the Christine E. Lynn Women's Health & Wellness Institute at the Boca Raton Regional Hospital in Boca Raton, FL,...