Dr. Kathy Schilling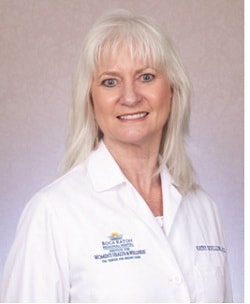 Kathy Schilling, MD, is a board-certified radiologist and the Medical Director of the Christine E. Lynn Women's Health & Wellness Institute at the Boca Raton Regional Hospital in Boca Raton, FL, USA.
Dr. Schilling joined Boca Raton Regional Hospital in 1988 and became the Medical Director of Imaging and Intervention for the Schmidt Family Center for Breast Care at the Institute two years later. Under her stewardship, the Center has become the most experienced and comprehensive program in the region, performing over 100,000 diagnostic and therapeutic procedures a year. She now leads the medical team at the new Women's Institute, which opened in July 2015, and provides an expanded continuum of care that addresses a woman's unique medical needs from young adult through menopause.
An internationally-renowned radiologist and pioneering researcher in the field of women's breast health, Dr. Schilling performed the world's first positron emission mammography (PEM) biopsy at Boca Regional.
Dr. Schilling attended the University of Miami School of Medicine. She completed her internship at Jackson Memorial Hospital in Miami and her residency and fellowship programs at Mount Sinai Medical Center in Miami where she served as Chief Resident of Radiology. In 2001, she was awarded the coveted Wizmann Institute of Science Women of Vision Award.
She is a member of the American College of Radiology, Radiologic Society of North America, the American College of Nuclear Medicine and the Society of Breast Imaging.
Boca Raton Regional Hospital is an advanced, tertiary medical center (BRRH.com) with 400 beds and more than 800 primary and specialty physicians on staff. The Hospital is a recognized leader in Cardiovascular Care, Oncology, Women's Health, Orthopedics, Emergency Medicine and the Neurosciences, all of which offer state-of-the-art diagnostic and imaging capabilities. The Hospital is a designated Comprehensive Stroke Center by the Florida Agency for Health Care Administration (AHCA).
Boca Raton Regional Hospital was recognized in U.S. News & World Report's2017 – 2018 Best Hospitals listing as a Top Ranked Regional Hospital in the South Florida metropolitan area and the highest ranked hospital in Palm Beach County. For the second year in a row, Boca Regional earned the 2016/2017 Consumer Choice Award by National Research Corporation (NRC). Boca Regional was the only hospital in Palm Beach County to earn such a distinction.Boca Raton Regional Hospital was also the recipient of the 2014 Distinguished Hospital Award for Clinical Excellence™ for 10 years running and was named one of America's 50 Best Hospitals in 2011, 2012, 2013 and 2014, both by Healthgrades®.