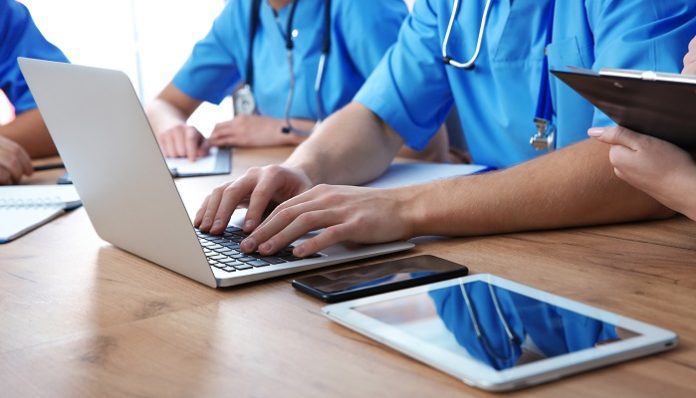 Introduction
Continuing medical education (CME) refers to ongoing training and development opportunities that allow practicing physicians and other clinical professionals to maintain and enhance their knowledge and skills. CME is required for clinicians to keep their licenses current and stay up-to-date on the latest advancements in their field. 
With the rapid pace of change in healthcare, CME has become increasingly important for ensuring physicians provide quality patient care based on current standards, guidelines, and evidence-based practices. 
Traditionally, CME took place through in-person conferences, seminars, workshops, and courses. However, online CME offerings have proliferated with the advancement of technology and telemedicine. Interactive online platforms are now playing a major role in delivering more flexible, cost-effective CME options to clinicians. This has expanded access and removed geographical barriers that previously limited CME participation.
This article will provide an overview of the relevance and effectiveness of online platforms for continuing medical education. Key topics covered include the role of telemedicine, interactive online CME, e-learning, accredited CE, and strategies for designing impactful online CME programs. The goal is to summarize current trends and evidence on how online platforms can enhance ongoing learning and development for physicians through CME.
The Relevance of Telemedicine in Continuing Medical Education
Telemedicine refers to the use of electronic communications and software to provide clinical care and services remotely. It allows physicians to evaluate, diagnose, and treat patients using technology like video conferencing, digital imaging, and wireless tools. Telemedicine has become especially relevant for continuing medical education (CME) in recent years. 
For example, Advanced Cardiovascular Life Support (ACLS) courses are now commonly offered online. ACLS covers advanced emergency procedures for patients experiencing cardiac arrest or other cardiovascular emergencies. Taking ACLS renewal courses regularly is an important CME requirement for physicians. Online and blended ACLS learning options give clinicians more flexibility to maintain this critical certification.
Other telemedicine technologies like remote monitoring and electronic consults are also transforming CME delivery. They enable specialized training and mentoring that transcends geographical boundaries. However, some disadvantages include tech challenges and reduced personal interactions. Overall, telemedicine provides more accessible and affordable CME opportunities to improve public health.
Interactive Online Continuing Medical Education
Interactive online CME refers to learning activities and programs delivered through technology that allows for active participation and engagement. This facilitates dynamic learning through practices like question prompts, case-based exercises, simulations, and discussions. Studies show interactive online CME courses lead to better outcomes like improved knowledge, skills, and practice behavior changes among clinicians compared to static online learning
Despite the advantages, physician perceptions of online CME have been mixed. While some appreciate the convenience and flexibility, others express doubts about the depth and impact. 
However, research indicates that interactive online CME can be just as effective as in-person delivery. In one study, emergency physicians who completed an online course retained knowledge and skills for tracheal intubation equally well as those who were trained in person. Further, learners tend to report high satisfaction levels with well-designed interactive online CME.
The Effectiveness of E-Learning in Continuing Medical Education 
E-learning refers to education delivered electronically through web-based courses, digital content, and virtual instructor-led training. It provides an alternative to traditional classroom CME activities. Studies show e-learning can improve knowledge retention and lead to positive changes in clinical practice.
For example, a randomized trial published in JAMA found that a web-based continuing education course significantly improved family physicians' knowledge and clinical practice related to chronic pain management. Remote learning was equally as effective as on-site training.
Other benefits of e-learning include flexibility, scalability, and cost savings. Clinicians can access online CME on their own time, across geographies, and individually or in groups. However, challenges like technical issues, hidden costs, and difficulty evaluating impact remain. Overall, e-learning allows broader and more consistent access to CME, leading to improved patient care.
Accredited Continuing Education (CE) and Online Platforms
Accredited CE refers to CME activities that are reviewed and approved by accrediting bodies, indicating they meet certain educational standards. Accreditation aims to promote high-quality, evidenced-based education for clinicians. CE credits are tied to licensure and certification requirements. 
Online platforms have made accredited CE more accessible by delivering certified courses directly to clinicians. This expands opportunities for ongoing learning and professional development from anywhere. Over 60% of college students now take accredited courses online.
However, strategies are needed to ensure online CE offers equivalent rigor and effectiveness as in-person instruction. Careful instructional design, interactive elements, learner assessments, and user feedback help. But coordinated efforts between accreditors, education providers, and regulators are also key to upholding standards.  
Overall, online platforms allow broader access to accredited CE and instill a lifelong learning mindset. But work is still needed to optimize their educational quality and impact.
Designing Effective Online CME Programs
Several key steps are involved in developing impactful online CME programs:
Needs Assessment – Assessing learners' knowledge gaps and practice-based needs is crucial for identifying relevant learning objectives. This can be done through surveys, interviews, focus groups, and reviewing performance data.
Targeted Learning Objectives – Objectives should be specific, measurable, achievable, relevant, and time-bound. Aligning them with identified needs promotes meaningful outcomes.
Instructional Design – Applying evidence-based principles like active learning, spaced repetition, and varied formats enhances engagement and retention.
User Experience – The platform interface, navigation, media use, and accessibility require testing and refinement. 
Evaluation – Pre/post-tests, feedback surveys, analytics, and qualitative insights should be used to gauge program effectiveness and areas for improvement.
Following proven design and evaluation methods is key to creating online CME that bridges clinical knowledge and performance gaps efficiently.
Conclusion
Online platforms are transforming continuing medical education for physicians and other clinicians. Telemedicine, interactive online courses, e-learning, and accredited CE delivered digitally provide more flexible access to impactful CME activities.
Research shows online CME offerings can be as effective as traditional in-person instruction for improving knowledge, skills, and practice. However, careful instructional design and implementation based on adult learning principles are crucial to ensure quality outcomes. 
While some clinicians have reservations, studies indicate high satisfaction and engagement among many users of online CME. Going forward, technology and education leaders must continue collaborating to enhance platform capabilities, data security, and user experience.
Overall, online CME facilitated through innovative platforms has enormous potential to help physicians keep pace with changes in healthcare and strengthen delivery of evidence-based care. But maintaining rigorous standards and educational efficacy will be imperative as these technologies continue evolving.