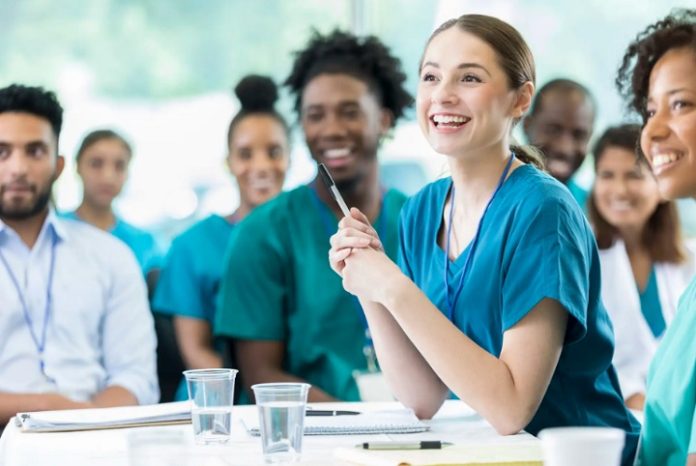 Upskilling is a tool that companies can use to help their employees gain new skills, keep them happy, improve their knowledge, and progress in their careers. Helping your employees earn their certifications, increase their knowledge base, complete continuing education courses, and find mentorship opportunities are all ways to upskill a workforce. 
While there are costs associated with helping to upskill employees, the benefits are worth it. Providing upskill opportunities is a great way to invest in your workforce, improve retention, and increase the skill level of each individual employee. 
In fact, a study published by Harvard Business Review showed that 88% of potential employees look for a company that offers continued education and opportunities for advancement when searching for a new job. 
Contrary to what some facilities believe, employees who are challenged tend to have higher levels of work satisfaction and are more likely to remain engaged at work. While it may seem counterintuitive, giving employees opportunities to learn and progress makes them more likely to remain at a company, and not seek out a different opportunity. 
Let's check out some companies that are helping do this. 
UMKC TalentLink
UMKC TalentLink offers individual courses, facility workshops, and certificate programs to help you upskill your employees. They provide learning opportunities for entry-level employees, leaders in the company, and everyone else in between. 
UMKC TalentLink offers diversity and inclusion training, healthcare certifications, safety courses, and lessons in entrepreneurship. Employers can bring TalentLink instructors to their facility for in-house training, send employees to in-person training camps, or enroll staff in online, self-paced training programs. 
Stepful
Stepful is a leader in online certification courses for healthcare workers. Stepful offers certificate programs for medical assistants, pharmacy technicians, coding and billing specialists, phlebotomists, and EKG technicians. Their online programs are user-friendly and have high completion and certification rates. 
In addition to its certification programs, Stepful offers skill-based courses in effective communication, immunizations, interprofessional team-based care, and more. Skill-based courses allow your employees to function at their full capacity no matter their certification status or licensure. 
When employees enroll in a course through Stepful, they receive concise training, one-on-one interaction with instructors, and flexible scheduling options.
Traliant
Traliant focuses on training employees in compliance and safety. Unfortunately, violence against healthcare workers is on the rise, and healthcare workers are five times more likely to experience workplace violence than those in other industries.  
Companies like Traliant can help keep your employees safe and teach them to de-escalate dangerous situations. In fact, 90% of employees who completed Traliant education courses said that they were likely or very likely to use their newly developed skills at work. 
Traliiant offers courses in sexual harassment prevention, diversity inclusion, bystander intervention, unconscious bias management, and more. Trilant courses are designed to help your employees create a safe and healthy work environment for themselves and others. 
Traliant uses unique strategies to help its customers remain engaged and retain their learning. All courses are offered online and are both user-friendly and interactive. Traliant uses quizzes, games, and positive reinforcement to make learning effective and fun for trainees.