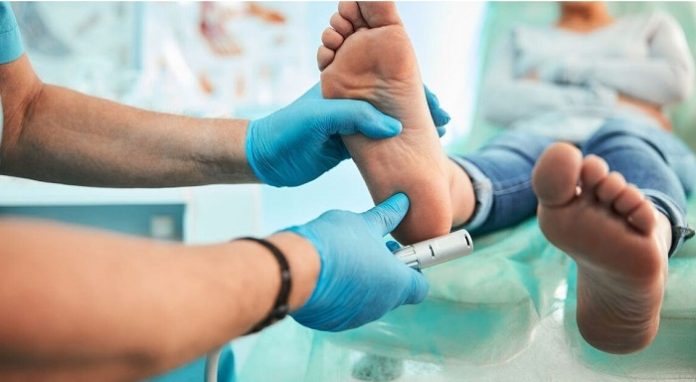 Do foot problems have you frustrated and in pain? Do you avoid going to the doctor because of fear or embarrassment? You're definitely not alone. According to recent studies, one out of every four adults experiences frequent discomfort in their feet. Yet surprisingly, only a small percentage seek professional podiatric care. But did you know that specialized podiatry clinics offer a wide range of treatments custom-tailored uniquely for your needs? Visiting an experienced foot doctor can effectively relieve these issues while preventing more serious ones from forming down the road. 
What Is Podiatric Care and Its Importance?
Your feet are much more than just a foundation – they need some care too. So why not give your toes the VIP treatment? Podiatrists, both MDs and DPMs, specialize in providing specialized foot pampering to keep those little lower extremities feeling their best. From basic callus removal and trimming nails to more advanced treatments such as treating bunions or hammertoe repair – for all kinds of foot needs, there's an expert out there ready to help you have healthy, happy feet again.
There are many excellent clinics that are dedicated to providing specialized podiatric care. The Feet People Podiatry clinic is one such example. You can receive a variety of treatments and services that are tailored to your individual needs when you visit a specialized podiatric care clinic.
Benefits of Visiting a Specialized Clinic Over Other Healthcare Providers
When it comes to your feet, you want to give them the best care possible. Visiting a specialized podiatric care clinic is one of the most effective ways to ensure quality care for any foot-related issues you may be experiencing. Here are just some of the benefits of visiting a specialized clinic:
Coordinated Care Experience
When visiting a specialized podiatric clinic, you can expect to receive an integrated care experience. Unlike general healthcare providers who may not be familiar with the specific foot and ankle conditions that require a specialist's attention, these clinics specialize in providing expert diagnosis and treatment for these ailments. In addition, they will collaborate with your primary care physician or other healthcare providers to ensure you get the best possible treatment.
Get More Personalized Care
If you're dealing with foot discomfort, the podiatric clinics on your radar should be staffed by experts in all things feet-related. These knowledgeable pros recognize even small aches and discomforts can stop day-to-day activities – like walking or standing for long periods of time – dead in their tracks. Plus, they specialize in potentially nipping issues in the bud before any serious complications have a chance to blossom.
Expert Diagnosis and Treatments
A specialized podiatry clinic has access to advanced diagnostic tools and technologies. It will help to provide an accurate diagnosis of your condition. This detailed information allows the medical professionals in the clinic to design a precise treatment plan tailored to your individual needs. They will also be able to provide education about the diagnosis and recommended treatments.
Access to a Range of Specialized Services
When it comes to taking care of your feet and ankles, you deserve the absolute best. That's why a specialized podiatry clinic is so great – they provide access to an extensive range of services that can help with almost any condition! From correcting poor biomechanics through custom orthotics, using braces when needed, or even performing surgery if necessary, these clinics have every angle covered – ensuring each patient gets the treatment and attention their feet need.
On-Going Care and Support
No treatment plan ends when you're discharged from a specialized clinic. Continuing care and support are essential to ensure your progress stays on track, and regular follow-ups are arranged just for that purpose! Should any questions arise during the course of your journey, our team of experts are available throughout to provide guidance – so don't hesitate to approach them with doubts or queries at any time.
Conclusion
Regular visits to the clinic can help monitor and prevent conditions before they worsen. They can also provide accurate diagnoses and treatment plans tailored to your individual needs. The team of experts at the clinic can not only diagnose you with precision and accuracy but also provide detailed education about your condition and the available treatments. With so many benefits, it's easy to see why visiting a specialized podiatric care clinic can be one of the most effective ways to ensure quality care for any foot-related issues you may be experiencing.