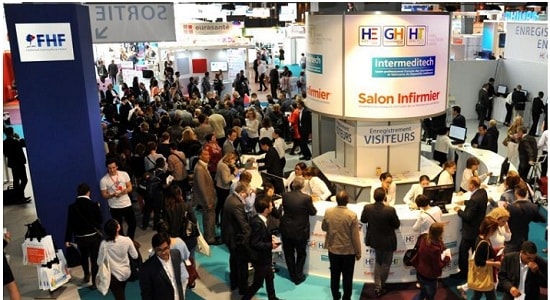 Paris Healthcare Week is a unique European event that brings together professionals from the healthcare and autonomy sectors. This year's event once again offered a broad overview of the innovative solutions available to meet the challenges of these fields (such as inter-professional cooperation, data enhancement and security, the ageing population, and attracting new staff to these careers).
During the three-day event, 29,639 visitors made their way through the stands of Hall 1 at the Parc des Expositions, Porte de Versailles, finding concrete solutions to their needs, engaging discussions on ways to pre-empt future changes, and real examples of new cooperative projects and ways of organising care.
The high level of attendance at the Paris Healthcare Week, which encompasses the historic HopitalExpo, GerontHandicapExpo and HIT trade shows organised by the FHF (French hospital federation), as well as Intermeditech and Infirmier trade shows, demonstrates the sector's expectations and interest in this major event. The HopitalExpo, GerontHandicapExpo and HIT trade shows attracted 17,661 visitors, of which 9.1% from abroad, while Intermeditech and Infirmier recorded 1,809 and 10,169 visitors respectively.
Taking place between the presidential and legislative elections, Paris Healthcare Week was an opportunity to remind politicians not only of the issues at stake, but also of the stumbling blocks of the French healthcare system. At the FHF's inaugural conference, Agnès Buzyn, speaking as President of the HAS (French national authority for health), painted a picture of the hospital of the future, emphasising the importance of the quality and safety of care. Olivier Véran, who was responsible for healthcare issues under Emmanuel Macron's campaign, was also present on the first day of the trade show, followed on the second day by Xavier Bertrand,Chairman of Les Républicains for the Hauts-de-France region.
Major trends at Paris Healthcare Week 2017
At this edition of Paris Healthcare Week, it was impossible to ignore the increasingly significant role of information technologies, digital media and artificial intelligence within the healthcare system. From simple data-sharing between healthcare professionals, to training through simulation, and telemedicine, a large number of stands and conferences were dedicated to IT solutions and platforms. This broad range of innovations was showcased this year through various themed villages (start-ups, e-health), expert guided visits (big data, imaging, e-health) and conferences (research and healthcare innovations).
Career development and training were also major themes at the 2017 event. Within a constantly evolving environment, previously established roles are changing, boundaries are moving, and new specialities are emerging. Attractive Med, an area dedicated to young doctors, was a new addition for this year, designed to address questions on issues such as career development and areas in which to set up a practice.
With architecture, funding, sustainable development and management all covered, visitors were free to pick and choose from the event according to their needs. United by a shared determination to uphold the performance of the French healthcare system, all of the professionals present helped to make Paris Healthcare Week an important source of ideas on the future of the healthcare system.
PRPA
Raphaëlle Genin – +33 6 63 09 33 85 – raphaelle.genin@prpa.fr
Anne Pezet – +33 6 87 59 03 88 – anne.pezet@prpa.fr
Diane-Morgane Rabuat – +33 6 61 53 11 92 – diane-morgane.rabuat@prpa.fr
PG Promotion
Caroline Bondy – +33 1 73 28 72 13 – caroline.bondy@pgpromotion.fr