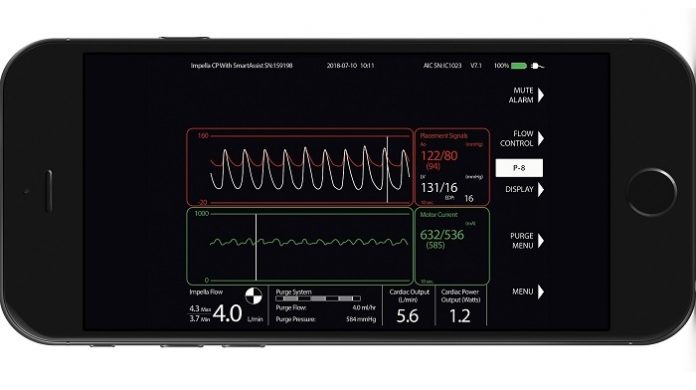 Abiomed has achieved CE Mark for Impella Connect, the first-of-its kind cloud-based technology that enables secure, real-time, remote viewing of the Impella console for physicians and hospital staff from anywhere with Internet connectivity. European CE Mark adds to Impella Connect's previous U.S. FDA PMA approval.
Impella Connect uses real-time intelligence to help improve patient outcomes. In addition to allowing medical professionals to view their hospital's consoles remotely, Impella Connect allows highly-trained staff at Abiomed's 24×7 Clinical Support Center to provide medical professionals with expert evaluation of Impella data and real-time collaborative patient management.
"Impella Connect is an extremely valuable resource that allows me, as well as allied health professionals and nursing staff, to have direct visualization of data from the Impella console and to closely monitor patients on hemodynamic support, in real time," said Rajeev L. Narayan, MD, Assistant Director of Structural Heart Intervention and Director Interventional Mechanical Circulatory Support, Vassar Brothers Medical Center.
Based on the previous FDA PMA approval, Impella Connect, which is fully HIPAA compliant, is in a limited market release in the United States. 36 hospital sites are currently using the technology on a regular basis to provide enhanced real-time support for their patients. Abiomed will launch Impella Connect in Europe this quarter through a controlled roll-out at hospital sites with established heart recovery protocols. The first hospital will be University Heart Center in Hamburg, Germany.
"Impella Connect is a technological advancement which represents the next frontier of heart recovery products," said Michael R. Minogue, President, Chairman and CEO of Abiomed. "Impella Connect, along with our 24×7 onsite and on-call support, enables physicians, nurses and ICU staff to increase productivity, improve patient outcomes, and help patients return home with their native heart."
ABOUT IMPELLA HEART PUMPS
The Impella 2.5 and Impella CP devices are FDA approved to treat certain advanced heart failure patients undergoing elective and urgent percutaneous coronary interventions (PCI) such as stenting or balloon angioplasty, to re-open blocked coronary arteries. The Impella 2.5®, Impella CP®, Impella CP® with SmartAssist, Impella 5.0® and Impella LD® are FDA approved heart pumps used to treat heart attack or cardiomyopathy patients in cardiogenic shock, and have the unique ability to enable native heart recovery, allowing patients to return home with their own heart.
ABOUT ABIOMED
Based in Danvers, Massachusetts, Abiomed, Inc. is a leading provider of medical devices that provide circulatory support. Our products are designed to enable the heart to rest by improving blood flow and/or performing the pumping of the heart.