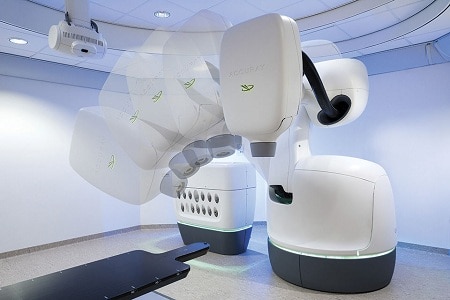 Accuray Incorporated announced that the company will highlight its portfolio of radiation therapy delivery systems and software solutions at the annual European Society for Radiotherapy and Oncology (ESTRO) meeting in Vienna, Austria May 5 – May 9, 2017.
Clinicians are invited to meet the Accuray team at booth #1400 to learn how the company's innovative Radixact™ and CyberKnife® M6™ Systems, and advanced software solutions, can help them achieve the clinical, economic and practice outcomes of importance to them.
"At ESTRO 2017, Accuray's theme is 'Inspiring the Architect in You'. At our booth and symposium, Accuray is sharing exciting new innovations, best-in-class treatment experiences and expert insights that will help our customers to feel confident that with our radiation therapy solutions, they can shape a department equipped to deliver the best possible treatment results for their patients," said Matthias Franz, EIMEA General Manager and Vice President Commercial Operations at Accuray.
Meeting highlights and events:
The Radixact System: the smart radiation therapy system representing the next generation in TomoTherapy® treatment delivery, significantly increasing treatment speed, efficiency and ease of use and enabling customers to deliver precise radiation treatments to a high volume of patients.
The CyberKnife M6 System: next generation platform includes treatment delivery functionalities designed to improve the user's system experience and reduce treatment delivery times. It features the Accuray Precision™ Treatment Planning System and enhanced Synchrony® Respiratory Motion Tracking System, the only real-time motion management system that synchronizes beam delivery with movements of the target resulting from respiration.
The Accuray Precision Treatment Planning System: provides fully integrated treatment planning with all compatible Accuray delivery systems, enabling clinicians to efficiently generate the highest quality radiation therapy treatments for all case types. Demonstrations will be conducted throughout the meeting.
RayStation® 6 Treatment Planning System: the latest release of RayStation enables clinicians to create treatment plans for the Radixact and TomoTherapy Systems, as well as conventional linear accelerators*. Demonstrations of RayStation 6 will be conducted at the Accuray and RaySearch booths. *Not 510k cleared or available for commercial distribution.
Accuray Exchange in Radiation Oncology (AERO™): AERO Academy sessions will be held daily at Accuray at booth #1400 throughout the meeting. Accuray hosts these presentations to provide clinicians with the opportunity to engage in interactive discussions on the real-world use of Accuray technologies. Topics include CyberKnife prostate SBRT, management of lung tumors, breast treatments using TomoDirect™ and initiating use of a Radixact System. For more information, please visit: http://www.accuray.com/estro36/.
Educational symposium: on Saturday, May 6, from 13:15 to 14:15 in the Stolz Rooms 1 & 2, a panel of renowned experts will provide their perspectives on the role of radiotherapy in cancer care and the versatility of the CyberKnife® and TomoTherapy® Systems which makes it possible to effectively treat the most common cancer cases:
Dr. Cary Adams, CEO, Union for International Cancer Control (UICC) and Chair, NCD Alliance, Geneva, Switzerland, will discuss how radiotherapy plays a central role in driving treatment for all patients;
Prof. Vincent Khoo, The Royal Marsden NHS Foundation Trust, London, United Kingdom, will shed light on how high and fast we can go in prostate hypofractionation;
Prof. Roberto Orecchia, Chair of Radiation Therapy, University of Milan and Scientific Director at the European Institute of Oncology (IEO), Milan, Italy, will share his team's experience using the TomoTherapy System to treat all breast cases.
About AccurayAccuray Incorporated (Nasdaq: ARAY) is a radiation oncology company that develops, manufactures and sells precise, innovative tumor treatment solutions that set the standard of care with the aim of helping patients live longer, better lives. The company's leading-edge technologies deliver the full range of radiation therapy and radiosurgery treatments. For more information, please visit www.accuray.com.
Safe Harbor StatementStatements made in this press release that are not statements of historical fact are forward-looking statements and are subject to the "safe harbor" provisions of the Private Securities Litigation Reform Act of 1995. Forward-looking statements in this press release relate, but are not limited, to clinical applications, clinical results, patient experiences and outcomes, and Accuray's leadership position in radiation oncology innovation and technologies. Forward-looking statements are subject to risks and uncertainties that could cause actual results to differ materially from expectations, including but not limited to the risks detailed from time to time under the heading "Risk Factors" in the company's report on Form 10-K, filed on August 24, 2016, the company's reports on Form 10-Q, filed on November 1, 2016 and February 3, 2017, and as updated periodically with the company's other filings with the SEC.
Media Contacts:
Beth Kaplan
Public Relations Director,
Accuray+1 (408) 789-4426
bkaplan@accuray.com
Jane HauserMSLGROUP
+1 (781) 684-0770
accuray@mslgroup.com