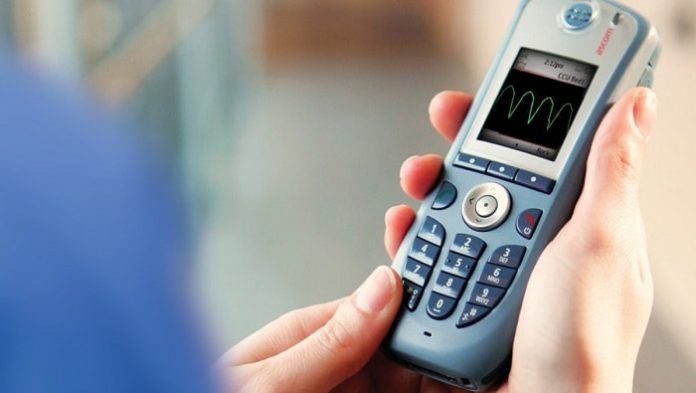 General Electric's Healthcare division and Ascom Wireless Solutions announced an agreement to implement a hospital system that would send alerts from patient-monitoring devices directly to a caregiver via paging or text messaging. Wireless solutions within hospitals enable greater mobility on the part of doctors and nurses, in theory leading to boosted efficiency.
GE's investments in health care IT include a 2009 partnership with Intel that focuses on development programs for fall prevention, medication compliance, sleep apnea, cardiovascular disease, diabetes and personal wellness monitoring.
General Electric's Healthcare division will integrate its patient-monitoring platform into wireless VOIP (voice over IP) phones, pager and DECT handsets designed by Ascom Wireless Solutions, under an agreement announced April 27. The technology merger will enable a hospital-centric wireless messaging system capable of sending alerts and providing patient information to caregivers on the move.
A joint press release from GE Healthcare and Ascom, quoting "a recent Spyglass Consulting Group report," indicated that 66 percent of "hospital-based nurses said their organizations had deployed VoIP-based communications to enable greater mobility, so they can perform their jobs more efficiently at the point of care."
Once put into effect, the agreement will see a patient's alerts coalesced from varying sources and delivered wirelessly to a caregiver's device via either paging or text message. The system will involve linking those devices to patient-monitoring technology.
"Increasingly, hospitals are leveraging wireless technologies to deliver clinical data directly to mobile devices, leading to valuable productivity gains," David Ataide, vice president and general manager of monitoring solutions and diagnostic cardiology for GE Healthcare, wrote in an April 27 statement. "By collaborating with Ascom, a global leader in on-site wireless communication systems, GE Healthcare is working to advance hospital alarm management and build on our vision to provide excellent access to quality patient information from most communication devices."
General Electric has spent considerable time and effort on its health care push. In April 2009, the company announced a joint partnership with Intel that would see $250 million invested over the next five years in health care IT technologies, particularly those aimed at chronic disease management and assisting independent living for seniors.
Under the terms of that agreement, GE Healthcare would market the Intel Health Guide, a compact white box that displays users' recent health history, along with reminders to take medications or visit the doctor. Intel and GE also announced at the time that they would expand their development programs to include fall prevention, medication compliance, sleep apnea, cardiovascular disease, diabetes and personal wellness monitoring.
"The only way we're going to drive lower costs [for the health care industry]," Jeff Immelt, chairman of the board and CEO of GE, said in an April 2 press conference announcing that agreement, "is through technology."
GE has also focused on imbuing new capabilities into its Quiet Care system, a passive monitoring system installed in seniors' homes that allows caregivers to detect emerging health issues or emergency situations.