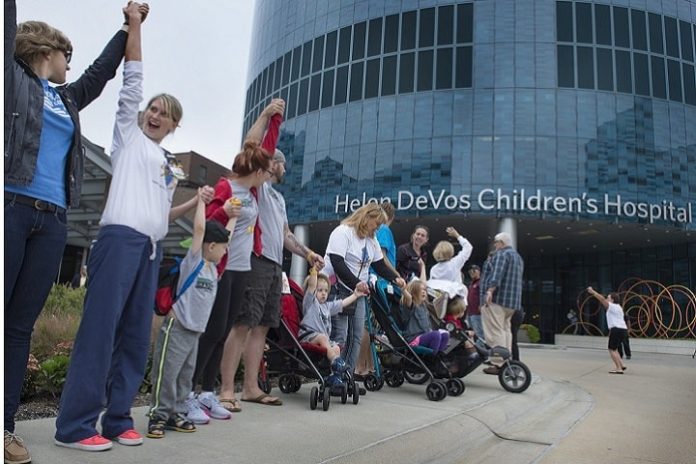 Spectrum Health announced that through the generosity of Acrisure LLC, the Acrisure Center for Innovation in Children's Health will be established at Spectrum Health Helen DeVos Children's Hospital. The company's $15 million pledge will create a virtual center to advance programs and services for the future by supporting the dedicated caregivers, physicians and physician scientists in their quest to bring leading-edge care and lifesaving therapies to the young patients at Helen DeVos Children's Hospital. The gift directly aligns with Acrisure's vision to positively impact West Michigan and other communities in which it operates.
The Acrisure Center for Innovation in Children's Health will create hope for the future by strategically investing in programs that accelerate health solutions for children. The initial focus will be genomics and virtual health related to pediatrics. As other needs emerge, the center will support new high impact programs and projects.
"We are grateful to the leadership and employees at Acrisure for this generous commitment to improving children's health," said Tina Freese Decker, President & CEO, Spectrum Health. "What an incredible commitment that supports our passion for kids. We're thrilled to accelerate our focus in the areas of genomics, precision medicine and other innovative advancements in care for children. This remarkable pledge from a West Michigan-based company exemplifies the type of partnerships that help us make it possible to improve health, inspire hope and save lives."
West Michigan-based Acrisure is a top 10 global insurance broker and the fastest growing insurance broker in industry history, delivering the highest quality insurance solutions through its growing global network. With annual revenues of $2 billion, Acrisure has more than 561 locations in 39 states and 16 international locations. In late 2019 Acrisure announced that it would relocate its headquarters to downtown Grand Rapids from its current location in Caledonia.
"As we move our headquarters to downtown Grand Rapids, beyond the jobs, we intend to make a significant impact on the community," said Greg Williams, Co-Founder, President & CEO of Acrisure. "Spectrum Health Helen DeVos Children's Hospital embodies our passion for innovation and strategic growth and is a partnership we're intensely proud to be part of. It is my hope the commitment to form the Acrisure Center for Innovation in Children's Health will have a lasting impact on families throughout the community. Many Acrisure employees have been personally impacted by the care provided at Helen DeVos Children's Hospital and this partnership represents meaningful engagement opportunities for them as well."
About Acrisure
Acrisure's success is due to our unique model, powered by an alignment of interests with our Agency Partners. Our Agency Partners maintain local autonomy, keep decisions at the customer level, and are offered tools and resources to accelerate growth. Acrisure is majority owned by employees and has $2 billion in revenue across 561 locations in 39 states and 16 international locations. As a top 10 global broker, we are driven by the pursuit of limitless growth through exceptional partnerships.
About Helen DeVos Children's Hospital
Spectrum Health System, a not-for-profit, integrated health system, is committed to improving the health and wellness of our communities. We live our mission every day with 31,000 compassionate professionals, 4,500 medical staff experts, 3,300 committed volunteers and a health plan serving 1 million members. Our talented physicians and caregivers are privileged to offer a full continuum of care and wellness services to our communities through 14 hospitals, including Helen DeVos Children's Hospital, 155 ambulatory sites and telehealth offerings. We pursue health care solutions for today and tomorrow that diversify our offerings. Locally-governed and based in Grand Rapids, Michigan, our health system provided $585 million in community benefit in fiscal year 2019. Thanks to the generosity of our communities, we received $30 million in philanthropy in the most recent fiscal year to support research, academics, innovation and clinical care. Spectrum Health has been recognized as one of the nation's 15 Top Health Systems by Truven Health Analytics®, part of IBM Watson HealthTM.