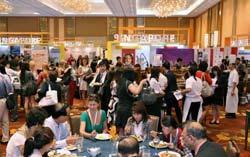 Hospital & Healthcare Management/ Healthcare Evenets:- Attracting visitors and delegates from across the globe Aesthetics Asia has firmly secured its position as the largest event in the region for medical aesthetic disciplines.
The 2nd edition drew to a successful close in Singapore on the 19th September having doubled the visitors and delegates from the previous edition in 2009. With a packed 3 day programme the event has secured its position as Asia's largest event for medical aesthetics.
The 2010 edition attracted global leaders in Plastic Surgery, Dermatology, Cosmetic Surgery, Anti Aging  Physicians  and Aesthetic  Practitioners  to  the  3  day  meeting  where  over  120  key  opinion leaders presented the latest techniques and procedures for the medical aesthetics sector.
Over 500 products were on display in the exhibition with manufacturers and distributors from around  the  world  attending  to  develop  their  business  in  Asia  by  reaching  new  customers  and developing new distribution agreements across the region.
Over 1650 visitors and 580 delegates attended the event from 17-19 September in the new Marina Bay Sands venue. Over 120
international key opinion leaders presented across the 3 conference tracks as well as over 25 workshops and product launches.
Aesthetics Asia Exhibition hosted 70 regional and international exhibitors and showcased over 500 brands and innovations from around the world, embracing all areas of aesthetic plastic surgery, dermatology, anti-aging technologies and medical spa.
The 2011 edition of Aesthetics Asia is setting to see huge growth and will feature an even larger educational programme and exhibition.
Aesthetic Plastic Surgery Asia
Aesthetic Dermatology Asia
Anti-aging Technologies & Practices Asia
Medical Spa Asia