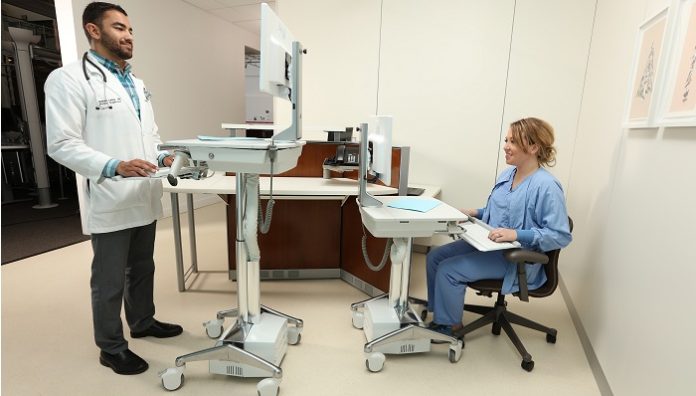 Altus Industries Inc, a west Michigan designer, manufacturer, assembler and marketer of mobile computer workstations for the healthcare industry, announced the strategic partnership with Intelligent Locations to deliver leading asset tracking technology for hospital systems and medical offices.

Intelligent Locations has been delivering a cost-effective, robust RTLS/IoT software to digitize hospital operations and monitor assets since 2015. Combining Bluetooth Low Energy with advanced AI analytics, their INTRAX™ solution is a comprehensive & complete cloud-based solution for asset tracking, patient tracking, staff safety and environmental monitoring. The software is disrupting the healthcare industry by helping hospitals digitize their operations and turn data into actionable intelligence to increase ROI, drive out capital expense & waste, manage equipment utilization rates, optimize workflows, improve the patient experience and unplug the bottlenecks that delay care.
"We were immediately impressed by Intelligent Location's successful healthcare environment deployments, especially their implementation speed and minimal internal IT department resources required," said Craig VanderHeide, CEO for Altus. "Both of our organizations have a customer-first foundation, so our partnership is a natural fit."
Precise room-level location of computer carts is needed more than ever during this unprecedented time of stress experienced by both healthcare systems and clinicians. Altus and Intelligent Locations will be working closely in the coming months to optimize mobile workstation tracking in hospitals, along with continuing to uncover opportunities for the tracking of other mobile equipment such as IV pumps, imaging equipment, crash carts, and more.
"Computer carts and other expensive equipment in hospitals are a major investment for IT departments that can often be misplaced or just difficult to track down," said Jake Bartnicki, Senior Vice President of Sales for Intelligent Locations. "Altus leads these problem-solving conversations daily with their customer base. We are very excited about entering into this partnership with the Altus team who are also advocates for streamlining hospital operations."
ABOUT ALTUS, INC.
Altus, Inc. builds durable, ergonomic, and stylish technology workstation solutions to improve the lives of healthcare workers. Since 2001, Altus has studied how real people work to enhance their workflow. Altus technology workstations offer optimized mobility, adjustability, access to patient data, and improved clinician well-being. Altus is based in Walker, Mich. and is one of the only U.S.-based technology workstation companies, with more than 80 percent of its product components manufactured in the United States.
ABOUT INTELLIGENT LOCATIONS
Intelligent Locations provides healthcare organizations with tracking technology and artificial intelligence to digitize hospital operations, drive out waste and optimize processes so providers can succeed in an era of value-based payment, consumer choice and new competition.