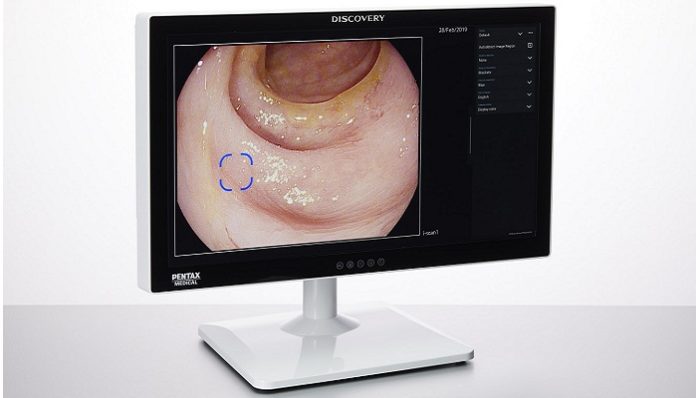 PENTAX Medical, a division of the HOYA Group, presents the PENTAX MEDICAL DISCOVERY™, now available in the EMEA and APAC markets to support in the fight against colorectal cancer. The PENTAX MEDICAL DISCOVERY™ is an innovative Artificial Intelligence (AI) assisted polyp detector designed to support endoscopists by directing attention to potential lesions during a colorectal examination.
In the fight against colorectal cancer, great strides have been taken to protect patients from undetected abnormalities. Such as increasing adenoma detection rate (ADR) by up to 11% with digital and optical enhancement technology, plus increasing ADR by up to 28% with mechanical devices to examine blind spots. However, up to 26% of lesions are still missed in examinations. To help overcome this challenge in colonoscopy, developing new solutions in close cooperation with expert clinical partners from leading medical institutions across the world has become ever more important.
Empowering doctors in discovering more polyps for effective treatment
The PENTAX Medical colonoscopy solution aims to support physicians in addressing the main challenges in detection. With clever engineering, flat and diminutive lesions can be seen through the usage of i-scan imaging and blind spots are reduced with the pioneer launches of RetroView and G-EYE that mechanically support to look behind and stretch the folds of the colon.
However, support for the clinicians during their long days of service is of equal importance. Endoscopists may be tired after a long day of procedures or can be distracted by external factors which can play a role in complicating the detection. This can lead to fewer lesions detected, with studies showing early-morning cases yielding 27% more polyps per patient, than cases later in the day. Now PENTAX MEDICAL DISCOVERY™ will help to  improve or address this, as well.
The PENTAX MEDICAL DISCOVERY™ provides highly focused assistance in examinations, tackling the human factor. "The PENTAX MEDICAL DISCOVERY™ uses advanced artificial intelligence to highlight the presence of pre-cancerous lesions with a visual marker in real-time – serving as an ever vigilant second observer" according to Dr. Sergey Kashin, Head of Endoscopy Department, Yaroslavl Regional Cancer Hospital, Russia.
Achieving better outcomes
At least 50% of all interval carcinomas arise from missed lesions during colonoscopy. Being trained by "Deep Learning" the PENTAX MEDICAL DISCOVERY™ is able to assist physicians in polyp detection, raising attention to subtle and unremarkable lesions, even in tough conditions.
Prof Timo Rath, Professor of Endoscopy and Molecular Imaging, University of Erlangen, Germany mentioned, "As endoscopists, one of our major tasks is to reduce the incidence of colorectal cancer. I'm very confident that the PENTAX MEDICAL DISCOVERY™ will translate into increasing our own Adenoma Detection Rate and therewith will contribute to reduce colorectal cancer mortality".
Improve healthcare cost-efficiency
This technology can potentially contribute to improving healthcare cost efficiencies by increasing the detection rate in costly examinations. "Computer-aided detection has been shown to increase the detection of pre-cancerous colorectal lesions. The introduction of the PENTAX MEDICAL DISCOVERY™ Artificial Intelligence system opens the door to a new era where endoscopists and PENTAX MEDICAL DISCOVERY™ jointly reduce healthcare costs by decreasing the prevalence of colorectal cancer" concludes Prof. Peter Siersema, Professor of Endoscopic Gastrointestinal Oncology, Editor-in-Chief, Endoscopy, Radboud University Nijmegen, The Netherlands.
Compatible with most of PENTAX Medical video endoscopy systems
The PENTAX MEDICAL DISCOVERY™ system is built in a flat Screen-PC to provide a high usability as it can be used with most of PENTAX Medical video endoscopy systems to highlight potential lesions.
"The benefits for the physicians are outstanding. Our vision was to bring Artificial Intelligence into the operating room in the most user-friendly way. We wanted to give doctors the possibility to use this exciting new technology to strive for a better clinical outcome and maximize the patient care." Mr. Wolfgang Mayer, Managing Director, R&D, PENTAX Medical Augsburg, Germany mentioned.
PENTAX Medical is committed to continuously expanding the use of Artificial Intelligence for patient's health and comfort as well as for the benefit of clinical institutions. With cleverly engineered technology and dedicated services to support in the fight against disease, cancer and infections, PENTAX Medical is dedicated to leverage Artificial Intelligence for the further support of customers and patients.