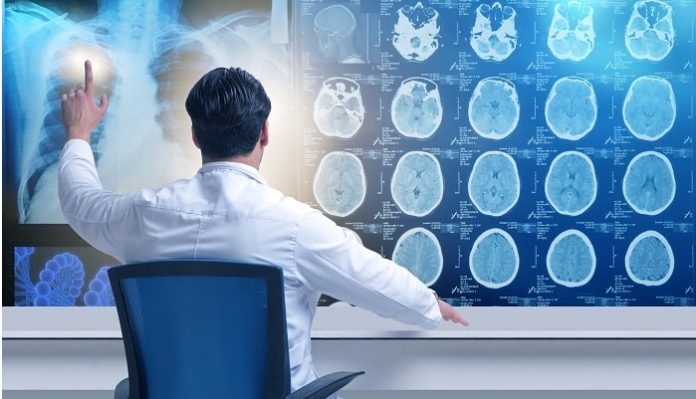 Bayer and Blackford Analysis Ltd announced a development and license agreement to establish a digital platform for medical imaging. The platform will provide access to a curated marketplace through which healthcare professionals can centrally manage digital clinical imaging and workflow applications including artificial intelligence (AI) enabled solutions. These will be created by Bayer together with its strategic partners. Integrated into the medical imaging workflow, these offerings will aim to support the complex decision-making processes of radiologists and their teams.
"Our partnership with Blackford Analysis will accelerate innovation in the field of overall disease management", said Alexandre Salvador, new Head of Digital Business Solutions, Radiology, Bayer AG. "By driving forward AI-enabled medical imaging, we support radiologists and their teams in providing clear direction from diagnosis to care."
"We are pleased that Bayer, as a leading life science company, has chosen to partner with Blackford to support the delivery of their medical imaging platform", said Ben Panter, Chief Executive Officer Blackford Analysis. "The collaboration will leverage Blackford's knowledge and experience as one of the first and most widely deployed platform providers in the industry. This expertise and our advanced platform technology will empower Bayer in offering solutions which aim to deliver clinical value to their customers' existing workflows."
The new platform will be focused on enhancing diagnostic confidence while enabling earlier disease management and interventions for patients. The announcement was made at this year's annual meeting of the Radiological Society of North America (RSNA), which is taking place virtually from 29 November to 5 December 2020.
With aging populations and changing lifestyles leading to an increase in chronic conditions such as cardiovascular disease and other severe illnesses like cancer, the need for medical imaging to facilitate diagnosis, treatment decisions and therapy planning is growing exponentially. However, medical imaging data continues to increase and becomes ever more complex at a disproportionate rate when compared with the number of available trained readers. Studies report that, in some cases, an average radiologist must interpret one image every 3–4 seconds in an 8-hour workday to meet demands. These trends drive an increasing need for integrated solutions which support radiology suites to manage complexity and deliver accurate diagnostic information more efficiently.
The digital platform by Bayer and Blackford Analysis will provide access to a growing number of diagnostic imaging analysis applications, protocol management tools, departmental workflow tools and AI algorithms. Integrated into the radiology workflow, such offerings have the potential to increase efficiency and reduce errors as well as the level of manual input needed – for example, by providing trained radiologists with pre-screened images and identified features.
Under the terms of the agreement, Blackford Analysis will provide the underlying technology for Bayer. Bayer will use the technology to provide integrated digital solutions developed both in-house and in cooperation with third parties.
About Bayer in Radiology
Everyone deserves clear answers about their health, starting with an early and accurate diagnosis. As a true life-science company with a heritage of around 100 years in Radiology, Bayer is committed to providing excellence, from innovative products to high-quality services. The portfolio includes contrast media for computed tomography (CT), X-Ray, and magnetic resonance imaging (MRI), devices for their precise administration, informatics solutions to support efficient and optimal patient care, as well as acknowledged educational programs. In addition, Bayer is strongly committed to research and development and leverages artificial intelligence, thus further driving innovation in medical imaging. Each of these offerings helps radiologists in their mission to deliver answers and a clear direction – from diagnosis to care.
About Artificial Intelligence at Bayer Pharmaceuticals
Artificial intelligence provides significant opportunities for Bayer's Pharmaceuticals business. Bayer is committed to realizing the potential value associated with big data, advanced analytics, and artificial intelligence, as it continues to explore and leverage them along the value chain. Bayer believes that there are three ways that artificial intelligence could be applied in our business: to strengthen and accelerate innovation, to advance operations and to identify new business opportunities. Such technologies could therefore support Bayer in getting the right treatment to the right patient at the right time, more efficiently and faster than we do today.
About Bayer
Bayer is a global enterprise with core competencies in the life science fields of health care and nutrition. Its products and services are designed to benefit people by supporting efforts to overcome the major challenges presented by a growing and aging global population. At the same time, the Group aims to increase its earning power and create value through innovation and growth. Bayer is committed to the principles of sustainable development, and the Bayer brand stands for trust, reliability and quality throughout the world. In fiscal 2019, the Group employed around 104,000 people and had sales of 43.5 billion euros. Capital expenditures amounted to 2.9 billion euros, R&D expenses to 5.3 billion euros.
About Blackford Analysis
Founded in 2010, Blackford provides an independent platform for the effective selection, deployment, management and use of best-in-class medical imaging applications and AI. As one of the first and most widely deployed platform providers in the industry, Blackford is focused on delivering clinical value and operational ROI to their customers. From their deep roots in partnership to their intense focus on clinical value and technical excellence, the Blackford platform is geared towards providing multiple imaging applications and AI that deliver the best results within customers' existing workflow.