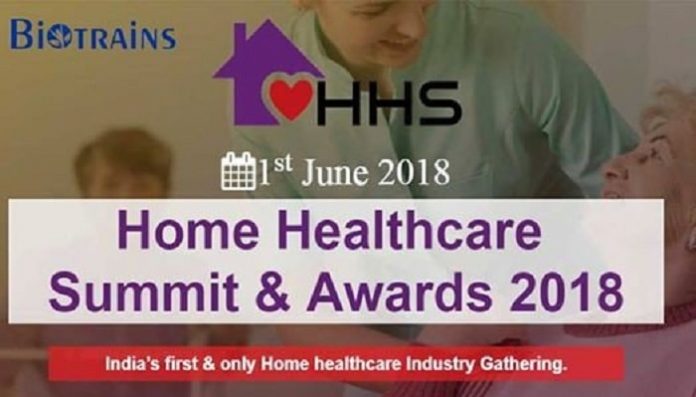 Biotrains delighted to host Home Healthcare Summit & Awards on the day 1st June in Hyatt Regency, New Delhi. Home Healthcare Summit & Awards will bring together thought leaders and experts from India and abroad to discuss, mind share the current scenario of Indian home healthcare industry and explore the way forward to meet the needs of patients and discover the opportunities in the sector.

The conference will unveil the Products & Services in the market, latest developments and technology advancement in home healthcare industry.
The major topics that were discussed Demographic challenges in India, Regulatory Landscape & role of government, Home healthcare India: What's Driving the industry (Two main factors have driven the success of home healthcare: cost savings and patient satisfaction) & Developments, Unique Market access challenges for home healthcare business in India, Marketing Strategy : Building road to success, Advancements & Evolving Technology, India home healthcare equipments, services and E-health business Development & Funding Dynamics, Integration of elderly care to Home healthcare and many others.
In the guest panel and the expert speakers for the event were:
Joy Chakroborty ,COO, PD Hinduja Hospital
Dr Girdhar Gyani,Director General – AHP
Bhupendra Kumar Rana, Founder QAI
Meena Ganesh.CEO and Managing Director, Portea Medical
Thiyagarajan Velayutham,Founder and Director, India Home Healthcare
Vivek Srivstava,Co-Founder – Healthcare at Home
Vaibhav Poddar,Senior Vice President and Head , Max@Home
Richa Singh,CEO – Philips Healthcare
Tom Georg,Managing Director, Guardian Angel Home Care
Kshitij Garg,Chief Executive Officer, Healers at Home
Dr Aarti Verma,Vice President, CAHO
Dr Mukul Saxena,CEO, Plus At Home Care
Siddharth Sanghwan,CEO, Hindustan Wellness
Dr Rekha Khandelwal, Co-Founder, Vardmaan Senior Citizen Hospital
Jay Parekh,Associate Vice President at Metropolis Health Care
Dr. Hemant Vadeyar,Founder & CEO Arooj Healthcare
Vipin Pathak, Cofounder & CEO – Care24
Dr. Mahesh Joshi,CEO, Apollo Home Healthcare
Ashish Jain, Chief Executive Officer – Healthcare Sector Skill Council
Dr.Gaurav Thukral, Executive Vice President & COO – Health Care at Home India Pvt Ltd