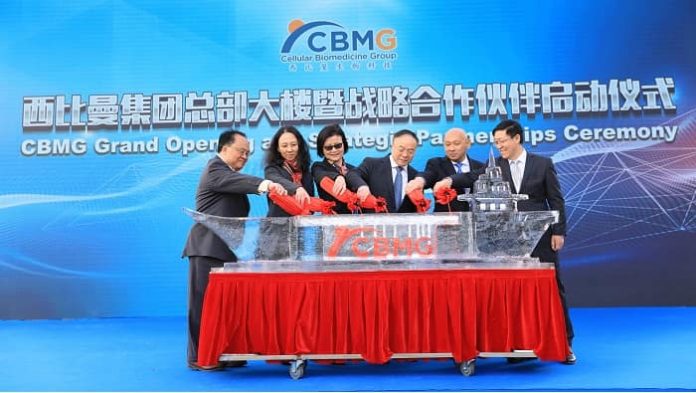 Cellular Biomedicine Group Inc , a clinical-stage biopharmaceutical firm engaged in the development of effective immunotherapies for cancer and stem cell therapies for degenerative diseases, held a Grand Opening ceremony on November 4, 2017 for its new Shanghai facility located in "Pharma Valley" in Shanghai Zhangjiang High-Tech Park.
Local dignitaries, partners and collaborating medical institutions were present for the ribbon cutting ceremony and the launch of the "CBMG-GE Joint Laboratory of Cell Therapy".
Tony (Bizuo) Liu, CEO of the Company, addressed the audience and media present saying, "We are very pleased to meet this milestone of expanding our GMP facility space to include this brand new 100,000-square-foot space with a top-of-the-line GMP facility. We now have three manufacturing facilities in China (Beijing, Shanghai, and Wuxi) with a total GMP capacity of 70,000 square feet, which prepares us for scaled-up demand for our current and future CAR-T clinical studies.
The ability to produce all plasmids and viral vectors in-house with a high yield, automated, closed cell culture system and integrated Chemistry, Manufacturing, and Controls ("CMC") processes, provides us with a key differentiator in the CAR-T and regenerative medicine space."
"In addition to our state-of-the-art facilities, we are very privileged to partner with leaders in the biopharmaceutical, digital and manufacturing fields, and look forward to reaping a mutual benefit from the wealth of data and shared knowledge. We appreciate the role that every partner, hospital collaborator, employee, director, advisor and shareholder, both past and present, has played in making CBMG what it is today, and bringing us all closer to helping the large patient populations of China and their families."
A seminar entitled "Standardization, Digitalization and Clinical Big Data for the Acceleration of New Drug Development" was held following the ceremony, with presentations from Dr. Michael Caligiuri, Chair of CBMG External Advisory Board and President-Elect 2016-2017 of the American Association for Cancer Research (AACR), Dr. Alan List, Chair of CBMG Scientific Advisory Board and President and CEO of Moffitt Cancer Center, Dr. Maria Fardis, CEO of Iovance Biotherapeutics and Dr. Thomas Vangsness, Jr., Chief of Sports Medicine at University of Southern California (USC), GE Healthcare and Thermo Fisher Scientific.
About Cellular Biomedicine Group
Cellular Biomedicine Group, Inc.  develops proprietary cell therapies for the treatment of cancer and degenerative diseases. We conduct immuno-oncology and stem cell clinical trials in China using products from our integrated GMP laboratory. Our GMP facilities in China, consisting of twelve independent cell production lines, are designed and managed according to both China and U.S. GMP standards. CBMG currently has ongoing CAR-T Phase I clinical trials in China; CARD-1 for Diffuse Large B-cell Lymphoma (DLBCL) and Non-Hodgkin Lymphoma (NHL) and CALL-1 for adult Acute Lymphoblastic Leukemia (ALL), utilizing CBMG's proprietary and optimized CD19 construct, as well as an ongoing Phase I trial in China for AlloJoinTM (CBMG's "Off-the-Shelf" Allogeneic Human Adipose-derived Mesenchymal Stem Cell) for the treatment of Knee Osteoarthritis (KOA). To learn more about CBMG, please visit www.cellbiomedgroup.com.
Contact:
Sarah Kelly
Director of Corporate Communications, CBMG
+1 408-973-7884
+86 21 5406 9990
sarah.kelly@cellbiomedgroup.com