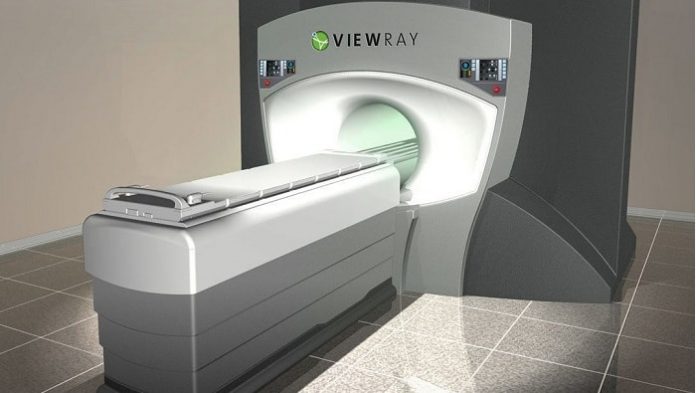 ViewRay, Inc. announced that the Siteman Cancer Center at Barnes-Jewish Hospital and Washington University School of Medicine in St. Louis, Missouri, has completed installation of their new MRIdian Linac. This marks the hospital's second MRIdian system, furthering their leadership role in the delivery of MR-guided radiation therapy.

With a focus on improving patient care and outcomes, Siteman Cancer Center has a rich history of utilizing the most advanced medical technologies available. Using MRIdian, Siteman Cancer Center was the first center in the world to perform MR-guided adaptive radiation therapy in 2014. Today, Siteman delivers MRIdian MR-guided radiation therapy as part of their daily clinical practice. The Siteman Cancer Center was also the first to purchase the second generation MRIdian Linac.
"During our nearly four years treating patients with MRIdian, we've seen firsthand the benefits of real-time MR-guidance and on-table adaptive delivery," said Jeff Michalski, M.D., professor and vice chair of Radiation Oncology at Siteman Cancer Center and Washington University School of Medicine. "The assurance that we're accurately targeting the tumor and sparing surrounding healthy tissue is driving more of our treatments to MRIdian, prompting the addition of a second system to our department. It's set a new standard for us in terms of image-guidance and treatment delivery."
An area of particular interest to the Siteman team is the use of MR-guided radiation therapy to deliver stereotactic body radiotherapy (SBRT), which utilizes higher doses of radiation in a shorter course than traditional radiation therapy. The soft-tissue visualization and daily MR-imaging combined with on-table adaptive treatment delivery enabled by MRIdian lends itself well to the precision required for SBRT.
"During a patient's course of treatment, the tumor and surrounding anatomy naturally change shape and position from one day to the next. This positioning can also change during the actual treatment delivery," said Sasa Mutic, Ph.D., professor of radiation oncology at Washington University. "We have been able to use MR imaging and adaptive radiotherapy software functionality to deliver more curative radiation dose to the tumor and less incidental exposure to surrounding organs."
About ViewRay
ViewRay®, Inc. , designs, manufactures and markets the MRIdian® radiation therapy system. MRIdian is built upon a proprietary high-definition MR imaging system designed from the ground up to address the unique challenges and clinical workflow for advanced radiation oncology. Unlike MR systems used in diagnostic radiology, MRIdian's high-definition MR was purposely designed to deliver high-precision radiation without unnecessary radiation beam distortion, and consequently, help to mitigate skin toxicity and other safety concerns that may otherwise arise when high magnetic fields interact with radiation beams. ViewRay and MRIdian are registered trademarks of ViewRay, Inc.
Contact:
Michael Saracen
Vice President, Marketing
ViewRay, Inc.
Phone: +1 408-242-2994
Email: media@viewray.com