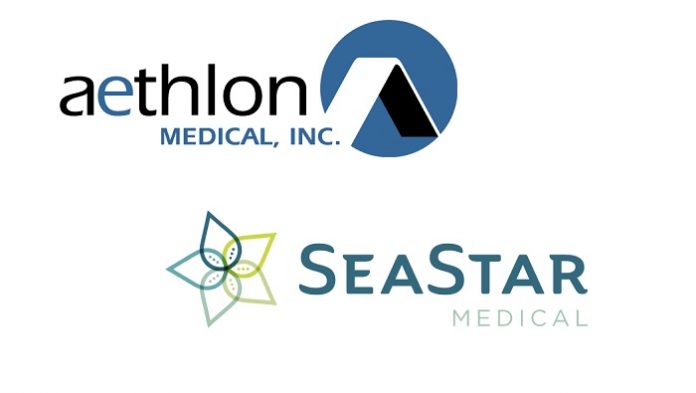 Aethlon Medical, Inc. and SeaStar Medical, Inc. announced a cross-licensing agreement to jointly develop their respective medical devices to address the care and management of critically ill patients.
Aethlon Medical is developing the Hemopurifier, a first-in-class blood purification cartridge used to remove a range of different particles from the blood, including cancer promoting exosomes for the treatment of cancers with no adequate alternative therapy and viruses for the treatment of life-threatening viral diseases. SeaStar's platform of cartridges include the CLR 2.0 Hemofilter which is FDA 510K cleared for acute kidney injury (AKI), congestive heart failure (CHF) and pulmonary edema and is currently being marketed for organ preservation in the solid organ transplant market. Each company's cartridges are designed to fit onto standard, hospital ICU-based equipment, either independently or together, and the companies plan to jointly develop complete treatment solutions that will allow deployment into multiple inpatient and outpatient treatment settings in any clinical indication where combined use of the Hemopurifier and CPCs may improve or expand indications for use, including but not limited to infectious disease, oncology and organ preservation and transplant.
"The potential synergy of our two companies' platforms should allow penetration into multiple unaddressed markets," said Timothy C. Rodell, M.D., Interim Chief Executive Officer of Aethlon Medical. "Many solid organ transplant patients' outcomes are impacted by viral infections, including hepatitis C and cytomegalovirus (CMV), so the demonstrated ability of the Aethlon Hemopurifier to clear viruses could be complementary to SeaStar's CLR 2.0's ability to improve donor organ function. Likewise, inflammation has a role in cancer, which could make the SeaStar products complementary to the Hemopurifier."
"Aethlon and SeaStar align on combining their complementary novel medical devices to address critical unmet needs," said Charles J. Fisher Jr., M.D., Chief Executive Officer of SeaStar Medical. "Combinations of the Hemopurifier and the SeaStar cartridges present unique and promising development paths. After joining Aethlon's board of directors in November 2017, I realized that both teams are equally passionate about providing innovative medical products designed to improve the survival of patients with cancer, infectious and inflammatory disorders."
About SeaStar Medical, Inc.
SeaStar Medical's transformative immune and inflammation modulating technology addresses transplantation, inflammation and oncology. This innovative bedside technology has been shown to be safe in humans and has demonstrated a reduction of inflammation and associated tissue injury in organs. SeaStar's name is inspired by the sea star, which possesses both unique anti-inflammatory and anti-cancer properties. For more information, visit http://www.seastarmed.com/.
About Aethlon Medical, Inc.
Aethlon Medical is focused on addressing unmet needs in global health. The Aethlon Hemopurifier® is a clinical-stage immunotherapeutic device designed to combat cancer and life-threatening viral infections. In cancer, the Company believes that the Hemopurifier depletes the presence of circulating tumor-derived exosomes that promote immune suppression, seed the spread of metastasis, and inhibit the benefit of leading cancer therapies. The Hemopurifier® is an FDA designated "Breakthrough Device" related to the treatment of individuals with advanced or metastatic cancer who are either unresponsive to or intolerant of standard of care therapy, and with cancer types in which exosomes have been shown to participate in the development or severity of the disease. The Hemopurifier also holds a Breakthrough Device designation related to life-threatening viruses that are not addressed with approved therapies.
Additionally, Aethlon owns 80% of Exosome Sciences, Inc., which is focused on the discovery of exosomal biomarkers to diagnose and monitor cancer and neurological disease progression. Additional information can be found online at www.AethlonMedical.com and www.ExosomeSciences.co