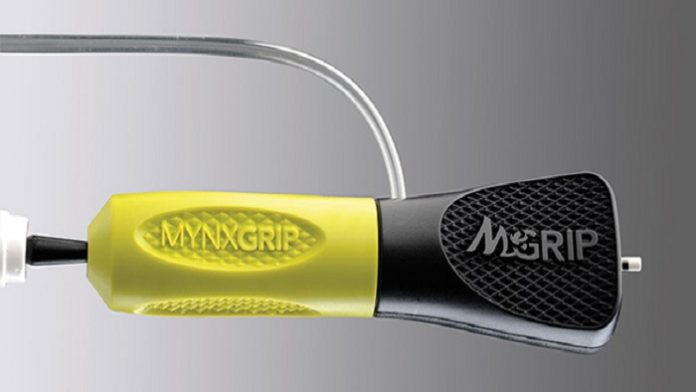 Cordis, a Cardinal Health company, announced the U.S. launch of MYNX CONTROL™ Vascular Closure Device (VCD). MYNX CONTROL™ VCD integrates active extravascular sealing and resorbability properties with a next-generation delivery system to maximize predictability, safety, and ease of use in sealing 5-7F femoral arterial access sites. Vascular closure devices reduce time to hemostasis and ambulation in patients who have undergone diagnostic or interventional procedures.1
MYNX CONTROL™ VCD features a next-generation deployment system that is designed for predictable deployment and ease of use. It will be available in 5F as well as 6/7F sizes. Highlights of this new system include:
sheath catch that is compatible with the procedural sheath
tension indicator that provides visual confirmation of device position for proper sealant deployment
Cordis Launches MYNX CONTROL Vascular Closure Device ergonomic handle with a 2-button deployment design to simplify procedural steps
Leveraging the proven MYNXGRIP® VCD technology, which has been used in over two million interventional cases worldwide, the MYNX CONTROL™ VCD utilizes a dual-mode active sealing mechanism. This allows the sealant to interlock with the contours of the arterial wall, expanding to fill the tissue tract and create a matrix structure for clot formation. With all closure components resorbing within 30 days, nothing is left behind. The MYNX® VCD technology has been clinically proven to reduce surgical complications, expedite recovery, shorten hospital stays, and increase patient comfort.1-6
"The notion of secure extravascular closure with nothing left behind is very appealing for a number of reasons," said Ali Almedhychy, MD, global medical director at Cordis. "In addition to the clinical benefits of undisrupted flow in the artery, MYNX CONTROL™ VCD minimizes technique-related issues and emphasizes simplicity and reproducibility."
"MYNX CONTROL™ VCD reinforces Cordis leadership in global vascular closure innovation," commented Patrick Holt, president at Cordis. "By adding new access, diagnostic, interventional and closure products to our portfolio, we continue to make significant patient-centric contributions to the delivery of healthcare."
As a global leader in the treatment of cardiovascular disease, Cordis continues to grow its product portfolio, including via recent strategic alliances, bringing customers the EluNIR® Drug-Eluting Stent (DES), TRYTON Side Branch Stent, and MOZEC™ PTCA Balloon Dilatation Catheters.