Leading executives across sectors discussed business model innovation and new-age technology adoption to hrive in a highly disruptive economy.
Frost & Sullivan's flagship event Growth, Innovation and Leadership Summit, GIL 2016: India successfully concluded its eight edition in Mumbai. Inspiring keynote sessions by industry stalwarts, Frost & Sullivan's domain experts, illustrious panelists, and topical insights from 30 industry luminaries, economists, bureaucrats and more than 150 delegates, provided for well-rounded discussions.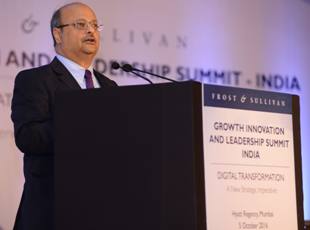 The GIL India journey began with Frost & Sullivan's Global President & Managing Partner, Aroop Zutshi discussing the current internal and external challenges to India, and how enterprises need to implement strategies to battle competition and the 'pace of change'. "As we embark into the era of 'Artificial Intelligence' every company globally will need to incorporate digital technology to serve their customers and create a competitive differentiation. All companies will be generating more data than ever before and will end up becoming digital analytics companies thereby opening new opportunities", he said.
This year, GIL India was inaugurated by Dr. Ajay Kumar, Additional Secretary, Ministry of Electronics & IT, Government of India, who emphasized on how innovation is the key component for digital transformation and with the pace of innovation in India the country is now becoming one of the fastest growing startup destinations. "Technology is bringing in digital transformation both for the Indian Government and for businesses. The good news is that this transformation is actually happening today on ground.
We can feel the power of change. Within the Government, transformations like Government e-market for government procurement, myGov.in for e-participation by citizens, faceless cashless paperless governance through the infrastructure of Aadhaar, Digital locker, eSign, e-mandi, etc. are examples of such hugely transformational programs" said Dr. Kumar.
Frost & Sullivan felicitated Anu Aga, Non-Executive Director, Thermax Limited, with the prestigious '2016 GIL Leadership Award,' for her contribution to the social sector, commitment towards philanthropy, and for bringing in strategic transformation at Thermax Ltd. During the Q&A session, she pointed out that with technology there are new avenues for social sector, such as crowd sourcing. She also emphasized on the need for women's empowerment in the industry and how companies need to deploy suitable measures to recruit women across all functional areas, including engineering.
Manoj Menon, Senior Partner & Asia Pacific Managing Director, Frost & Sullivan conducted a collaborative and interactive workshop on digital transformation for private and public brands in India across industries, where delegates assumed the role of digital strategy officers and chartered new roadmaps for business by including new age technology such as machine learning, artificial intelligence, cloud and social media. Participants brainstormed about how important it is to use technology to drive efficiency, productivity, innovation.
Interactive panel discussions with senior thought leaders and industry specialists highlighted the need for social inclusiveness with digital strategies, to drive India's sustainable growth story. The Summit included perspectives from Dr. Shubhada M Rao, Group President & Chief Economist, YES Bank Ltd.; K Ganesh, Serial Entrepreneur, Partner – GrowthStory.in and Chairman, Portea Medical; Sharad Sanghi, CEO & MD, Netmagic Solutions; Govindraj Ethiraj, Founder, PING Digital Broadcast Pvt Ltd.; Sameer Nair, Group CEO, Balaji Telefilms Limited; Avinash Velhal, Group CIO India, Middle East & Africa & VP IT & Process, Atos India; Dilip Sawhney, Managing Director – India, Rockwell Automation India Pvt Ltd.; Jagdish Mitra, Chief Strategy and Marketing officer – Head Growth factories, Tech Mahindra Limited; Delna Avari, Mentor, Consultant, Entrepreneur and others.
Industry breakout sessions brought forth views on the automotive, energy and television media domains, as well as the future of smart manufacturing. The panelists also debated on how to balance investments in new business models while making the best of their current investments.
The evening concluded with Frost & Sullivan's 2016 Indian Best Practices Awards, which recognized companies for their accomplishments in areas of innovation, convergent thinking and advanced technologies that will catalyze and transform industries in the near future. This year 58 awards were presented to a range of deserving establishments and companies for their exceptional performance under various parameters like innovation, technological augmentation, revenue, customer service, service provider etc.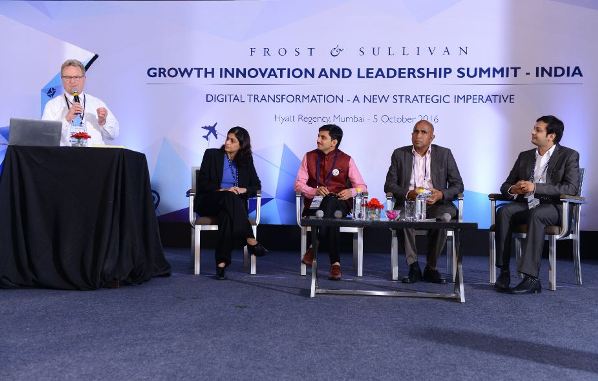 Concur Technologies India Pvt. Ltd. and Malaysia Digital Economy Corporation (MDEC) were the Gold Growth Partners for this Summit, while the Media Partners supporting the summit were Automation Connect, Chronical Pharmabiz, Convergence Plus, CXO Today, Efficient Manufacturing, Health Biz Insight, Healthcare Executive, Hospital & Healthcare Management, Medical Buyer, Sustainability Next, The CEO Magazine, and The Smart CEO.
Frost & Sullivan offers research and consulting services to enterprises to develop transformational as well as customer roadmap among corporates and non-corporates. For more information on the Growth Innovation and Leadership event and Frost & Sullivan's Global Community of Growth, Innovation and Leadership, visit: http://ww2.frost.com/
About Frost & Sullivan
Frost & Sullivan, the Growth Partnership Company, works in collaboration with clients to leverage visionary innovation that addresses the global challenges and related growth opportunities that will make or break today's market participants. For more than 50 years, we have been developing growth strategies for the Global 1000, emerging businesses, the public sector and the investment community. Is your organization prepared for the next profound wave of industry convergence, disruptive technologies, increasing competitive intensity, Mega Trends, breakthrough best practices, changing customer dynamics and emerging economies? Contact us: Start the discussion
Media Contact:
Srishti Choudhury,
Sr. Events Executive
M: +91 89834 82489; P: +91 20 40778850
E: srishtic@frost.com
http://ww2.frost.com
Twitter: @Frost_MENASA
Event Hashtag: #GILIndia
Facebook: FrostandSullivanMENASA