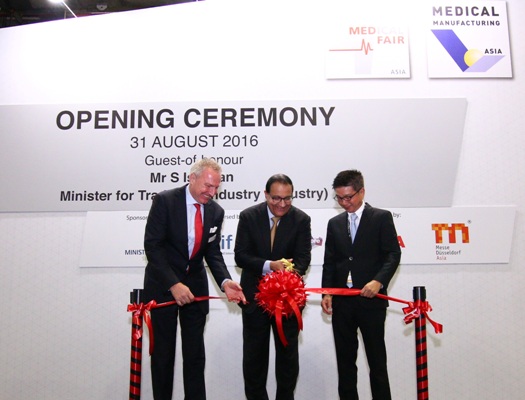 MEDICAL MANUFACTURING ASIA 2016 closed on 2 September to a positive note of 5,200 quality trade visitors from 38 countries, with more than 30% coming from overseas. The importance of MEDICAL MANUFACTURING ASIA 2016 as an arena for the display of the latest technologies and solutions from the medical technology and medical manufacturing processes sector was further highlighted by the strong participation of 200 exhibitors from 18 countries. Aside from significant presence of returning national and country groups from Austria, China, Germany, Japan and Singapore, MMA 2016 saw the additions of Italy, USA and Europe – a group presence led by IVAM Microtechnology Network. These figures are on trend and indicative of MEDICAL MANUFACTURING ASIA's alignment with Southeast Asia's vibrant MedTech sector which has seen robust growth of downstream medical manufacturers and enhanced manufacturing capabilities in the recent years.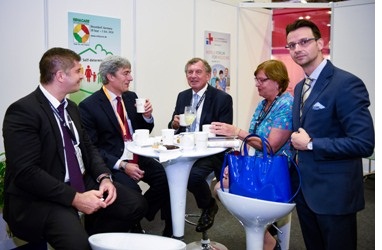 Once again co-located with MEDICAL FAIR ASIA, the two synergistic exhibitions provided an ideal business-promoting platform for all those involved in medical and healthcare as highlighted in the opening speech by Mr S Iswaran, Minister for Trade and Industry (Industry), and at a new and bigger venue, the Sands Expo and Convention Centre. He also stressed Singapore's strong position as a gateway for MedTech companies, both local and foreign, to access growing markets in the region, and Singapore's reputation as a trusted business hub.
Reiterating the same standpoint is Mr John Lim, Lead, MedTech Initiative, Precision Engineering Centre of Innovation, SIMTech, and one of the key speakers at the MedTech Business Forum, who shared of Southeast Asia's tremendous growth potential, primarily due to its sheer size, and growing ageing population. "We are seeing a lot of opportunities in the areas of personalised medicine, especially inter connectivity, as well as a lot more devices for localisation. I think it is a great platform to basically share not only what we have, by inviting speakers from renowned MedTech players, analysts from Ernst & Young, as well as Frost and Sullivan, our focus is also on driving R&D and innovation, looking at causing some disruption to the industry."
Mr Gernot Ringling, Managing Director, Messe Düsseldorf Asia, commented that MEDICAL MANUFACTURING ASIA continues to address challenges of accessing Asian markets with its differing characteristics, and serves as a central meeting place and launch pad for the medical manufacturing industry to enhance capabilities and to establish networks, as well as to grow their business in the region.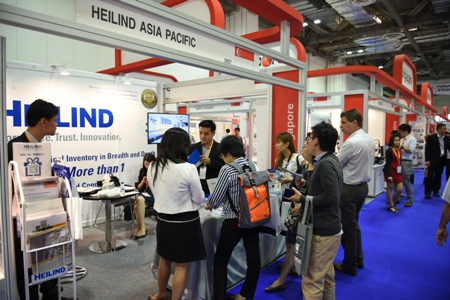 "The healthy exhibitor and visitor numbers are testament of the local and international attention and standing of the exhibition, which connects the industry, pairing exhibitors to key decision makers and the right audience profile. Together with the concurrently run forums (IVAM Forum on high-tech medical devices, and MedTech Business Forum) and workshops which were well-attended by more than 200 delegates, and co-location with MEDICAL FAIR ASIA – this one-stop platform is the only one of its kind in the region that offers a conducive sourcing and knowledge-exchange experience for all involved.
"Dr Thomas R Dietrich, CEO, IVAM Microtechnology Network, pointed out that there are in fact few trade events on the world exhibition calendar that zoom-in on the specifics of medical technology. He said: "It is very important to have this kind of show – what we have only rarely is what we see here at the MEDICAL MANUFACTURING ASIA that is, the technology itself. IVAM represents the micro and nano technology side and I believe that this kind of product and this kind of technology is very important for the medical industry."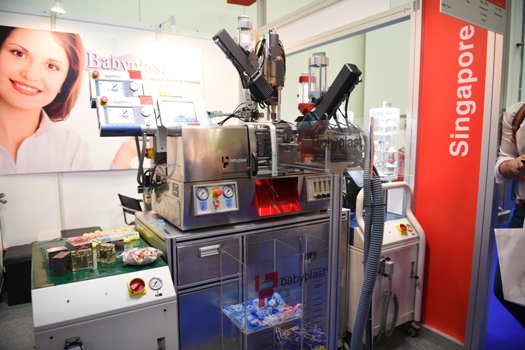 Established as Asia's leading exhibition for the medical technology, medical manufacturing processes and related sectors, MEDICAL MANUFACTURING ASIA 2016 – modelled after COMPAMED in Germany, is jointly organised by SPETA (Singapore Precision Engineering and Technology Association) and Messe D üsseldorf Asia.
According to repeat exhibitor and prominent local company SP Manufacturing that specialises in full turnkey manufacturing solutions from prototype services to global technology OEMs, "the quality of responses and enquiries is more genuine, so the opportunities we have been able to gather from the leads that we have received should translate to a higher conversion rate than what I see in other exhibitions where I have attended," said Mr Mark Teo, Group CEO, SP Industrial Holdings. For Italian pre-insulated panel solutions company P3 SRL,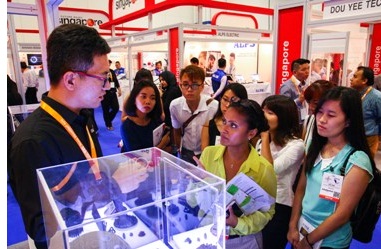 Southeast Asia continues to be the region of choice and Singapore the centre for quality solutions. Commenting on the high quality visitor profile, Mr. Enrico Chiabrera, Commercial Director, said: "We are very much appreciative of the feedback because many customers and consultants we have seen have been decision makers, and they expressed good impressions regarding our solutions. We also met people from Singapore of course, and from Malaysia, Indonesia and other countries like Thailand and even from Myanmar."
Similar sentiments were also gathered from visitors to MEDICAL MANUFACTURING ASIA 2016. Said first-time visitor, Dr Dominic Er, Executive Chairman of Quantum Health (Singapore): "I was surprised by the size of the exhibition and the turnout. Having been in the medical industry for most of my life, this is one of the best shows that I have visited as I saw many new and interesting exhibits on display.
I came here looking for breakthrough pr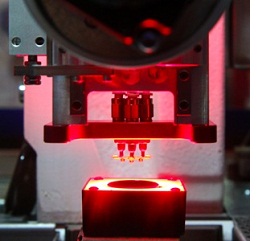 oducts and services that my newly established company can acquire and I found that the two exhibitions have a good mix of exhibits." His thoughts were echoed by Mr Mohamed Salih, Chairman of Damas Company Pvt Ltd (Republic of Maldives), who mentioned that his visit to MEDICAL MANUFACTURING ASIA 2016 has been a mind-opening one. "I was exposed to the latest medical technologies, cost-effective solutions and innovative products that would benefit end users. I also had the opportunity to interact with the international pool of exhibitors at the exhibition will certainly be back in 2018", he said.
Optimistic statements at MEDICAL MANUFACTURING ASIA 2016 from both exhibitors and visitors were backed by a host of business matching meetings and strategic alliance building that reflected both the diversity and health of the MedTech industry. The next edition of MEDICAL MANUFACTURING ASIA will take place in September 2018.
About Messe Düsseldorf Asia (MDA)
Messe Düsseldorf Asia is a subsidiary of Messe Düsseldorf in Germany, one of the world's leading trade fair organisers, responsible for organising more than 20 global No. 1 exhibitions in various industries including medicine and health, specifically MEDICA, COMPAMED and REHACARE INTERNATIONAL held in Düsseldorf, Germany. With extensive expertise in organising trade fairs in Southeast Asia, Messe Düsseldorf Asia has developed a portfolio of numerous trade fairs in the region since 1995. For more information, please visit http://mda.messe-dusseldorf.com
Press Contact:
Fulvia Wong
Tel: +65 6332 9649
Email: fulvia@mda.com.sg
Exhibitor Contact:
Daphne Yeo
Tel: +65 6332 9682
Email: daphne@mda.com.sg