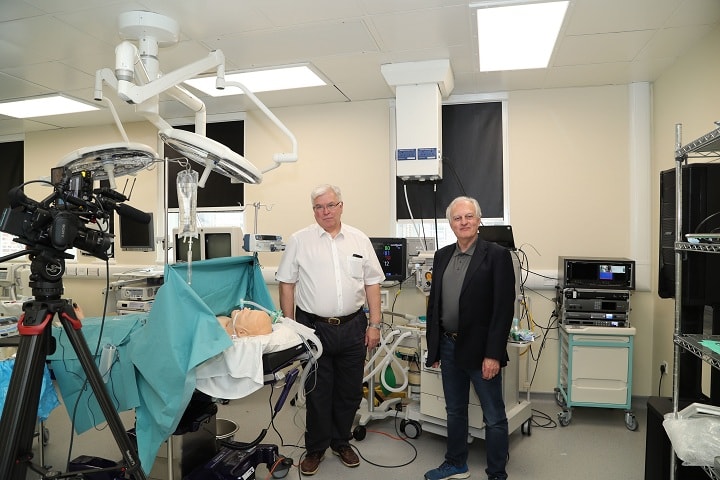 Pioneering software that enables anaesthetists to make better decisions for high risk patients during surgery has been awarded Innovate UK funding.
Cambridge based Directed Systems has been allocated a Digital Health Technology Catalyst Round 3 Collaborative R&D grant to develop and market their innovative cardiovascular clinical decision assist systems.
The company will work alongside clinicians at University Hospitals Birmingham NHS Foundation Trust (UHB) to create the technology for operating theatres, intensive care units and emergency departments. Their key collaborator at UHB is Dr Tom Clutton-Brock, consultant anaesthetist and Director of the NIHR Trauma Management MedTech Co-operative, and also the Medical Devices Testing and Evaluation Centre (MD-TEC).
The aim of the research will be to complete product development, usability and clinical testing, and CE Mark approvals for the clinical decision support software for the UK and European market.
Low blood pressure (hypotension) during operations occurs frequently and is associated with complications and poor outcomes. For patients this means longer hospital stays and in worst cases increased risks of mortality.
Evidence shows that reducing hypotension can reduce these side effects. Once developed the technology aims to help improve patient outcomes by optimising care and reducing complications. It will also support reducing hospital length of stays and help to save hospitals money.
"We are delighted to receive this support from InnovateUK. It enables us to build our relationship with UHB and complete our product development. Our vision is that our software will make a real difference to patients' lives as well as saving the NHS substantial costs", Dr Mark Leaning, CEO and Founder of Directed System.
Dr Tom Clutton-Brock added: "There is substantial evidence to show that patients undergoing major or emergency surgery do not tolerate even quite short periods of hypotension and may experience post-operative complications. Although skilled at controlling blood pressure anaesthetists need help with complex patients. Directed Systems have developed a very elegant solution to this problem and it is exciting to be working closely with them in pre-clinical and early clinical studies."
Over the last year the ABHI has been supporting Directed Systems with their US Strategy and the company has joined their US Accelerator with the Dell Medical School.
During this time Directed Systems has seen strong interest in their technology from the United States and have submitted a FDA 510(k). They are also currently collaborating with Cleveland Clinic.
Paul Benton, Managing Director, International, said: "The UK is a world leader in health innovation and digital tech like this really highlights why. It has been great to support Directed Systems with their US Strategy and to be able to showcase their software to senior US healthcare figures as a cutting-edge example of British technology. "
The total project cost is £750k and runs from April 2019 to December 2020. Supporting innovations like Directed Systems is a key element of the government's Industrial Strategy and will create the industries and jobs of tomorrow.
About Directed Systems
Directed Systems is a medical device company based in Cambridge, UK. They develop and market cardiovascular decision support systems for clinicians in the operating room and critical care. Working alongside clinicians and using smart algorithms, the company are developing new software solutions that will enable clinicians to make even better decisions for their high-risk patients during surgery. Their vision is to help clinicians reduce complications, length of stay and save costs. Directed Systems will be launching the product into the US market in 2019, to be followed by a European launch later in the year.
About UHBUniversity Hospitals Birmingham NHS Foundation Trust (UHB) is one of the largest teaching hospital trusts in England, serving a regional, national and international population. The Trust provides a full range of services across South Birmingham, East Birmingham, Solihull, Sutton Coldfield, Tamworth and South Staffordshire. 20,000 members of staff see and treat more than 2.2 million people every year and the Trust hospitals deliver more babies than anywhere else in Europe. They are a regional centre for cancer, trauma, renal dialysis, burns and plastics, HIV and AIDS, as well as respiratory conditions like cystic fibrosis. They also have expertise in premature baby care, bone marrow transplants and thoracic surgery and have the largest solid organ transplantation programme in Europe. They provide a series of highly specialist cardiac, liver and neurosurgery services to patients from across the UK. They also host the Trauma Management MedTech Co-operative (MIC) which supports the development of new medical devices, healthcare technologies and technology-dependent interventions in the NHS.
NIHR Trauma Management MIC
The National Institute for Health Research funds health and care research and helps translate discoveries into practical products, treatments, devices and procedures, involving patients and the public. They ensure that the NHS is able to support the research of other funders to encourage broader investment in, and economic growth from, health research. They work with charities and the life sciences industry to help patients gain earlier access to breakthrough treatments and train and develop researchers to keep the nation at the forefront of international research.
About The National Institute for Health Research (NIHR)
The National Institute for Health Research (NIHR) is the nation's largest funder of health and care research. The NIHR:
Funds, supports and delivers high quality research that benefits the NHS, public health and social care Engages and involves patients, carers and the public in order to improve the reach, quality and impact of research Attracts, trains and supports the best researchers to tackle the complex health and care challenges of the future Invests in world-class infrastructure and a skilled delivery workforce to translate discoveries into improved treatments and services Partners with other public funders, charities and industry to maximise the value of research to patients and the economy
The NIHR was established in 2006 to improve the health and wealth of the nation through research, and is funded by the Department of Health and Social Care. In addition to its national role, the NIHR supports applied health research for the direct and primary benefit of people in low- and middle-income countries, using UK aid from the UK government.
About ABHI
ABHI is the UK's leading industry association for health technology (HealthTech). ABHI supports the HealthTech community to save and enhance lives. Members, including both multinationals and small and medium enterprises (SMEs), supply products from syringes and wound dressings to surgical robots and digitally enhanced technologies. We represent the industry to stakeholders, such as the government, NHS and regulators. HealthTech plays a key role in supporting delivery of healthcare and is a significant contributor to the UK's economic growth. HealthTech is now the largest employer in the broader Life Sciences sector, employing 121,000 people in 3,500 companies, with a combined turnover of £22.2bn. The industry has enjoyed growth of around 5% in recent years. ABHI's 280 members account for approximately 80% of the sector by value.