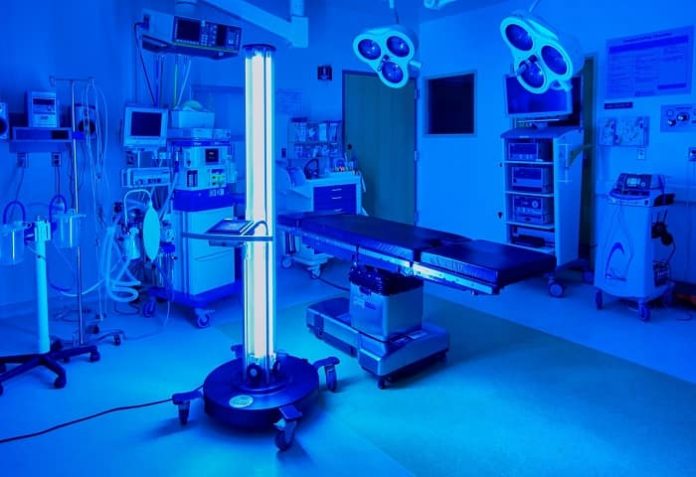 As part of its ongoing commitment to patient safety, EvergreenHealth has partnered with Clorox Healthcare to bring advanced ultraviolet light disinfecting technology to the health system's existing patient safety and infection-fighting protocols. The Clorox Healthcare® Optimum-UV Enlight® System will complement EvergreenHealth's comprehensive infection control plan, which combines manual surface disinfection with the new pathogen-killing UV technology.
The new disinfecting system uses state-of-the-art ultraviolet (UV-C) light technology to eliminate dangerous pathogens, such as Methicillin-Resistant Staphylococcus aureus (MRSA) and Clostr idium difficile (C. difficile), which can survive on surfaces in the healthcare environment for extended periods and pose a threat to patients, staff and visitors. Following standard cleaning and disinfecting procedures, the mobile UV-C unit is brought in to provide another layer of protection and ensure even hard-to-reach areas in hospital rooms that may be difficult to clean by hand are thoroughly treated. They system works by emitting UV-C light, the highest-energy form of ultraviolet light, in a full 360 degrees, killing microorganisms by inactivating their DNA which renders them harmless and unable to replicate.
"There is nothing more important than the safety of our patients and their families, and we are constantly looking for ways to enhance their experience through our culture of safety and commitment to the highest standards of care," said Bob Malte, CEO of EvergreenHealth. "This additional layer of safety and infection prevention reflects our integrated approach to combining the latest healthcare technology with the very human element of patient care."
After standard manual cleaning and disinfecting procedures, the lightweight device can disinfect areas within an 8-foot radius in just five minutes. In a typical patient room, the system is deployed for three five-minute cycles, once on each side of the bed and once in the patient bathroom. A similar protocol is used for operating rooms at the end of each day. The system also tracks device usage across rooms, locations and operators, and provides automated, real-time diagnostic data and reporting.
Research from the University of Pennsylvania showed that using the Optimum-UV Enlight® System in combination with manual surface disinfection, helped reduce C. difficile infection rates among high-risk patients by 25 percent over a 12-month period—and without impacting room turn-over times.i Most importantly, the results were achieved in hematology/oncology units that had persistently high C. difficile infection rates, despite high compliance with other evidence-based prevention measures.
For more information about EvergreenHealth's commitment to patient safety, visit www.evergreenhealth.com/absolute-safety, or to learn more about the Clorox Healthcare® Optimum-UV Enlight® System, visit www.CloroxHealthcare.com.
i Pegues DA et al. Infection Control & Hospital Epidemiology. 2016: pp. 1–6. doi: 10.1017/ice.2016.222.