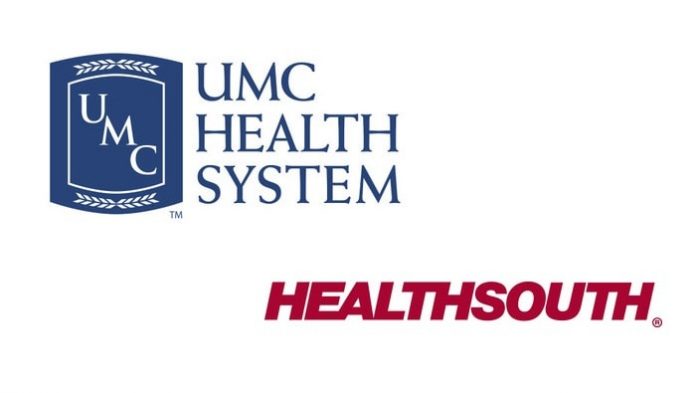 HealthSouth Corporation and University Medical Center Health System announced they have entered into an agreement to build a 40-bed inpatient rehabilitation hospital in Lubbock, Texas. The partnership and new hospital were agreed upon by public vote at today's UMC Health System board of directors meeting.
The hospital will be built in a UMC Health System development on North Slide Road. Construction will begin in spring 2018, and the hospital is expected to start providing comprehensive physical rehabilitation services to patients in spring 2019. It will serve patients who have experienced stroke, trauma, brain and orthopedic injuries and other major illnesses or injuries.
"Combining our expertise in physical rehabilitation services with UMC Health System's exceptional care and patient experience makes for a seamless partnership," said Frank Brown, president of HealthSouth's southwest region. "We are excited to enhance UMC Health System's continuum of care with a new, state-of-the-art inpatient rehabilitation hospital designed with our patients' needs in mind."
"We are pleased to join HealthSouth in this venture. HealthSouth is an industry leader in inpatient rehabilitative care and shares our commitment to service and quality," said David Allison, UMC president and CEO. "We believe this joint venture will have a positive impact on the health care provided in Lubbock and the South Plains."
The new hospital represents an investment in the community of approximately $20 million and will provide up to 116 new full-time jobs. The formation of the joint venture is subject to customary closing conditions, and the joint venture's operation of the new hospital is subject to regulatory approvals.
About UMC Health System
UMC Health System is ranked among the top 10 percent of hospitals in the nation for patient experience by HealthGrades, and has consistently ranked among the best places to work in Texas by the Best Companies Group. More than 500,000 patients a year choose UMC.
About HealthSouth
HealthSouth is one of the nation's largest providers of post-acute healthcare services, offering both facility-based and home-based patient care in 36 states and Puerto Rico through its network of inpatient rehabilitation hospitals, home health agencies, and hospice agencies. HealthSouth can be found on the web at www.healthsouth.com.
HealthSouth Contacts:
Media: Casey Lassiter, 205 447-6410, casey.lassiter@healthsouth.com
Investor Relations: Crissy Carlisle, 205 970-5860, crissy.carlisle@healthsouth.com
UMC Health System Contact:
Media: Eric Finley, 806-775-8644, eric.finley@umchealthsystem.com