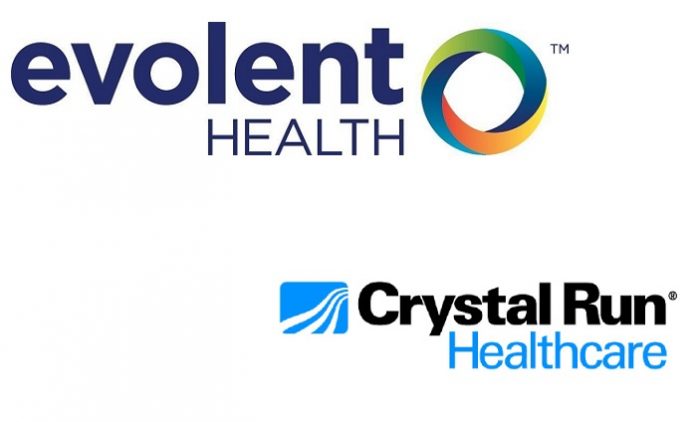 Evolent Health, a company providing an integrated value-based care platform to the nation's leading health systems and physician organizations, today announced its partnership with Crystal Run Healthcare, one of the fastest growing multi-specialty group practices in the country. Evolent Health will power the New York-based provider-sponsored Crystal Run Health Plan.

"We are excited to work with an innovative partner like Crystal Run to provide comprehensive management and clinical support to power its value-based care strategy," said Evolent Health Chief Executive Officer Frank Williams. "Our aligned missions and value-based focus will enhance the positive impact Crystal Run is already having on the health and wellbeing of its community."
Evolent Health is providing Third Party Administrator (TPA) services and population health management technology for Crystal Run's Medicaid and commercial health plans. Crystal Run's "Essential" plan is a unique health plan for lower-income residents who do not qualify for Medicaid that offers the same essential benefits as other health plans but at a lower cost, including no deductible. The partnership between the organizations will initially focus on support for a smaller scale population of health plan membership, with the potential to scale the impact of clinical programming to other populations managed by the Crystal Run ACO.
"In our search for an organization that could help us meet our growth ambition and community impact, Evolent Health stood out as a partner with operational expertise in health plan administration that also brings unique experience in delivering value-based care for our membership," said Executive Director of Crystal Run Health Plan Steve Zeng. "We are excited to partner with the Evolent team to help our business grow and impact the lives of our members by providing them access to high quality care at a lower cost."
Crystal Run Healthcare, which was among the initial class of 27 organizations to participate as an Accountable Care Organization (ACO) in the Medicare Shared Savings Program (MSSP), launched its provider-sponsored Crystal Run Health Plan in 2015 from its conviction that health insurance should enable value-based care with a focus on giving its patients a better health care experience. The practice has more than 400 providers in nearly 50 specialties and more than 20 locations. The ACO was the first in New York state to become NCQA accredited and currently manages care for approximately 40,000 attributed patients.
About Evolent Health
Evolent Health partners with leading provider organizations to achieve superior clinical and financial results in value-based care. With a provider heritage and over 20 years of health plan administration experience, Evolent operates in more than 30 U.S. health care markets, actively managing care across Medicare, Medicaid, commercial and self-funded adult and pediatric populations. With the experience to drive change, Evolent confidently stands by a commitment to achieve results. For more information, visit evolenthealth.com
About Crystal Run Healthcare
Crystal Run Healthcare is a premier multi-specialty group medical practice that is among the fastest growing in the country. It includes more than 400 providers in nearly 50 medical specialties with more than 20 practice locations focusing on the health care needs of the Hudson Valley, lower Catskill region, New York City and Northern New Jersey. The practice was among the initial class of 27 health care organizations to participate as an Accountable Care Organization (ACO) in the Medicare Shared Savings Program (MSSP). For more information visit crystalrunhealthcare.com