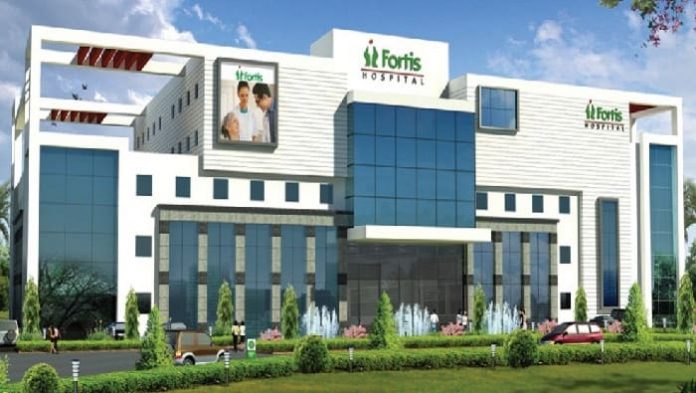 Team of doctors at Fortis Hospital, Shalimar Bagh led by Dr Surender Dabas, Director – Head, Neck and Thoracic Surgical Oncology recently performed two extremely complicated and challenging cases on two middle-aged patients suffering from malignant neck tumors that had metastasized to the neck nodes and were in extremely precarious positions making it difficult to operate on.
The first patient a 50 year old female, Mrs. Mukesh Devi, who had a nerve sheath tumor (a tumor that covered the nerve completely) that had been operated on four times previously but kept reoccurring. The second patient was a 48 year old female, Bimla Devi, who was admitted to the hospital with a case of post – cricoid carcinoma (Food Pipe).
Mrs Mukesh Devi was evaluated and operated on four times in a renowned hospital of Delhi for a neck tumor. She underwent her 1st surgery in 1997 followed by surgeries in in 2005, 2012 and 2015. The surgery conducted in 2015, did not remove the tumor completely and she received radiation in the form of cyberknife. However the tumor recurred rapidly within 3 months. An MRI scan showed a left para pharyngeal tumor that had encased the main artery of brain (Internal carotid artery). All the hospitals advised her against surgery. The tumor was pushing the left tonsil and there was limited space in the mouth, which complicated the process of administering anesthesia also.
On her presentation at Fortis, the case was almost considered a lost case. The tumor had reoccurred 4 times which lead to limited space in the mouth, compromising the blood supply. The opinion of an interventional neurologist was taken and a digital subtraction angiography was done. Dr Dabas along with Dr Umesh Deshmukh and his team (who administered anesthesia) took up the challenge. The surgery was precise, intricate and skillfully orchestrated. Careful dissection of main artery was done. The tumor was arising from the 10th cranial nerve and had its roots extending to the skull base, tonsil and behind the food pipe. The surgery lasted for 6 hours and the patient was kept in ICU for one day, and was discharged on the 4th day after the surgery.
The second patient, Bimla Devi, complained of pain while swallowing which was subsequently followed by a difficulty in breathing. An endoscopy and biopsy were performed proving the presence of a squamous cell carcinoma in the laryngeal region or hypopharynx. She had previously undergone treatment with radiation followed by 8 cycles of palliative chemotherapy which had resulted in absolute dysphagia (difficulty in swallowing). She was rejected for treatment from several centers in Delhi NCR who suggested that instead of surgery, open feeding gastrostomy should be conducted as an alternative route for feeding and was done which further complicated the final surgery. It was the first operation of this kind in North India.
Bimla Devi was presented at Fortis Shalimar Bagh in a state of complete weakness. After reviewing her case, Dr. Dabas decided to perform a total Laryngo-Pharyngectomy and Reconstruction of Pharyngeal tube with a free Jejunal Flap (middle segment of the small intestine found between the duodenum and the ileum).. Post the surgery the patient was kept on ventilator support for two days. The post-operative period was uneventful and smooth.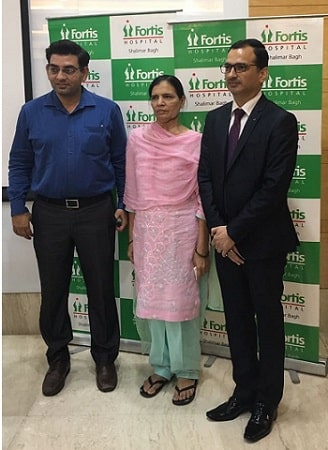 Patient Mukesh Devi said, "I am very grateful to Dr Dabas for taking on such a tiresome and troubling case. My condition is very difficult to live with and affects the quality of life. It was not an easily diagnosed case and the surgery proved to be even tougher. However Dr Dabas's positivity and relentless effort to help me has ultimately yielded good results."
Dr Surender Dabas, Director – Head, Neck and Thorac Surgical Oncology, Fortis Shalimar Bagh said, "Pharyngoesophageal reconstruction requires great attention to detail, and there is no room for error. The ultimate goals of reconstruction are to provide protection of important structures such as the carotid artery, and restoration of functions such as speech and swallowing. The ability to speak and swallow following treatment is of integral importance and has a tremendous impact on patient well-being and quality of life. In Mrs Mukesh's case the most striking thing was the reoccurrence of the tumor. However despite its reappearance we managed to adopt a solution that was permanent in nature."
Mr Mahipal Bhanot, Facility Director, Fortis Hospital Shalimar Bagh said, "The treatment of malignancies confined to the upper digestive tract (pharynx and esophageal) represents a formidable challenge. Radiotherapy has become the primary treatment for early stages of cancer in these regions. Reconstruction is a last resort action and is an extremely daunting and challenging task. It is with great pride that we showcase Dr Dabas's expertise in this area. It is with his positive and can do attitude that even the most hopeless cases develop a silver lining and can be treated."
Head and neck cancers account for more than 5.5 lakh of the total cancer cases reported in India every year, putting India in the sixth place worldwide. Primarily a lifestyle-related disease, such cancer is highly preventable. As much as 80 per cent of the causation is attributed to tobacco consumption, while 75 per cent is due to alcohol. Head and neck cancer account for one fourth of male cancers and one tenth of female cancers.
About Fortis Healthcare Limited
Fortis Healthcare Limited is a leading integrated healthcare delivery service provider in India. The healthcare verticals of the company primarily comprise hospitals, diagnostics and day care specialty facilities. Currently, the company operates its healthcare delivery services in India, Dubai, Mauritius and Sri Lanka with 45 healthcare facilities (including projects under development), approximately 10,000 potential beds and 368 diagnostic centres.