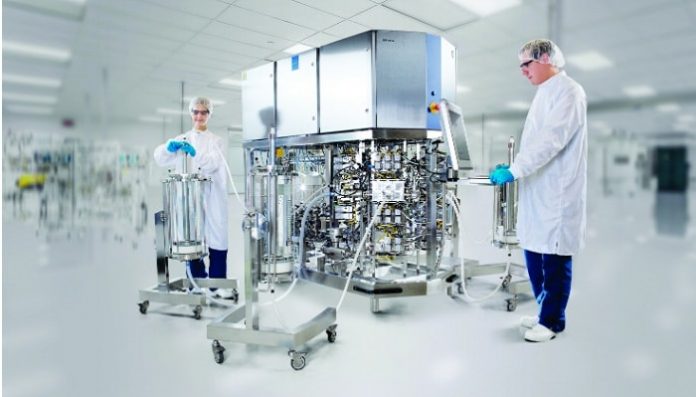 Facility producing fiber-based chromatography platform for more efficient biopharmaceutical purification operational in 2019.
GE Healthcare  announced the opening of a biotechnology manufacturing center at the Stevenage Bioscience Catalyst (SBC) Open Innovation Campus, in Stevenage, UK. In the first half of 2019, the center will start producing a fiber-based purification platform, which has the potential to significantly improve efficiency in the purification steps of manufacturing biopharmaceuticals, gene therapies and viral vectors.
The fiber-based purification platform comprises material with a unique proprietary structure. This has the potential to significantly improve process speed, flexibility and robustness during purification, a key step in the manufacturing of biopharmaceuticals.  Additional products will also be produced at the center to serve both laboratory and clinical applications.
Opening this new facility, which incorporates 3000 sq. ft (280 m2) of cleanroom space, will mean there are now 20 people at GE Healthcare's Stevenage facility. The fiber-based purification products will be prepared in Stevenage before being further processed and finished in GE Healthcare's existing manufacturing facility in Cardiff, Wales.
"This technology will bring real efficiency and productivity advantages for biopharmaceutical manufacturers as they move towards integrated, connected or continuous operations," says Olivier Loeillot, General Manager, BioProcess at GE Healthcare Life Sciences. "The fiber-based chromatography technology developed and manufactured in Stevenage will extend GE Healthcare's start-to-finish bioprocess purification portfolio."
Biopharmaceuticals, such as monoclonal antibodies are the world's fastest-growing class of medicine. The global market for biopharmaceuticals is estimated at more than $200 billion, and the market is growing around eight percent annually. All the top 10 biologic drugs by global revenue use GE Healthcare technologies in their manufacture.
The purification technology to be produced at the new facility came to GE Healthcare as part of the acquisition of Puridify, in November 2017. Puridify was founded in 2013 as a spin-out from University College London (UCL) and was based at the bio-incubator facility at the SBC, where GE Healthcare maintains an open laboratory aimed at providing SBC tenants with affordable access to advanced protein and cell analysis technologies.
About GE Healthcare:
GE Healthcare is the $19 billion healthcare business of GE.  As a leading provider of medical imaging, monitoring, biomanufacturing, and cell and gene therapy technologies, GE Healthcare enables precision health in diagnostics, therapeutics and monitoring through intelligent devices, data analytics, applications and services.  With over 100 years of experience in the healthcare industry and more than 50,000 employees globally, the company helps improve outcomes more efficiently for patients, healthcare providers, researchers and life sciences companies around the world. visit our website www.gehealthcare.com for more information.