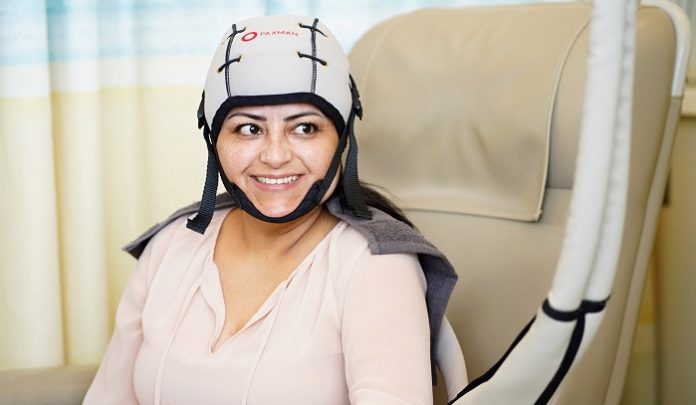 A ground-breaking British technology that prevents Middle Eastern cancer patients from losing their hair during chemotherapy will be showcased at Arab Health 2020. Scalp cooling expert, Paxman is exhibiting the next generation Paxman Scalp Cooling System (PSCS) at the exhibition, which has been designed to help men and women keep their hair and retain a feeling of normality during treatment for cancer. Chemotherapy-induced hair loss is widely recognised as one of the most traumatic side effects associated with cancer treatment.
For many patients hair loss can have a detrimental impact on their sense of identity – a visible sign that they have cancer. In fact 8% of female cancer patients say they would decline treatmentfor fear of hair loss, which remains a well-known side effect of many chemotherapy regimens, affecting approximately 65%of individuals undergoing treatment.
Today scalp cooling also known as the 'cold cap' is proven to be effective in combatting hair loss and is a well-accepted treatment throughout the world. It can be used with all solid tumour cancers. The Paxman Scalp Cooling System is used extensively throughout the UK in NHS hospitals and private clinics and is well established in many other countries across 38 US states Europe and the Middle East – including the UAE, Kuwait, Jordan, Lebanon, Iran, and Turkey.
Extending its reach across the Middle East, Paxman has just appointed new distribution partners in Saudi Arabia and Israel and will begin selling scalp cooling systems to hospitals in 2020. The British manufacturer will be taking advantage of its presence at Arab Health to strengthen its links across the Middle East – where its pioneering systems are already installed in state-of-the-art healthcare facilities across the region. This includes, in the UAE, Mediclinic City Hospital – South Africa's leading private hospital group – in the world-famous Dubai Healthcare City; and more recently the multi-speciality hospital American Hospital Dubai.
The company has plans to expand to Israel and Saudi Arabia in 2020 and are looking to create new partnerships at Arab Health to further develop their reach to key markets including Egypt and Bahrain as well as other parts of the world. Richard Paxman, CEO at Paxmansaid: "We are delighted to be able to offer scalp cooling to Middle Eastern patients and are keen to find new partners from across theregion. Scalp cooling can result in a high level of retention or in some cases completely preserve the hair for patients undergoing chemotherapy – a chance for them to retain their sense of self while encouraging a positive attitude towards treatment."
"As a company we want to empower patients, professionals and other people all over the world – especially in places where hair loss remains a stigma. We want to help improve peoples' self-confidence in facing what can be one of the most distressing side effects of chemotherapy – and give them a choice."
The Arab Health Exhibition & Congress is taking place from 27 January – 30 January 2020. Throughout the exhibition the Paxman Scalp Cooling System will be located in hall 2 stand D12. To find out more about scalp cooling visit www.paxmanscalpcooling.com Notes to editor:
About PAXMAN
Paxman is the leading global expert in scalp cooling, for the prevention of hair loss during chemotherapy. It works by reducing the temperature of the scalp by a few degrees immediately before, during and after the administration of chemotherapy.
Liquid coolant passes through the cap, extracting heat from the person's scalp, ensuring it remains at an even, constant temperature to minimise hair loss. Made from lightweight silicone, the scalp cooling cap is soft and flexible – providing a snug, yet comfortable fit during treatment, moulding to all head shapes and sizes. The Paxman family have developed award-winning cooling products and systems for the over thirty years.
Paxman's clinically proven cold cap system has helped over 100,000 cancer patients in more than 40 countries worldwide to retain their hair during chemotherapy – from the UK to the US and across Europe and the Middle East.