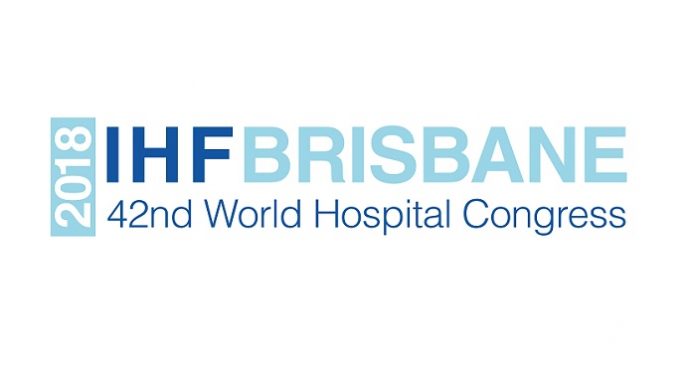 The 42nd IHF World Hospital Congress returns to Australia after more than 20 years with health leaders from more than 40 countries joining together at the Brisbane Convention and Exhibition Centre for three days of discussions, hosted by the Australian Healthcare and Hospitals Association (AHHA), with support from Queensland Health's Clinical Excellence Division.

'A big g'day to health leaders from around the world here in Brisbane eager to learn from each other over the next three days and return home inspired to improve the way we deliver healthcare to meet 21st century needs and expectations', said AHHA Board Chair Dr Deborah Cole.
The World Hospital Congress, under the umbrella of the International Hospital Federation (IHF), is a unique event that brings health leaders from around the globe together annually to share views and experiences, network and develop excellence in healthcare and hospital leadership. Over the last three years the event has been held in Taipei, Durban and Chicago, and it now heads to Australia for the first time since 1997.
'Over three days, the World Hospital Congress will delve in and unpack the themes of value-based healthcare, integrated care beyond the four walls of the hospital and the data and technology needed to support this transformation', said IHF President Dr Francisco Balestrin.
'If you are interested in value-based healthcare you will hear from the concept co-creator and innovation expert Professor Elizabeth Teisberg who will provide her insights into the evolution that needs to take place in healthcare', said Dr Cole. 'She will be joined by health leaders who are implementing value-based healthcare in Brazil, Malaysia, Singapore, Denmark and Australia.
'If you are interested in integrated care you can learn from Nigel Edwards, Chief Executive of the Nuffield Trust on the UK experiences in his keynote address. Dr Robert Pearl, Forbes Magazine contributor and former Permanente Medical Group Chief Executive Officer, will discuss the transformation required for integrated healthcare to maximise the health of people and communities.
'If you are interested in the impact of data and technology on healthcare delivery you can learn what Spain is achieving with health apps, how Zambia is using technological innovations to provide better quality of care in low resource settings and how the Mayo Clinic in the USA has used technology to review and improve opioid prescribing', said Dr Cole.
'We are on the cusp of big changes in healthcare services around the world that will bring great benefits to patients, as well as to clinical staff and administrators', said Dr Balestrin. 'Let's learn from each other and make this future happen.'
For more information on the 42nd IHF World Hospital Congress, visit www.hospitalcongress2018.com.
For more information on the AHHA and the IHF, visit www.ahha.asn.au and www.ihf-fih.org.
The Australian Healthcare and Hospitals Association is the national peak body for public and not-for-profit hospitals, and community and primary healthcare services. The International Hospital Federation is an international not-for-profit, non-governmental membership organisation of hospitals and healthcare organisations around the world.