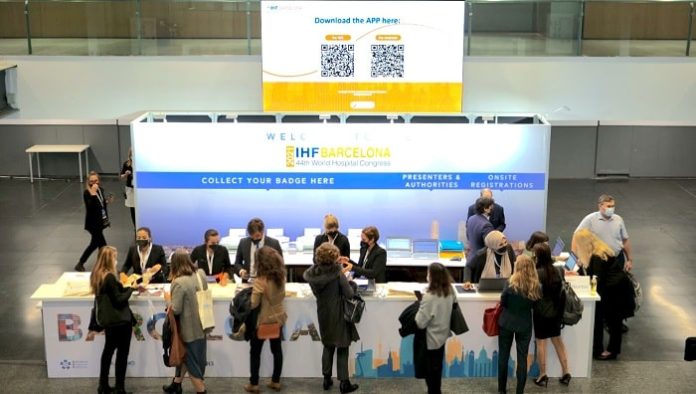 The 44thWorld Hospital Congress (WHC)starts at the Fira Montjuïc conference centre, Barcelona (Spain), a year later than originally planned due to the Covid-19 pandemic.
For the first time, the WHC is fully hybrid, facilitating the participation of more than 1,200 delegatesfrom over 70 countries in the entire programme whether they attend in-person and virtually. The WHC is the premier event in the International Hospital Federation's (IHF) calendar and their organizing partner and host for the 44th WHC is La Unió Catalana d'Hospitals (UCH).
For four days, leaders and decision-makers in the healthcare community willshare knowledge and good practices, exchange new ideas and innovations, and network with other senior executives.The 44th WHC features:
70+ plenary and parallel sessions
300+ speakers
200+ posters
60+ paper presentations
60+ lightning talk presentations
30+ exhibitors
The theme for this 44thWHC is "People on board: Transforming healthcare by blending agility, responsiveness, and resilience". Dr Enric Mangas, President of the UCH and Chair of the Organizing Committee, underlined the importance of knowledge exchange between hospital leaders as they focus their efforts on building back from the pandemic:
"In Barcelona we have an outstanding opportunity to move forward together in improving healthcare. And we'll do so with a firm commitment to people.
We propose a journey through all the opportunities offered by technology and knowledge, with an incursion in humanism, to ensure there is health and social care of value for everyone and anyone who needs it. And put in place learnings on how we can transform our healthcare services to be agile, responsive and resilient to meet people's needs."
In a packed, quality programme the highlights include:
Opening Ceremony (9:00 CET, 9 November):Dr Hans Kluge, Regional Director for Europe of the World Health Organization, will provide the keynote address.
Plenary 1 (11:00 CET, 9 November):Speakersincluding public health leaders and hospital CEOs in Europe and North America will exchange ideas on getting ready for the next global pandemic.
Plenary 2 (13:30 CET, 9 November): Key stakeholders from industry, governments and global public health will discuss the lessons to learn fromaccelerating research, development and distribution of the COVID-19 vaccine.
Plenary 3 (9:00 CET, 10 November): Leaders in nursing will share examples of their critical contribution to transforming healthcare during a worldwide pandemic.
Plenary 4 (13:30 CET, 10 November): A European-focused session, exploring ways to adopt, implement and scale up the organizational and technological innovations to come from the pandemic.
IHF Awards 2021 (18:00 CET, 10 November):The winners in each of six prestigious categories will be announced at a special ceremony.
Plenary 5 (08:30 CET, 11 November): Speakers from healthcare and industry will demonstrate the potential of technology to better humanize healthcare and deliver a more personable and dedicated patient experience.
Closing Plenary and Ceremony (14:00 CET, 11 November): Esteemed guests from WHO, Catalonia and Dubai will provide keynote addresses and formally hand over the Congress to Dubai Health Authority, the host in 2022.
Site visits:Tours ofsix of the most advanced hospitals and health institutions in Barcelona.
Deborah Bowen, FACHE, CAE, is president and Chief Executive Officer of the American College of Healthcare Executives Federation and will commence her role as President of the International Hospital Federation at the Closing Ceremony. Stressing the importance of the WHC as an opportunity to connect with peers, she said:
"The World Hospital Congress gives us the chance to reflect on our accomplishments and progress, learn from one another and better navigate what lies ahead."
The 45th World Hospital Congress will take place in Dubai (UAE) on 9–11 November 2022.
About the World Hospital Congress (WHC):
The WHC is a unique global forum connecting leaders and decision-makers of hospitals, health services, and healthcare organizations to share knowledge and good practices, exchange new ideas and innovations, and network with other senior executives from across the international healthcare community. In 2021 it was held on 8–11 November in Barcelona (Spain). The 45th edition will take place in Dubai(UAE) on 9–11 November 2022.
About the IHF Awards:
The IHF Awards were launched in 2015 and are recognized around the world as the premier awards programme to honour hospitals and healthcare organizations. Past winners have benefited from the IHF Awards with global recognition that inspires their teams, and the global healthcare community, to strengthen their commitment to the causes highlighted in each Awards category, as well as by earning generous donations to further support their projects. The Awards were first presented in 2015 in Chicago (USA) at the 39th WHC. https://worldhospitalcongress.org/awards/
About the International Hospital Federation (IHF):
Established in 1929, the IHF is a global not-for-profit, non-governmental membership organization.Headquartered in Geneva, Switzerland, the IHF is the global voice of hospitals and health systems. The IHF provides its members with a platform for knowledge exchange and networking with different actors in the health sector, to improve the standard, quality, and level of service delivery.
About La UnióCatalana d'Hospitals (UCH):
La Unió Catalana d'Hospitals has been an association of health and social organizations for more than 45 years.La Unió is a reference for the uniqueness of the Catalan health and social model in terms of plurality, diversity, and territoriality. It brings together more than 114 entities, with more than 750 health and social care devices and more than 65,000 professionals, with a presence throughout Catalonia and in all lines of care: primary, hospitals, social health, mental health, rehabilitation, the elderly, the disabled.
It is an association of organizations of people who work for people, who from the respect of diversity share the social commitment for the improvement of health and wellbeing, contributing in public policies through the professionalized ethical management, innovation and evaluation of results aimed at continuous improvement.