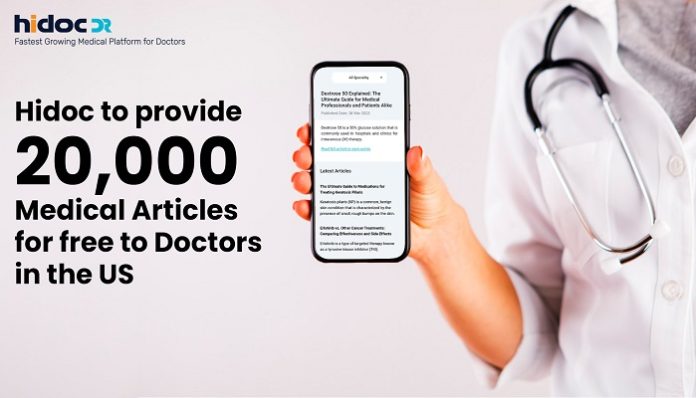 Hidoc aims to provide 20,000 Medical Articles for Free to helps in developing R&D skills in Doctors in the US through Hidoc Articles. Learning about recent advancements is extremely important for doctors to provide advanced treatment and care to patients. Understanding the need for research and development in the medical field is also important for doctors at the same time.
Hidoc Dr being the one-stop solution for doctors and other medical practitioners has successfully settled the global platform for sharing medical learning & updates. Adhering to its aim of providing immense knowledge to medical and healthcare professionals for their academic and professional growth Hidoc now launches an important feature of Hidoc Articles for doctors and other healthcare professionals in the US.
Among all the different interesting features of Hidoc Dr, Hidoc Articles is one of the most important knowledgeable features of Hidoc to help them in developing knowledge in all recent advancements of therapies, therapeutics, diseases, patient outcomes, etc. moreover, this will also help in enhancing the research skill among the doctors and other medical practitioners.
Doctors play a major role in research innovation as they are the ones who can report different patient issues and help in moving further to research on it. As per Giorgio Baglivi, "Let the young know they will never find a more interesting, more instructive book than the patient himself" indicating the importance of studying a patient for a more improved and better outcome.
The feature of the Hidoc Articles is introduced to valuable users for obtaining detailed information on medications, therapies, etc. The users will get all sorts of basic and advanced research articles that will help them learn about different medicines their dosage, indications, contradictions, and so on. Further, reports on different diseases, their outcomes, available treatment options, etc. are also provided. Updates on recent medical research are also given to the users free of cost.
Medical Journals provide updates on novel molecules which can be used as drugs, novel approaches to develop a new therapy, disease epidemic updates, etc. to physicians and other healthcare professionals to make them aware. Through these medical journals, the users will gain knowledge on the latest research, interventions, devices, drugs, surgical techniques, etc.
Hidoc Articles comes with a section of the latest articles, explore more articles, to let the users get access to all the articles published on the site. Most importantly, the users are going to get articles based on specializations, this will ensure a much better user experience while searching for articles. The articles will not only enhance their knowledge but also influence their research skills in them.
Hence, HidocArticles will help doctors to stay updated with current research at the tip of their fingers, where they can learn about pharmaceuticals, therapies, diagnostics, disease epidemiology, and so on justifying the focus and aim of Hidoc Dr focused on making life easier for doctors with valuable knowledge and information, on medical topics across different specialities in health and medicine.