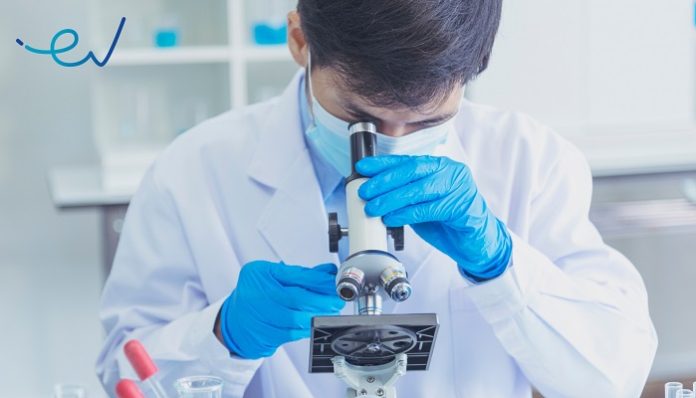 JAKARTA, 27 February 2023 – East Ventures, a pioneering sector-agnostic venture capital firm that has supported over 250 tech companies across Southeast Asia, has recently launched the White paper: "Genomics: Leapfrogging into the Indonesian healthcare future", a collaborative report with Indonesia's Health Ministry and a global consulting company, RedSeer, in February 2022, Jakarta.
In the event, we also held a panel discussion that pointed out on how the government and private sectors can collaborate to advance the Indonesian healthcare system. The panelists came from the government and venture capital firms: Setiaji, Chief of Digital Transformation Office, Ministry of Health, The Republic of Indonesia; Roderick Purwana, Managing Partner at East Ventures; Aldi Adrian Hartanto, Partner at ARISE & VP at MDI Ventures. The panel is moderated by Ririn Ramadhany, Special Strategy Delivery Team for the Minister of Health, Ministry of Health, The Republic of Indonesia.
The transcript below has been edited for clarity.
 Ririn Ramadhany:
Mr. Setiaji, we learned from Minister Budi this morning that the Ministry of Health has a transformation agenda. There will be massive changes and of course challenges ahead. Could you share the efforts made by the Ministry of Health for Indonesia's healthcare sector?
Setiaji:
We have been doing a lot of efforts to enhance Indonesia's healthcare sector. Many activities that we do are not limited to policies, but also technology. The important thing is to improve the scalability and also the competency of the people. We need to leapfrog to catch up with other countries who have started a couple of years ago. Because of that, we already launched the blueprints, both for the government and stakeholders at the end of 2021. For example, startups and private sectors have to align with our policies and what we will do in the next few years. We already have our plans until 2024.
Besides, we also improved the regulations for electronic medical records after 14 years. Now, we already have the regulation to push and accelerate the digital decisions in the healthcare sectors, especially regarding facilities. It's very important to digitize the health sectors such as medical records.
We also have some regulations to support other aspects such as the PDP and other standardizations related to terminologies such as ICD-10, SNOMED, and LOINC to make sure we can build the "Satu Data" application. Last year, we already launched the "Satu Sehat" platform. Soon, "Peduli Lindungi" will be integrated into the "Satu Sehat" application.
How we can integrate all the health facilities, build standardizations and apply the latest technology are very important, so all startups need to comply with our regulations and standardizations.
The last thing is how we build the capacity for the people. Actually, we currently have a program with East Ventures called "Acceleration Startup". We did this last year and this would be the second one. We hope startups can be involved in this area. We already have some information we worked on with East Ventures that will be launched today. So, we hope all startups can participate in this initiative. We have prizes around 2.5 billion rupiahs. We hope to have unicorn startups revolving around the healthcare sector because we have not had one.
Ririn Ramadhany:
Minister Budi mentioned that if we'd like to go far, then we have to go together. It means, we should have strong collaborations. How do you think we can improve the collaborations with startups and private sectors?
Setiaji:
Venture capitalists cannot just invest, but they need to make efforts like East Ventures is doing. For example, East Ventures is doing mapping for BioGenomics. This can be an important thing for startups and us to improve features. Another important thing is building the capacity for startups and accelerating things together with the government. We have been working closely with East Ventures since a long time ago.
We started from Jakarta Smart City to grow the ecosystem, which startups need. From the government, we need collaborations with startups and other parties. The government's task is to build the platform standardization; startups can use this platform to build things such as registries systems and health information systems. With this initiative, we can leap forward faster than other countries.
Ririn Ramadhany:
Move to Mr. Roderick and Mr. Aldi. What opportunities do you see for investments in Indonesia's healthcare industry?
Roderick Purwana:
I think the opportunities for the healthcare industry are tremendous. It's very hard to measure the potential because it's so big. If we were to talk about some specific things, I think over the past few years, East Ventures has done a few investments in biotech, genomics, and other fields. The opportunities we see in Indonesia today are around medical content, telemedicine, and online marketplaces. We're seeing movements towards wellness, digital insurance, healthcare, and monitoring and diagnostics as well. Eventually, as the ecosystem develops, there will be movements toward drug discovery, precision medicine, genomics, and biotech. This is just the surface and the beginning. Opportunities are very massive.
Aldi Adrian Hartanto:
I think there's no doubt that the opportunities are enormous. But, there are also points related to accessibility, connectivity, and access to the opportunity.
Regarding accessibility, we, unfortunately, know that Indonesia is still lacking in all of the healthcare matrices. Our number of beds and healthcare facilities is still less than the global standards. I think the opportunities primarily lie in the accessibility in which we have to empower the existing infrastructures and providers in Indonesia to be more productive and able to serve more population. That's where technology comes in. As Roderick mentioned, technology such as telemedicine allows us to enhance our healthcare providers to serve more patients.
Kudos to Mr. Budi, Mrs. Ririn, Mr. Setiaji and all of the Ministry of Health teams, robust changes and transformations like "Satu Data" and "Satu Sehat" platforms and the EMR can be done. This allows healthcare providers to be more digitized. It also allows us to go to the next part, connectivity.
Technology should empower our healthcare workers and connect and glue the providers and infrastructures to make healthcare solutions closer, especially for our families and relatives across Indonesia. This allows us to multiply opportunities from the financial assistance side and healthcare information systems and enable digitalization tools for healthcare providers.
The last part concerns frontier opportunities, primarily in genomics and biotech. We see exciting opportunities ahead.
Ririn Ramadhany:
Mr Aldi & Roderick, the government needs to support in terms of regulations, connectivity and accessibility. How can we strengthen the ecosystem further?
Aldi Adrian Hartanto:
I appreciate the stakeholders within the healthtech ecosystem that have been laying out the foundations. We have already built a lot of hospitals and healthcare providers. The government also steps in and comes up with many initiatives and regulations. As Mr. Willson mentioned, there is clarity within a crisis.
We, as venture capitalists, need to be able to move all the pieces of the puzzle. At the moment, there are a lot of puzzles from the government's side, the private sector, the pharmaceutical side, healthcare providers, and insurance.
There are two things we can do as venture capitalists. First, we need to go beyond what investors do. We need to be able to work side by side with the founders to articulate and collect the "Now, New & Next" opportunities.
The "Now" opportunities are the current ones, while the "New" opportunities are the mid-term ones, and the "Next" opportunities revolve around the ones to which we can add value or networks. We're primarily backed by enterprises such as Biofarma, which allows us to add more value, know what's happening in the market today, and figure out short-term, mid-term, and long-term opportunities.
Roderick Purwana:
I agree with that. In general, one of the biggest gaps in healthcare today is funding. As venture capitalists, one of our main roles is to provide capital and funding. Solving the issue and advancing healthcare is a multi-stakeholder issue. Today, we were looking at some statistics on how venture capitalists already make much funding for healthcare and healthcare-related companies. And the number is very low. So, it's not only about providing the funding but also about leading people to come in and fund the sector.
Ririn Ramadhany:
East Ventures has invested in various types of healthcare startups, from personalized medicine, biotech, genomic sequencing, and mental health. From your perspective as an investor, what are the main challenges that we face today?
Roderick Purwana:
East Ventures is one of the pioneers of venture capitals in Southeast Asia, Indonesia, and the healthcare space. Funding is a big issue, but attracting other VCs to start looking into the sector and come in is another one. How we can work together with the founders is another area. I'm very happy that we are all here today, and the participation and collaborations with the public sector have been very good. But there's probably a lot more we can do together. While the government needs to create policies and platforms, the private sector can help further the ecosystem. We're starting to see a lot of that today. There will be challenges, but I think we can overcome that if we all work together.
Ririn Ramadhany:
Mr. Aldi, MDI Ventures partnered with Bio Farma and launched the Bio-Health Fund for early and growth stage startups in Indonesia in the biotech and also healthcare industry. Could you elaborate more on that for us?
Aldi Adrian Hartanto:
Healthcare is very complex yet presents exciting opportunities. Complex opportunities require complex solutions. That is why we bring all the best players in the market, such as Bio Farma, which has been serving the country and laying out the foundations of the healthcare system in Indonesia for the last hundred years. That way, we will be able to learn what the mistakes are and what are the things that can or cannot be done short-term, mid-term, and long term. When we work with founders, we always think about long-term plans, but sometimes we haven't been able to create clear pathways to reach vertical growth.
Some of the biggest fintech companies are not necessarily financial services companies, with Gojek as an example. They are not fundamental payment companies but serve the largest payment solutions. So, being able to add value beyond just serving healthcare will be something that we need to collaborate on.
MDI is quite agnostic. We invest in basically most of the sectors. Partnering with Bio Farma, who is equipped with the knowledge and expertise, seeing what is working and not and what is happening along the way, and our close relationship with the government help us understand the next catalyst that will be able to present the next opportunity in healthcare.
Unfortunately, the fund hasn't been invested, but we are finalizing a few. We are assembling three teams: the accessibility, connectivity, and beyond frontier teams. We are going to solve these based on the phases of the opportunity. Accessibility is related to short-term plans. It revolves around powering our healthcare workers to be more productive and skilled, especially considering that we have a huge gap between specialists and healthcare workers. We are also lacking in our number of physicists. We hope technology will be able to enhance and add value. The second part is connectivity, which is being able to lay out the infrastructures to bring connectivity to all our families and loved ones across Indonesia through tech and the collaboration of the providers.
As for the beyond frontier part, we are trying to see and solve all the biggest problems such as the fact that 90% of raw materials and medical devices are still being imported. We are trying to invest in companies that build the future foundations for Indonesia as the healthcare destination and create opportunities for all investors and partners across Indonesian regions and globally partners.
Ririn Ramadhany:
Mr Roderick & Mr Aldi, do you have any advice for those who plan to start their business soon? For Mr. Setiaji, what advice can you give from the point of view of the government as a regulator?
Roderick Purwana:
Being an entrepreneur is never easy, but finding the product or the solutions to the right problems is key. Make sure what you're doing is very clear, and you are in a big enough market. And it comes down, of course, to the execution.
Aldi Adrian Hartanto:
Founders tend to move fast, but healthcare presents complex problems that require complex solutions. I think you have to think about the opportunities to collaborate so you'll be able to add value on top of what has been built by our predecessors or seniors before. The goal is to connect and pick up all the puzzle pieces, which in our case, we are looking forward to being able to help you play with the puzzles faster with our resources.
Setiaji:
Startups do not need to be afraid to talk with the government because some struggle to find use cases. We have many use cases because we have many problems. From these issues, you can get advantages and opportunities. The other strategy is building the ecosystem, as we are very concerned about making it. You can contact Mr. Tota, our Head of Tribe. You can talk to us, and we can support you. The biggest industry after fintech is healthtech, so we need more startups to build this industry in Indonesia. Thank you.
Question from the first audience :
To put the context here, my office also joined the genomic conference in Bali last December. In that forum, I saw many questions and concerns regarding the supply chain for healthcare, especially if we talk about genomics; it is about the reagent supply. I would love to hear the investors' views about this in this discussion. So, how do you see the reagent supply chain in Indonesia as an opportunity?
Aldi Adrian Hartanto:
Logistics has its challenges. Currently, the main problems of logistics always come back to 3 things. The first one is the SLA. The second one is primarily related to the healthcare and pharmacy side and how we can maintain the quality of the genome or healthcare products when delivered from point A to point B. The third problem is how we can make the prices accessible because we have a unique problem in Indonesia: the cost of logistics when sending products. That's why we see an opportunity, especially on how tech can add value.
For the SLA problem, technology can add value from 2 parts: software and hardware. Software is related to how you aggregate all the demand, supplies, and streamline all the operations of the people to ensure that the SLA can be optimized.
The second part is the hardware. We primarily use IoT, and sometimes hardware is used to maintain the temperature. We'll also be able to monitor and assess the quality of the medicine and the delivery time. If something happens, we can immediately mitigate and navigate before it happens.
This way, we can reduce the potential risks and dangers when delivering those genomes. The last part would be related to prices due to the ineffectiveness of the supply chain. That is why technology will add value to that part.
The three opportunities are investing in tech-enabled providers, looking for tech solutions, and looking for tech aggregators. The collaboration will be the key in this complex problem to ensure we get the optimized supply and demand between the players.
Roderick Purwana:
From the investors' perspective, the reagent supply chain logistics problem is very specific. Still, I think the bigger issue is probably the healthcare logistics and how to do the proper supply chain because it involves transportation and other things. So, from an investor's perspective, I think it's a big enough problem, which it is. I think we'll always be open to looking at what solutions we can do to help with that.
Question from second audience:
We are a Singapore-based venture capital focused on the healthcare sector, and looking to invest in Indonesia. I wanted to learn your thoughts and opinions on what type of support would be best to help accelerate the development of healthcare in Indonesia aside from the monetary support that you mentioned?
Setiaji:
You need to read the blueprint, [which can be downloaded on our website: dto.kemenkes.go.id, available in 2 languages, Indonesian and English].
In our blueprint, we already mentioned not only the issues but also the opportunities. We now have more than 60,000 health facilities, and only 20% are digitized. Since we already have regulations to push hospitals, primary care, pharmacies, and laboratories to be digitized until December 2023, we need some acceleration to set up or build the capacity and system for these facilities.
The government already has the platform standardizations. Startups need to build applications. We also have the dictionary of the pharmacy and some of the terminologies. You can use this for free for reference. The important thing is that we will launch the platform "Satu Sehat," so you can directly connect with us. Then, you can share the data from all the health facilities, and people can access your data using the "Satu Sehat" application.
Ririn Ramadhany:
In conclusion, we know that Indonesia's healthcare is still in the early stages. There will be challenges, of course, but through the collaborations between the government, the startups, and venture capitalists, we hope to leapfrog Indonesia to better healthcare quality.