Huntington Hospital has expanded its robotic surgical capabilities with the addition of a second da Vinci robot.
Utilizing very small incisions, the da Vinci robot allows surgeons to see a patient's tissue and organs magnified up to 10 times. Due to the minimally invasive nature of robotic surgery, patients experience quicker recovery times, lower risks of infection and bleeding and less scarring.
Huntington Hospital offers robotic surgery in the following areas: gynecology, thoracic, urologic, urogynecology, colorectal, surgical oncology and general surgery.
"Huntington Hospital continuously provides the safest, most cutting-edge and comprehensive care to our community. The addition of the second robot supports that type of care." said Gerard Brogan, Jr., MD, executive director of Huntington Hospital. "We are proud to be nationally recognized as a robotic center of excellence."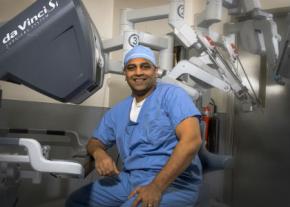 Huntington Hospital was designated a Center of Excellence in Robotic Surgery by the Surgical Review Corporation earlier this year. The hospital was recently ranked for the second year in a row as the top community hospital in New York State, according to U.S. News & World Report.
For more information about Huntington Hospital's robotic surgery capabilities, call 844-ROBOT-MD.
Huntington Hospital
Established in 1916, Huntington Hospital is a full-service, 408-bed, nonprofit community hospital serving Huntington Township and surrounding communities. Huntington Hospital has been a member of Northwell Health since 1994, and shares the System's vision of being a preeminent healthcare delivery system in the tradition of excellence and the embodiment of community values and human dignity.
About Northwell Health
Northwell Health is New York State's largest health care provider and private employer, with 22 hospitals, over 550 outpatient facilities and nearly 15,000 affiliated physicians. We care for more than two million people annually in the New York metro area and beyond, thanks to philanthropic support from our communities. Our 62,000 employees – 15,000+ nurses and 3,900 employed doctors, including members of Northwell Health Physician Partners – are working to change health care for the better. We're making breakthroughs in medicine at the Feinstein Institute. We're training the next generation of medical professionals at the visionary Donald and Barbara Zucker School of Medicine at Hofstra/Northwell and the Hofstra Northwell School of Graduate Nursing and Physician Assistant Studies. And we offer health insurance through CareConnect. For information on our more than 100 medical specialties, visit Northwell.edu.
Contact:
Alexandra Zendrian
516-350-3014
azendrian@northwell.edu