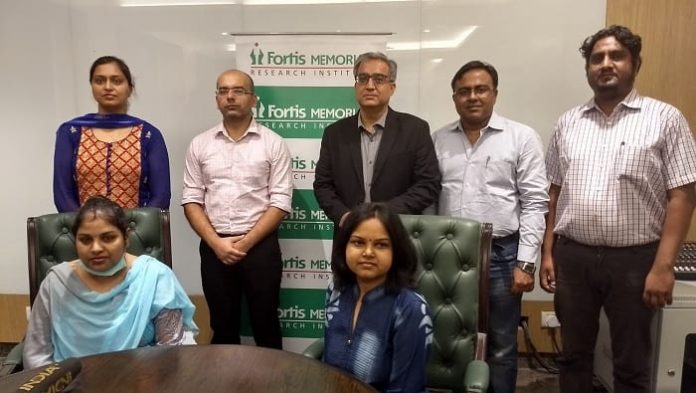 50 cases that required intervention of ECMO (Extracorporeal membrane oxygenation) were conducted at Fortis Memorial Research Institute under the aegis of Dr Sandeep Dewan, Director and HOD, Critical Care and his team. ECMO is rapidly gaining recognition as a technique that is used to save people when all other options have been exhausted. There were two exceptional cases that illustrated how the timely use of ECMO could save a person's life. The first patient, Ms. Vidushi, 31 years old diabetic who was diagnosed with pulmonary tuberculosis. The second patient,27-year-old Yashi, a patient who was shifted in a severe condition after contracting swine flu had suddenly gone into severe respiratory distress.
Ms. Vidushi was a known case of type 2 diabetes mellitus and had been suffering from high grade fever and a dry cough for over a month. She had been diagnosed with pulmonary tuberculosis (TB) and been on antitubercular treatment for over a month. On presentation, Vidushi was diagnosed with respiratory distress post which she was admitted in the ICU. Care was carried out as per protocol and she was put on the Bilevel Positive Airway Pressure system on which she maintained a saturation of 99%. Her condition deteriorated and she had to be put on ventilator support as her oxygen levels and blood pressure began to fall and she showed symptoms of severe acute respiratory distress syndrome. It was then that the patient was put on veno-venous ECMO support. On the 6th day, the patient's lung function started to improve, vasopressor (a drug or other agent which causes the constriction of blood vessels) support was gradually withdrawn and oxygen levels started improving. Vidushi was taken off ECMO after 8 days and discharged.
In the second case, 27-year-old Yashi, a mother of a two-year-old was absolutely fine till August 5th when she suddenly developed high grade fever and cough which worsened with each passing day. When Yashi was shifted to FMRI, her condition had rapidly deteriorated and she developed difficulty in breathing. She was diagnosed with Swine Flu. Her condition worsened and she was unable to maintain her saturations. So, she was put on a ventilator support. Chest X- ray was suggestive of a condition called "ARDS". ARDS is a condition where lungs are unable to function properly and the patient is unable to maintain normal saturations. Every possible manoeuvre in ventilator was being tried, but unfortunately the patient did not show any improvement. Finally, a decision to put the patient on ECMO support was decided.
Since the patient was on very high ventilator requirements, it was impossible to shift the patient as she was and hence was moved to FMRI on portable ECMO. Yashi was on ECMO for three days after which she was shifted to a room and later discharged.
Dr Sandeep Dewan, Director and HOD, Critical Care said, "Cases of Anju Yadav and Vidushi were one of a kind and hadn't been reported within the medical field previously. This was the first time that ECMO was administered on a tuberculosis patient in India. Anju Yadav's case was challenging as the patient was pregnant had severe ARDS and required ECMO which had to be administered with ongoing CPR and chest compressions. The post-operative bleeding on ECMO also had to be tackled. These cases highlight how all efforts to save a patient failed, barring the use of ECMO. Awareness about ECMO intervention is extremely important among healthcare professionals and families. It is necessary to have an option B ready at all times."
Dr. Simmardeep Gill, Zonal Director, Fortis Memorial Research Institute said, "ECMO plays an extremely critical role in the healthcare sector. It is necessary to facilitate ECMO intervention with the correct infrastructure and expertise. Knowing how and when to use it, is extremely important. The trend observed so far is that ECMO is used most often used as a last resort. We are very proud that Dr. Sandeep Dewan has been able to save multiple lives using ECMO. So far he has dealt with 50 cases that required ECMO, which is the highest number of cases reported in the northern region of country."
Extra Corporeal Membrane Oxygenation: ECMO is a machine which acts as a heart – lung bypass. It can support and perform the functions of the lung and the heart, individually and together. The ECMO circuit acts as an artificial heart and lung for the patient during ECMO therapy. ECMO can be used in patients of all ages. ECMO continues until the underlying cardiac or lung problem is improved or resolved. The typical course is around five days, but in some cases, ECMO support can be continued for up to 25 to 30 days.
About Fortis Memorial Research Institute
Fortis Memorial Research Institute is the flagship hospital of Fortis Healthcare Limited. It is a multi-super speciality, quaternary care hospital with a comprehensive team of clinicians and patient care programmes, supported by advanced technology and medical research solutions. Set on a spacious campus with a potential bed capacity of 1,000 beds, this ultra-modern facility utilises and showcases some of the latest technologies in use in world class health care. Some of the milestone technologies at the hospital include amongst the first pilot project for precision Radio-surgery in the world, integrated operating and procedure rooms, digitized critical care cubicles, advanced Cath-labs, transplant rooms, endoscopy suites, private birthing centres, a state-of-the-art radiation wing and a stem cell lab to name a few facilities. A range of thoughtful services and health facilities for patients and their attending family include several Art 'n' Health programmes to recuperate, a mini theatre to de-stress, retail therapy outlets for immediate needs and a food court providing a choice of dining options to replenish energies.
About Fortis Healthcare Limited:
Fortis Healthcare Limited is a leading integrated healthcare delivery service provider in India. The healthcare verticals of the company primarily comprise hospitals, diagnostics and day care specialty facilities. Currently, the company operates its healthcare delivery services in India, Dubai, Mauritius and Sri Lanka with 45 healthcare facilities (including projects under development), approximately 10,000 potential beds and 368 diagnostic centres.
For more information, please contact:
Fortis Healthcare Ltd
Tanushree Roy Chowdhury: +919999425750
tanushree.chowdhury@fortishealthcare.com
Rishu Singh: +91-9958891501
rishu@avian-media.com
Avian Media
Preeti Sehrawat: +91-9711170599
preeti@avian-media.com
Fortis Healthcare Ltd.
Head, Corporate Communications
Ajey Maharaj: +919871798573
ajey.maharaj@fortishealthcare.com