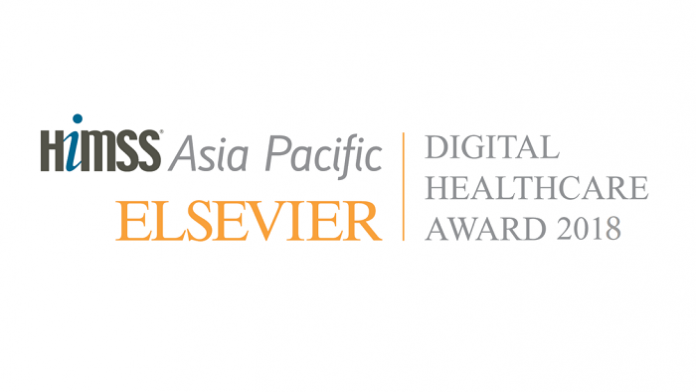 Elsevier, the information analytics business specializing in science and health, and HIMSS Asia Pacific have announced the finalists of the sixth Asia Pacific HIMSS-Elsevier Digital Healthcare Award 2018. This award recognizes outstanding achievements and innovations globally in the implementation and usage of health information and technology.
Since its inception in 2013, the award has received 218 submissions in six years across 30 countries and 120 unique organizations globally. This includes the 22 Asia Pacific submissions this year from Australia, China, Hong Kong SAR, India, Japan, and Singapore for two categories: Outstanding ICT Achievement and Outstanding ICT Innovation. 
The finalists are:
Outstanding ICT Achievement Category
Metro South Health, Australia – Metro South Health Digital Hospital Project
Royal Children's Hospital, Australia – The RCH ViCTOR EMR Project
Sydney Local Health District, Australia – Oncology and Haematology Management Information Systems (OHMIS) Project Phase One Sydney Local Health District
Xuanwu Hospital Capital Medical University, China – To Save Faster and Better: Combine AI and Rebuilding ED Process to Improve Efficiency and Quality of Stroke Emergency Care
Outstanding ICT Innovation Category
Apollo Hospitals Enterprises Limited, India – A Multifactorial Cardiovascular Risk Prediction Tool Using Machine Learning for Indian Population
Aravind Eye Hospital-Pondicherry, India – Low Cost Technology Coupled with Electronic Medical Record to Tackle Needless Blindness in Rural India
Nanavati Super Speciality Hospital, India – Overcoming the EHR Gap in the Outpatient Department without Changing Clinician Behaviour or Existing Workflows
Royal Children's Hospital, Australia – TeleHealth (Video) Visits Optimization
The winners will be revealed at the HIMSS-Elsevier Award dinner reception at the HIMSS AsiaPac18 Conference & Exhibition on November 5, 2018, in Brisbane, Australia.
"We're excited to be hosting the award dinner in Australia for the very first time, and at a time when technological innovation is at the forefront of the country's healthcare agenda," said Robert Nieves, Vice President of Health Informatics for Clinical Solutions, Elsevier. "Six years on, the Asia Pacific HIMSS-Elsevier Digital Healthcare Award continues to be a leading platform for recognizing ICT achievements, and we hope that more institutions will showcase their best practices, and latest innovations that are not only improving patient outcomes, but delivering better quality care," he added.
Nominated in both categories, John Stanway, Chief Executive Officer, Royal Children's Hospital Australia said, "Our RCH ViCTOR EMR and TeleHealth (video) Visits Optimization Projects have resulted in numerous benefits since roll-out. We have seen an increase in the rate of Medical Emergency Team (MET) calls and a 14 percent increase in hospital admissions since the EMR implementation. This has co-related with the trend of lower in-hospital mortality.
"EMR implementation has also enabled the number of scheduled TeleHealth visits per quarter to increase 450 percent. The TeleHealth innovation has also resulted in major service growth with great benefits for our more distant patients and their families."
The judging panel for this year's award consists of healthcare leaders across the globe. Judges are:
Bill Le Blanc, Executive Director and Chief Information Officer, SA Health, Australia
Dr. Aamir Ali, Health Informatics Consultant, Ministry of Health and Prevention, UAE
Dr. Korpong Rookkapan, Board of Directors, Paknampo Group of Hospitals by Principal Healthcare Group; Director, Principal Healthcare Group; Executive Director, Hospital Management Training & Development Institute, Thailand
John Daniels, Global Vice President, Healthcare Advisory Services Group, HIMSS Analytics
John Sutherland, Chief Information Officer, Ramsay Healthcare, Australia
Robert Nieves, Vice President of Health Informatics for Clinical Solutions, Elsevier
"I would like to congratulate all participating organizations. As a fourth-time judge for this award, I have witnessed the increased efforts in this region to adopt ICT to improve care outcomes. Organizations who are repeat participants have also shown that innovation is a continuous process. Some of the submissions are improvements on previous submissions and this is truly demonstrative of a committed effort over the years to provide better care delivery for patients," said John Daniels, Global Vice President, HIMSS Analytics.
About HIMSS
HIMSS is a global advisor and thought leader supporting the transformation of health through information and technology. As a mission driven non-profit, HIMSS offers a unique depth and breadth of expertise in health innovation, public policy, workforce development, research and analytics to advise global leaders, stakeholders and influencers on best practices in health information and technology. Through our innovation companies, HIMSS delivers key insights, education and engaging events to healthcare providers, governments and market suppliers, ensuring they have the right information at the point of decision. As an association, HIMSS encompasses more than 72,000 individual members and 630 corporate members. We partner with hundreds of providers, academic institutions and health services organizations on strategic initiatives that leverage innovative information and technology. Together, we work to improve health, access and the quality and cost-effectiveness of healthcare. Headquartered in Chicago, Illinois, HIMSS serves the global health information and technology communities with focused operations across North America, Europe, United Kingdom, the Middle East and Asia Pacific. www.himssasiapac.org