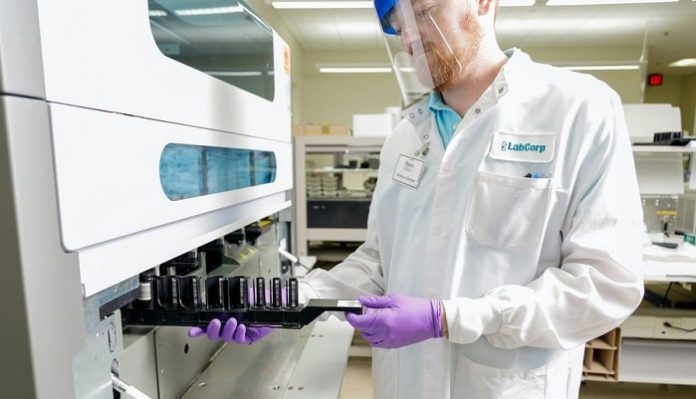 LabCorp , a leading global life sciences company that is focused on advancing health and guiding patient care, announced a test that provides a quantitative measurement of an individual's SARS-CoV-2 IgG antibodies. LabCorp's Cov2Quant™ IgG test, which is available only for use in clinical trials and research, was developed to specifically detect and quantify antibodies to SARS-CoV-2, the virus that causes COVID-19. The level of antibodies is an important indicator of the strength of a person's immune response, which can help determine the effectiveness of vaccines and therapies. Other COVID-19 antibody tests available in the market are qualitative and detect the presence of antibodies, but do not provide information on the individual's antibody levels.
Pharmaceutical companies will be able to use the test to help evaluate the performance of vaccine candidates in clinical trials. While the level of antibodies needed to be considered immune to SARS-CoV-2 is yet to be determined, ongoing vaccine trials and research should help answer this question. The test is also currently being utilized by the Centers for Disease Control and Prevention (CDC) for SARS-CoV-2 seroprevalence studies to understand the level of antibodies produced through natural exposure and infection with the virus.
"Medical science and technology are the best ways to mitigate COVID-19, and our development of this quantitative assay is an important step in helping to bring effective treatments and vaccines to patients," said Dr. Paul Kirchgraber, CEO of LabCorp's drug development business unit, Covance. "LabCorp's quantitative antibody test represents a significant advancement by giving scientists and researchers a more precise, detailed picture of the level of immune response. This will aid the scientific community as it works to characterize the immune response to SARS-CoV-2."
The Cov2Quant IgG test is a continuation of LabCorp's innovations and commitment to help physicians, health systems and patients manage the pandemic. Others include: the first commercially available COVID-19 RT-PCR test (March 5); first FDA Emergency Use Authorization (EUA) for at-home collection (April 20); first online consumer-initiated antibody testing (May 5); first digital service for physician-initiated patient collection (LabCorp At Home, July 7); first FDA EUA for asymptomatic testing and matrixed pool testing (July 24); first combined test for multiple respiratory infections including COVID-19 and flu (September 8); and first FDA EUA for a heat extraction method that improves test efficiency and throughput and for the use of matrixed pooling on samples collected by individuals outside of a healthcare setting (October 2).
LabCorp has performed more than 17 million molecular tests since first making the COVID-19 test available in March and is now able to process 210,000 tests per day, with plans to increase capacity further. The company also has performed 3 million COVID-19 antibody tests with the capacity to perform 300,000 per day.
About LabCorp
LabCorp , an S&P 500 company, is a leading global life sciences company that is deeply integrated in guiding patient care, providing comprehensive clinical laboratory and end-to-end drug development services. With a mission to improve health and improve lives, LabCorp delivers world-class diagnostics solutions, brings innovative medicines to patients faster, and uses technology to improve the delivery of care. LabCorp reported revenue of more than $11.5 billion in 2019.