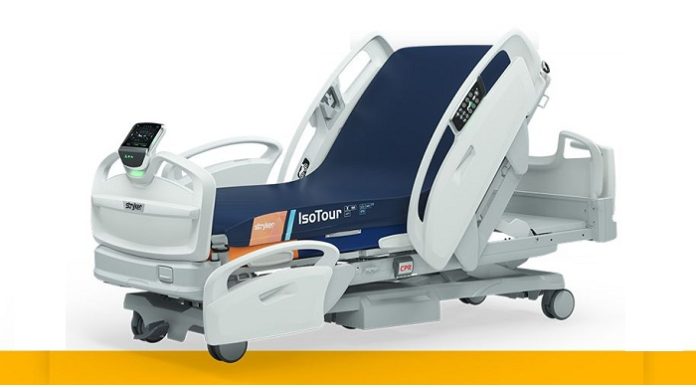 Stryker, one of the world's leading medical technology companies, announced the global launch of the industry's first and only completely wireless hospital bed, ProCuity™. This intelligent bed was designed to help reduce in-hospital patient falls at all acuity levels, improve nurse workflow efficiencies and safety, as well as help lower hospital costs. It is the only bed on the market today that can connect seamlessly to nurse call systems without the use of cables or wires.
"Patient safety is at the foundation of everything we do at Stryker. With rising acuity rates leading to increased bed demand, coupled with the continuing challenge of in-hospital falls, we needed to find a solution to further enhance our response to some of today's most pressing healthcare challenges," said Jessica Mathieson, VP/GM of Acute Care, Stryker. "Leveraging our long history in innovation, ProCuity is the culmination of years of extensive research and feedback from nurses and other healthcare professionals to create what is truly a 'brilliance in a bed' solution. It was designed to improve patient outcomes and assist caregivers for years to come."
Research shows that between 700,000 and 1 million patients experience a fall while being treated in the hospital annually1, with 79 percent of falls occurring on or near a bed while unassisted2. Stryker's own research found that 97 percent of hospital nurses reported having encountered a situation where a patient has had difficulty getting out of a hospital bed, with 75 percent reporting they have encountered a situation where a patient has hurt him or herself while getting out of a hospital bed3. Anywhere from 30 to 51 percent of in-hospital falls result in injuries4.
Set at an industry low height of 11.5 inches*, ProCuity is ergonomically designed with the latest technologies to promote safe patient handling and help reduce fall-related injuries, including intuitive patient positioning and bed alarms as well as ergonomic side rails. Helping to address nurse call cable connectivity issues prevalent in hospitals today, ProCuity can be equipped with fully wireless features. Additionally, the bed's easy-to-use touchscreens and other key components makes the job of caregivers easier and more efficient, while providing for a more enhanced patient experience.
Specific key features of ProCuity include:
Completely Wireless:
Ergonomic Side Rails:
Ergonomic Side Rails:
Intuitive Patient and Bed Monitoring Systems:
Zoom Motorized Drive:
Enhanced Patient Experience:
Standard, Customizable Platform:
Guarantee Program:
About Stryker
Stryker is one of the world's leading medical technology companies and, together with its customers, is driven to make healthcare better. The company offers innovative products and services in Orthopaedics, Medical and Surgical, and Neurotechnology and Spine that help improve patient and hospital outcomes.