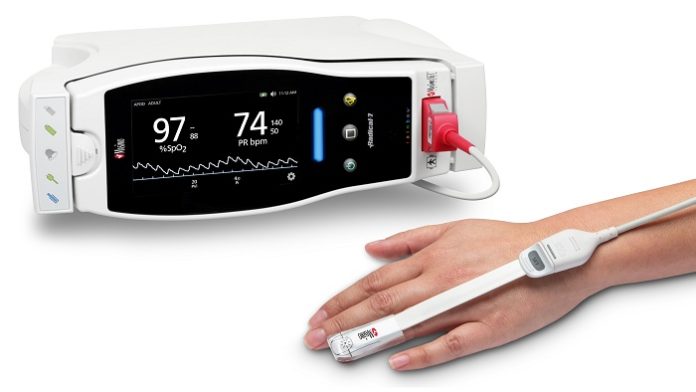 Masimo announced that RD SET® sensors with Masimo Measure-through Motion and Low Perfusion™ SET® pulse oximetry have received FDA clearance for improved oxygen saturation (SpO2) accuracy specifications for neonatal patients (< 3 kg).
The updated RD SET® sensors' SpO2 accuracy specifications have improved significantly, from 3% to 1.5% ARMS (at 1 standard deviation), in conditions of motion and no motion, providing clinicians with even greater confidence when monitoring the oxygenation status of neonates. With this clearance, the improved performance specifications, which were incorporated into RD SET® sensors for patients > 3 kg in 2018, are now available to all patient populations in the United States.
Masimo's revolutionary SET® pulse oximetry has been shown in more than 100 independent and objective studies to outperform other pulse oximetry technologies – even before the revisions that achieved the improved accuracy specifications – providing clinicians with increased sensitivity and specificity to help them make critical patient care decisions.Crucially for newborn health, SET® has been shown to help clinicians reduce severe retinopathy of prematurity in neonates and in multiple studies, including the largest critical congenital heart disease (CCHD) study to date, to improve CCHD screening in newborns.
In addition to offering improved accuracy, RD SET® sensors are designed to enhance patient comfort, optimize clinician workflows, and help hospitals meet green initiatives. The sensors are lightweight and have a flat, soft cable with smooth edges, so that they lie comfortably on a patient's hand or foot. In particular, RD SET® NeoPt sensors with Velaid SofTouch™ use little to no adhesive, facilitating quick but gentle application and repositioning on the fragile skin of newborns and pre-term babies. RD SET® sensors also feature an intuitive sensor-to-cable connection, while their lightweight design results in up to 84% less waste and their sleek, recyclable packaging reduces storage and shipping space.
Joe Kiani, Founder and CEO of Masimo, said, "We're delighted to announce the latest result of our continued innovation in our foundational SET® pulse oximetry. We have long been dedicated to helping improve the lives of neonatal, infant, and pediatric patients, and this clearance significantly furthers that mission. Thanks to the brilliance and dedication of our engineers and the continuing support of our customers, we've been able to once again raise the standard for pulse oximetry performance. Even though no one has been able to create pulse oximetry that outperforms SET®, we have not allowed that to stop us from continuing our pursuit of perfecting pulse oximetry."
About Masimo
Masimo is a global medical technology company that develops and produces a wide array of industry-leading monitoring technologies, including innovative measurements, sensors, patient monitors, and automation and connectivity solutions. Our mission is to improve patient outcomes and reduce the cost of care. Masimo SET® Measure-through Motion and Low Perfusion™ pulse oximetry, introduced in 1995, has been shown in over 100 independent and objective studies to outperform other pulse oximetry technologies. Masimo SET® has also been shown to help clinicians reduce severe retinopathy of prematurity in neonates, improve CCHD screening in newborns, and, when used for continuous monitoring with Masimo Patient SafetyNet™ in post-surgical wards, reduce rapid response team activations, ICU transfers, and costs. Masimo SET® is estimated to be used on more than 100 million patients in leading hospitals and other healthcare settings around the world, and is the primary pulse oximetry at 9 of the top 10 hospitals according to the 2019-20 U.S. News and World Report Best Hospitals Honor Roll. Masimo continues to refine SET® and in 2018, announced that SpO2 accuracy on RD SET® sensors during conditions of motion has been significantly improved, providing clinicians with even greater confidence that the SpO2 values they rely on accurately reflect a patient's physiological status. In 2005, Masimo introduced rainbow® Pulse CO-Oximetry technology, allowing noninvasive and continuous monitoring of blood constituents that previously could only be measured invasively, including total hemoglobin (SpHb®), oxygen content (SpOC™), carboxyhemoglobin (SpCO®), methemoglobin (SpMet®), Pleth Variability Index (PVi®), RPVi™ (rainbow® PVi), and Oxygen Reserve Index (ORi™). In 2013, Masimo introduced the Root® Patient Monitoring and Connectivity Platform, built from the ground up to be as flexible and expandable as possible to facilitate the addition of other Masimo and third-party monitoring technologies; key Masimo additions include Next Generation SedLine® Brain Function Monitoring, O3® Regional Oximetry, and ISA™ Capnography with NomoLine® sampling lines. Masimo's family of continuous and spot-check monitoring Pulse CO-Oximeters® includes devices designed for use in a variety of clinical and non-clinical scenarios, including tetherless, wearable technology, such as Radius-7® and Radius™ PPG, portable devices like Rad-67™, fingertip pulse oximeters like MightySat® Rx, and devices available for use both in the hospital and at home, such as Rad-97®. Masimo hospital automation and connectivity solutions are centered around the Iris® platform, and include Iris Gateway®, Patient SafetyNet, Replica™, Halo ION™, UniView™, and Doctella™.