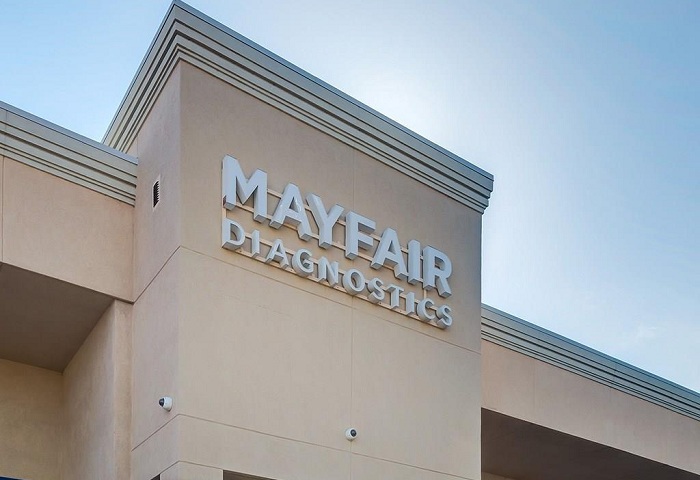 Mayfair Diagnostics has purchased 10 Carestream imaging systems including three CARESTREAM DRX-Evolution/DRX-Evolution Plus digital radiography systems , two CARESTREAM DRX-Ascend Systems and five CARESTREAM DRX-1 Systems to upgrade their existing medical imaging systems. These imaging systems are located throughout Mayfair's network of 14 clinics.
Mayfair Diagnostics (Calgary, Canada)Mayfair Diagnostics initially installed a DRX-Evolution and assessed it for more than a year prior to placing an order for two DRX-Evolution Plus imaging systems. "We were extremely impressed with Carestream's automated features and programmable settings. Having protocols to direct movement of the system for specific exams and areas of the body expedites the imaging process and reduces the risk of injuries for our technologists," said Mark Sevcik, Mayfair Diagnostics' Vice President for Infrastructure.
Each of these imaging systems is configured with a 17 x 17-inch DRX Plus detector in the wall stand and a 14 x 17-inch DRX Plus detector for use with table and tabletop exams.
"These systems perform a variety of complex exams including musculoskeletal, spine, abdominal, cross-table lateral and other exams to address our patients' needs," Mr. Sevcik said. "Both our staff and patients benefit because Carestream's imaging systems offer excellent image quality at a reduced dose."
The organization also implemented two CARESTREAM DRX-Ascend imaging systems to support its high imaging volumes and retrofitted five existing X-ray systems with CARESTREAM DRX detectors.
Mr. Sevcik reported that Carestream's outstanding service also plays an important role in daily operations. "Carestream's service team does an excellent job of detecting and correcting any problems we may have. We also sent one of our lead technologists to Rochester (New York) for a specialized image processing training course. She is now able to fine tune protocols and techniques so that our staff can deliver extremely high-quality imaging at a low dose," he added.
Throughout its ongoing process of installing new imaging systems, Mayfair Diagnostics' radiology team has put new orders through a bidding process with multiple suppliers. "Each time Carestream has offered the best pricing and warranties along with excellent service so they have won all the bids," said Mr. Sevcik.
Mayfair Diagnostics operates 14 clinics, has more than 400 employees and performs over 270,000 X-ray exams each year.