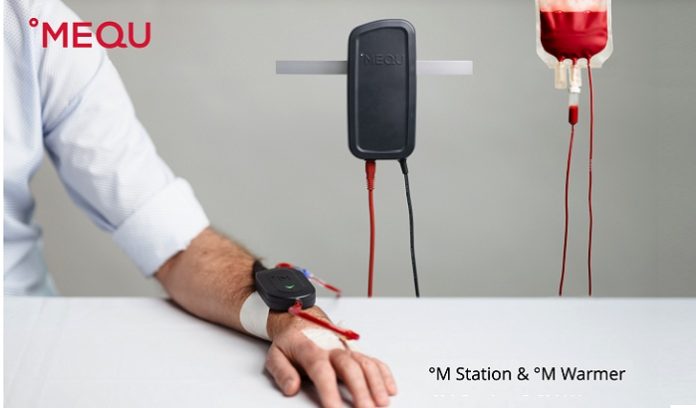 The innovative Danish MedTech company, °MEQU, announced the launch of an in-hospital solution, °M Station, for its blood and IV fluid warming device, °M Warmer System.
°M Warmer System is a portable blood and IV fluid warming device that is globally adopted in the pre-hospital and military sectors. Using a patented warming technology, the °M Warmer is able to warm infusion fluids from cold to body temperature in less than 10 seconds. The AC powered °M Station is an in-hospital power solution for °M Warmer System, which is ideal for use inside the hospital, such as emergency rooms, operating theatres, intensive care units, X-Ray/CT scan, etc.
Related to the launch, CEO & Founder, Ulrik Krogh Andersen said, "our R&D department has done an outstanding job developing a revolutionary new solution for in-hospital transfusions. Similar to our portable solution it is small in size and weight and setting up the system takes less than 30 seconds. Nothing can be assembled in the wrong way, which prevents any connection errors in a stressful situation. This will enable healthcare providers to quickly and safely administer warm fluids to the patient whenever needed – in a hectic trauma situation or as part of routine surgery…"
Seamless Transfusions from the Point-of-injury to Inside the Hospital
°M Station allows for continuous infusion of warm blood or fluids. If the patient arrives at a hospital with an °M Warmer attached, it is now possible to seamlessly continue the transfusion inside the hospital. With the addition of the °M Station, the M Warmer solution offers maximum flexibility as transfusions can continue uninterrupted – either as a stationary solution or as a portable solution when moved around inside the hospital.
This ensures seamless transfusions of warm fluids to severely injured patients throughout the entire patient journey from point of injury until the patients no longer need any fluid infusion, which helps reduce the negative effects of severe hemorrhage and hypothermia.
Global Sales Director, Peter Skade adds– "we are happy to finally introduce °M Station to the market as there has already been a great deal of interest from several countries in recent months. We believe that °M Station will show its benefits soon enough as healthcare providers come to experience how easy and flexible the °M Warmer System is to use. Compared to the standard stationary systems, which are known to be somewhat cumbersome and time-consuming to set up and use, the °M Warmer system is so much easier and faster to use – especially in stressful situations. Furthermore, the M Warmer system requires minimal priming volume and is 100% maintenance-free…"
°M Station will be available globally through its established distributorships in the coming week.