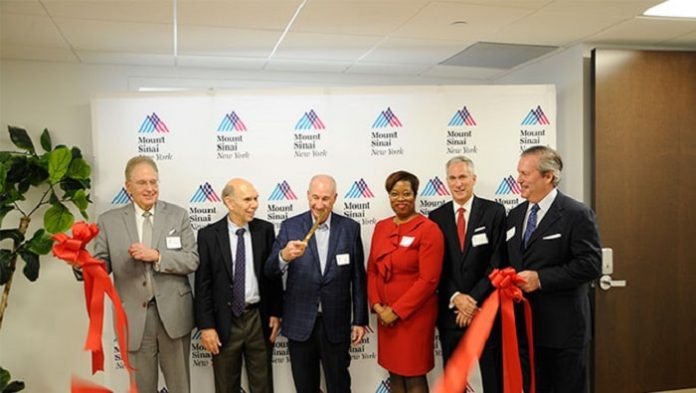 Mount Sinai Health System in New York announced the opening of a new state-of-the-art medical practice in Palm Beach, Florida, bringing world-class, innovative care to patients and businesses in the region. Mount Sinai Doctors Palm Beach, centrally located on North Flagler Drive in West Palm Beach, will offer primary care, cardiology, gastroenterology, and ophthalmology services.

Mount Sinai Doctors Palm Beach represents Mount Sinai's longtime commitment to the region and its residents, and is the newest addition to a growing network outside New York State, which also includes Mount Sinai Heart New York Palm Beach. A dynamic partnership with Jupiter Medical Center, launched in 2015, has resulted in greater access to high-quality care for patients, including research and education initiatives in cardiology, oncology, and digestive health, and access to groundbreaking research and protocols developed by the faculty of the Icahn School of Medicine at Mount Sinai.
"This is a significant step in expanding the reach of Mount Sinai New York's innovative high-quality care in South Florida," said Kenneth L. Davis, MD, President and Chief Executive Officer, Mount Sinai Health System. "Residents of Palm Beach County and patients who travel between Florida and New York now have streamlined access to care from Mount Sinai's outstanding physicians in a broad array of specialties."
The compassionate and highly trained physician staff will be led by prominent cardiovascular specialist Gonzalo Loveday, MD, FACC, who will be the practice's medical director. The practice will also include primary care provided by Ruben Reider, MD, and Yael Vidal, MD; highly specialized cardiovascular care provided by Gabriel Breuer, MD, FACC, Chauncey W. Crandall IV, MD, FACC, Steven A. Malosky, MD, Utpal N. Sagar, MD, FACC, and Dr. Loveday; nationally recognized gastroenterology care by Chester Maxson, MD, FACG, Louis Rosainz, MD, FACG, and Bernard Stein, MD, FACG; and innovative ophthalmology care by David A. Goldman, MD.
Mount Sinai Doctors Palm Beach will provide seamless coordination of care, including same-day and next-day appointments, as well as 24-hour on-call access to specialists. The practice prides itself on individualized patient care.
Mount Sinai Doctors Palm Beach is emblematic of Mount Sinai's strategic development and ongoing efforts to expand health care nationally.
"The staff and clinical leadership at Mount Sinai Doctors Palm Beach have been carefully chosen from a large pool of national applicants and are dedicated to providing comprehensive, highest-quality care to their patients," said Arthur Klein, MD, President of the Mount Sinai Health Network. "We are proud to provide the resources of our nationally and internationally recognized academic health care system to benefit the residents and businesses of Palm Beach County."
"I am very excited to be part of Mount Sinai's expansion in Palm Beach. The new practice enhances our ability to offer expert, world-class care to our patients in South Florida," said Dr. Loveday.
A ribbon-cutting event was held on Monday, January 29, from 10 to 11:30 am, by invitation only. Mount Sinai executives and physicians, along with representatives from Jupiter Medical Center, were in attendance.