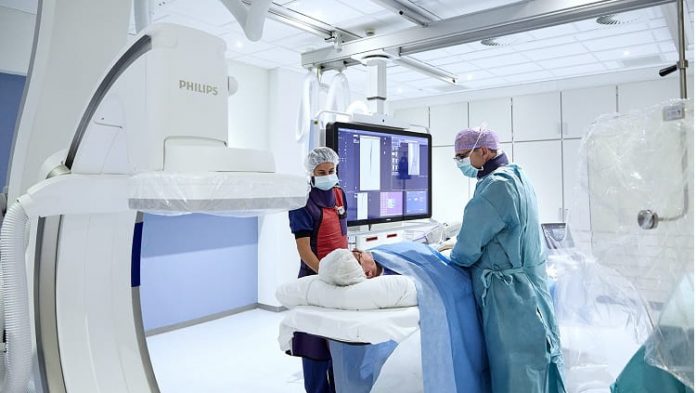 Royal Philips , a global leader in health technology announced the results of a comprehensive, independent, two-year study demonstrating the clinical workflow benefits of its next generation image-guided therapy platform, Azurion.
study investigated nearly 800 patient procedures to evaluate the impact of Azurion at St. Antonius Hospital in Nieuwegein, the Netherlands. The data demonstrated clinicians' use of Azurion resulted in significant time savings for the hospital, including a 17 percent reduction of the average interventional procedure time, a 12 percent reduction of in-lab patient preparation time, and a 28 percent reduction of post-procedure lab time.
As the use of image-guided therapies continue to rise, new systems need to be easy and intuitive to use so clinicians can quickly and efficiently move through procedures," said Marco van Strijen, MD, Interventional Radiologist, St. Antonius Hospital. "With the Azurion system, we were able to change our workflow in such a way that we now can do more patients in a single day, resulting in more patients a week, resulting in more patients per year, with no compromise to patient safety or quality of care.
Overall, the improvements achieved with Azurion will give St. Antonius Hospital the ability to treat one more patient per day – on an average of 6 to 8 patients per day, to help hundreds more patients each year. The reduced preparation, procedure and lab time resulted in fewer planned cases finishing after normal working hours and higher employee satisfaction. St. Antonius Hospital, treating more than 93,000 patients annually, was among the first hospitals to install Azurion and participated in this comprehensive study to evaluate the impact of the new platform and its clinical workflow on their department.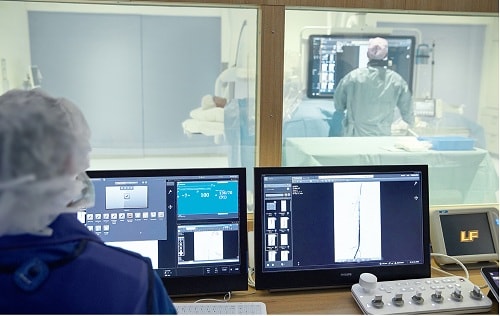 "Hospitals are facing a hard to predict and growing patient demand and needed a solution that provides impactful clinical and operational improvements," said Ronald Tabaksblat, Business Leader Image Guided Therapy Systems. "Less than a year after Azurion's official launch, we're delighted with these impressive results that clearly demonstrate how Azurion's state-of-the-art technology and flexible workflows are helping hospitals increase efficiency and optimize patient care."
As the use of image-guided therapies continue to rise, new systems need to be easy and intuitive to use so clinicians can quickly and efficiently move through procedures.
Marco van Strijen MD, Interventional Radiologist, St. Antonius Hospital
Future of image-guided therapy
Azurion is Philips' next generation image-guided therapy platform and the new core of its integrated image-guided therapy solutions portfolio. Azurion supports a full range of configurations across a broad spectrum of image-guided therapy procedures. It helps physicians perform interventional procedures through an intuitive interface and easy-to-use controls for clinical image capture, decreasing procedure times and allowing for more accurate scheduling of patients. Additionally, Azurion makes it easier for staff to anticipate and see the information they need, when they need it, helping procedures flow more efficiently and easily.
Since its global introduction in February 2017, over 20,000 patients have been treated in 24 countries across the world. St. Antonius Hospital is the first of a series of hospital studies. In 2018 more hospitals worldwide will share results demonstrating Azurion's impact and benefits in improving clinical workflow and ultimately optimizing patient care.
"The success achieved was possible due to the deep and trusted partnership we have with Philips," said Wout Adema, member of the Santeon Procurement Board and Chief Financial Officer, St. Antonius Hospital. "The Azurion installation provided our interventional team the opportunity to evaluate our existing processes and standardize workflows. This helped us make tangible and significant operational improvements in the short-term, and fostered a continuous improvement culture amongst the team. The positive impact on patient and staff satisfaction further contributes to our reputation as a leading vascular institute."
Visit Philips at the RSNA 2017 Annual meeting
During the Radiological Society of North America's (RSNA) 2017 Annual Meeting, November 26 to December 2, 2017 in Chicago, attendees will have the opportunity to experience Azurion first-hand at the Philips booth #6735. Find out more online here or visit www.philips.com/labperformance to learn more about the study.
For further information, please contact:
Steve Klink
Philips Group Press Office
Tel: +31 6 10888824
Email: steve.klink@philips.com
Fabienne van der Feer
Philips Image Guided Therapy
Tel: +31 6-22698001
E-mail: fabienne.van.der.feer@philips.com
About Royal Philips
Royal Philips is a leading health technology company focused on improving people's health and enabling better outcomes across the health continuum from healthy living and prevention, to diagnosis, treatment and home care. Philips leverages advanced technology and deep clinical and consumer insights to deliver integrated solutions. Headquartered in the Netherlands, the company is a leader in diagnostic imaging, image-guided therapy, patient monitoring and health informatics, as well as in consumer health and home care. Philips' health technology portfolio generated 2016 sales of EUR 17.4 billion and employs approximately 73,000 employees with sales and services in more than 100 countries. News about Philips can be found at www.philips.com/newscenter.