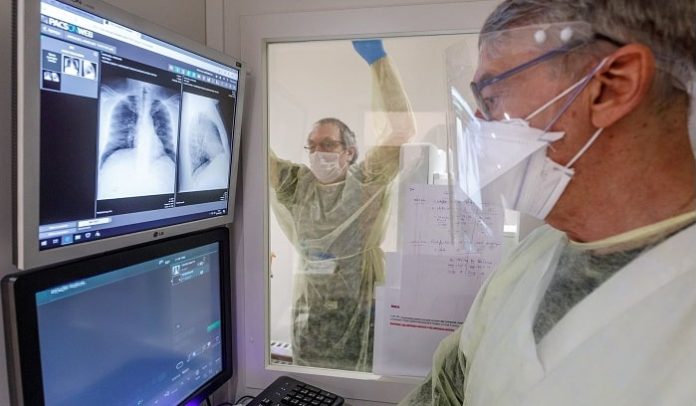 Zegami, the Oxford University data visualisation spin-out, has developed a new machine learning model using x-rays of Covid-19 infected lungs, artificial intelligence techniques and data visualisation tools that could help medical professionals identify Coronavirus cases more effectively, but also potentially help provide a better idea of potential outcomes for patients, and even lead to more effective treatments.
However, to reach its full potential, Zegami needs a huge supply of Covid-19 x-rays and details on treatments used for patients and the outcomes, so it has written an open letter to The Oxford Health NHS Foundation Trust, and the NHS as a whole, asking for these images and data, and offering its services in the fight against Coronavirus.
It believes it would only take a matter of weeks to have enough images of Covid-19 x-rays for its new platform to become usable as a diagnostic tool.
Zegami says its new model could not only help identify and differentiate Covid-19 cases more easily from other lung conditions such as  'bacterial pneumonia' and 'viral pneumonia', it could also help predict potential outcomes for patients by comparing their Covid-19 lung x-rays with other previous patients who had similar conditions, and what eventually happened to them based on different treatment options.
In developing its new platform, Zegami has initially used images of COVID-19 x-rays from the GitHub data initiative, which was launched by Joseph Paul Cohen, a Postdoctoral Fellow from Mila, University of Montreal.  He is looking to develop the world's largest collection of X-ray and CT images of Covid-19 infected lungs, to enable automated diagnosis faster and more accurately. 
To date, because the images used by Zegami give no details on what happened to the patients, its model can only help distinguish Covid-19 cases more easily from other lung conditions.  
Roger Noble, CEO and founder of Zegami said: "Covid-19 is a huge challenge, and technology should play a key role in defeating it. We believe the model we have developed cannot only be used to help identify cases of Coronavirus more quickly, with the right visuals and information loaded on to our platform and using data visualisation and AI tools, we can help identify potential outcomes for patients by comparing their cases with former patients who had similar conditions and learning what happened to them.
"However, to complete our project we need more data and visuals of Covid-19 x-rays and the treatments used for these case and their eventual outcomes, so we have written to the NHS asking if they would like to work with us on this project, and to see if they can provide the visuals and data we need.
"The model we develop could not only help our amazing NHS staff to make more informed decisions and potentially save lives, it could be shared around the world and play a role in helping to defeat Covid-19 on a global scale."
Zegami launched out of Oxford University in 2016.  It is currently exploring new ideas and making new discoveries for 35 clients and counting, across an ever-growing variety of sectors.