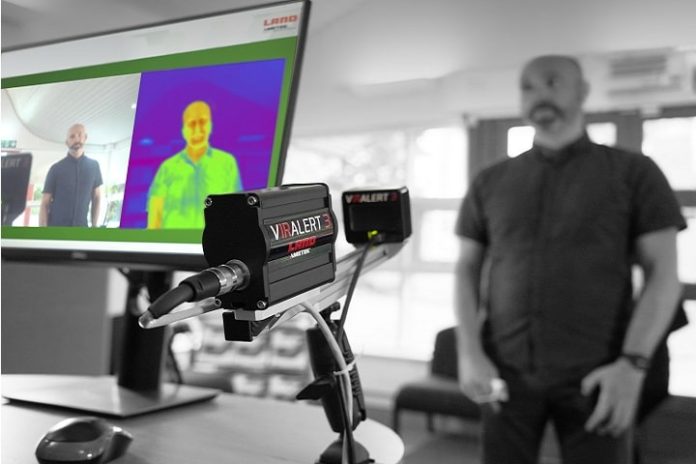 World-leading temperature monitoring expert, AMETEK Land, has launched a new human body temperature screening system to help prevent the spread of infectious diseases like COVID-19 in surgeries and healthcare facilities.
Developed over 10 years by AMETEK Land experts, the VIRALERT 3 provides real-time infrared thermal imaging from a safe social distance, scanning for elevated temperatures that could indicate infection.
VIRALERT 3 is the first of its kind, providing a camera and a temperature-controlled reference source on a single mounting. Using automatic face detection, it locates the best areas for temperature detection, taking a reading that's accurate to within 0.5oC, then calculating core body temperature through a rapid test procedure of approximately two seconds.
It is designed to screen visitors at an entry point without slowing the flow of people, scanning temperatures without any person-to-person contact, keeping both parties safe from disease transmission.
The VIRALERT 3 is easy to use and can be left to operate automatically, with audible and visual alarms alerting when high temperatures are discovered.
To ensure the highest levels of accuracy and reliability, it has a blackbody calibration source fitted on the same platform as the integrated thermal imager/visual camera. This makes for a compact system that won't get in the way of queueing people and can be easily wall-mounted.
The VIRALERT 3 builds on AMETEK Land's proven expertise in temperature technology. The company has been developing high-accuracy infrared measurement instruments since 1947 and has been creating human body temperature screening systems since responding to the SARS outbreak of 2003.
It provides an effective solution for scanning people entering hospitals, care homes and other healthcare facilities, while reducing the risk of anyone carrying an infection into critical care areas. The VIRALERT 3 can also be used for a wide range of other applications, including commercial areas; education facilities and public spaces; transportation entry points; offices and manufacturing locations; and sports and leisure sites.
Set-up is simple; with no complex software configuration required, the system can be up and running within 30 minutes of delivery.
About AMETEK LAND
AMETEK Land is the world's leading manufacturer of monitors and analysers for industrial infrared non-contact temperature measurement, combustion efficiency and environmental pollutant emissions.
Founded in the UK in 1947, Land Instruments International Limited developed a reputation for producing innovative, resilient measurement technologies designed to operate in the most challenging conditions.
In 2006, it was acquired by the Process & Analytical Instruments Division of AMETEK, Inc., a leading global manufacturer of electronic instruments and electromechanical devices with annual sales of approximately $5 billion. Today, AMETEK Land is the premium supplier of product application solutions to world industries including steelmaking, glass making, minerals processing, hydrocarbon processing and thermal power generation.
In 2003, it developed the Human Body Temperature Measurement System (HBTMS) as a response to the SARS epidemic of that year. This was followed by the original VIRALERT system in 2009, which has been refreshed and refined through development over a decade to create the VIRALERT 3 in 2020.
AMETEK Land continues to develop award-winning technologies that push the limits demanded by the ever-increasing technical requirements of global industry and meeting the challenges of a wide range of applications.