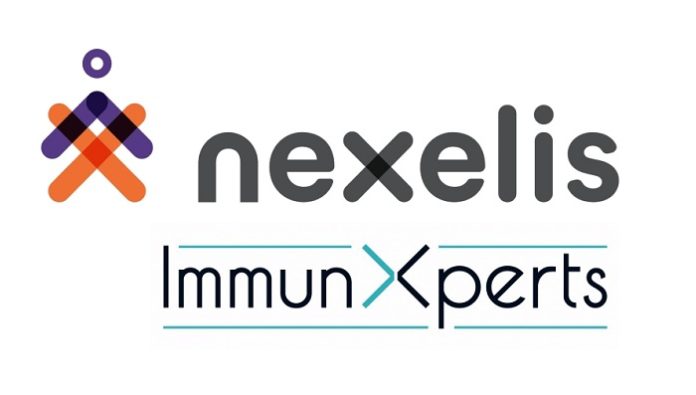 Nexelis, a portfolio company of Ampersand Capital Partners, and a leading provider of assay development and advanced laboratory testing is pleased to announce the signing of a definitive agreement, subject to conditions precedent, to acquire ImmunXperts. The closing of the transaction is expected by the end of March.
Based in the Brussels South Charleroi Biopark within the town of Gosselies, ImmunXperts has developed and performs a full offering of immunogenicity and immuno-oncology in vitro functional and potency assays. These assays help pharmaceutical and biotech sponsors screen, select and optimize lead compounds before the initiation of in vivo trials. The company, whose CEO is Thibault Jonckheere, was co-created in 2014 by immunology expert Sofie Pattijn, who serves as ImmunXperts CTO, and investors including Sambrinvest. Both Dr Pattijn and Mr. Jonckheere will continue in senior leadership roles at Nexelis.
"ImmunXperts' immunology testing expertise will help Nexelis more broadly serve the needs of our customers" said Benoit Bouche, Nexelis President and Chief Executive Officer. "Nexelis will now have an unrivaled ability to efficiently develop immunogenicity assays, qualify and validate them in a regulated environment, and then ultimately perform them utilizing our high-throughput platforms in support of clinical trials."
Sofie Pattijn and Thibault Jonckheere added "We are proud of ImmunXperts' achievements over the past five years and are grateful for the support obtained from our investors and partners, our employees, and the Wallonia region. We are excited to continue our growth trajectory as part of Nexelis and serve as a European hub for the company."
About Nexelis
With unrivaled expertise in immunology on both sides of the client/CRO relationship, Nexelis is a leading provider of assay development and advanced laboratory testing. Our versatile team of scientists, working with our advanced technology platforms, were instrumental in the development, qualification, validation, and large-scale sample testing of assays that supported the FDA filing of almost 100 new molecular entities, including blockbuster vaccines and soluble large molecules.
About ImmunXperts
ImmunXperts offers a wide range of in vitro immunology services with a strong focus on immunogenicity and immuno-oncology. The company helps biopharma companies select their best lead candidates by assessing all aspects of immune responses in donors and patients. Acting as a mobile development team, ImmunXperts complements its clients' expertise to deliver meaningful and potent screening tools.
About Ampersand Capital Partners
Founded in 1988, Ampersand is a middle-market private equity firm dedicated to growth-oriented investments in the healthcare sector. With offices in Boston and Amsterdam, Ampersand leverages its unique blend of private equity and operating experience to build value and drive superior long-term performance alongside its portfolio company management teams. Ampersand has helped build numerous market-leading companies across each of our core healthcare sectors, including Brammer Bio, Confluent Medical, Genewiz, Genoptix, Talecris Biotherapeutics, and Viracor-IBT Laboratories.
About Sambrinvest
Sambrinvest is a risk capital actor in the region of Charleroi in Belgium, with the objective to support the development of SMEs. Thanks to its expertise, it advises entrepreneurs at every development stage of their projects whilst respecting their management autonomy. Sambrinvest has been active for more than 30 years, with a specific focus on Biotechnology and Digital.