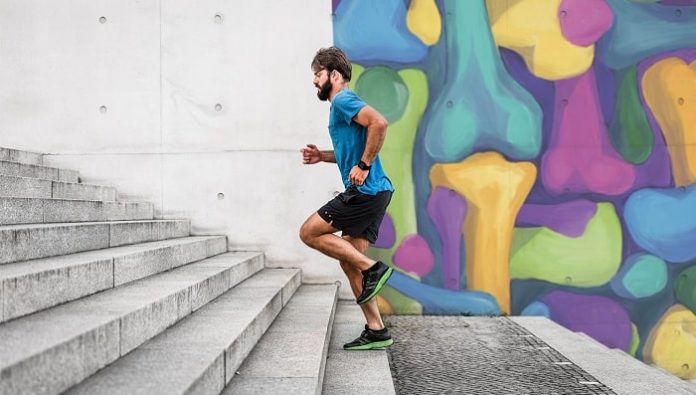 Nuffield Health Glasgow Hospital, part of the UK's largest healthcare charity, is the first independent hospital in Scotland to offer nSTRIDE ® , a single injection into the knee joint which is designed to alleviate pain and bring balance back to the patients inflamed knee by introducing high levels of good proteins concentrated from their own blood. These 'good proteins' can block the 'bad proteins' which are responsible for the inflammatory condition in the joint. Once balance in the knee joint is achieved, other 'good proteins' can then contribute to the health of the cartilage.
Clinical studies have shown a 70% improvement in knee pain. "These studies suggest one injection can last up to 24-36 months and more recently collected data has shown some patients even have pain relief for up to 5 years." Jennifer Woodell-May, Research Director, Zimmer Biomet Osteoarthritis is the most common type of arthritis in the UK, affecting more than 10 million people, often developing in in their mid-40's and older.
Osteoarthritis is damage caused to the knee joint over time. In a normal joint, cartilage provides cushioning between bones, as wear or a traumatic event occurs, the cartilage layer can become thinner or frayed resulting in knee pain. Over time, pain increases as cartilage wears away and bones rub against each other. Osteoarthritis negatively impacts quality of life through pain, limited ability, potentially reducing an individual's ability to work or pursue their hobbies.
A personalised patient care plan at Nuffield Health Nuffield Health Glasgow Hospital will include access to our joint pain rehabilitation programme, physiotherapy appointments, and follow up with a specialist consultant.
Julie Campbell, Hospital Director at Nuffield Health Glasgow Hospital says: "People who are not suitable for knee surgery, but whose lifestyle is severely impacted by osteoarthritis may benefit from this new treatment and personalised care plan which connects to our rehabilitation services. It is fantastic news that Nuffield Health Glasgow Hospital is the first hospital in Scotland to offer this treatment and I am delighted that the multidisciplinary team have worked together to launch this new outpatient service."
Mr Jibu John Joseph, Consultant Orthopaedic Surgeon at Nuffield Health Glasgow Hospital says: "For many years patients with mild-to-moderate osteoarthritis have had to suffer from symptoms (pain) and functional restriction without the possibility of a suitable treatment. nSTRIDE®APS is a revolutionary treatment that utilises your own blood to generate a sample of anti-inflammatory proteins and growth factors that helps restore the balance between cartilage generation and degeneration within your joint. nSTRIDE®APS has been shown to provide significant (70 %) pain relief in the majority of patients (50 – 70 %) of patients for a period of up to 3 years (in current studies some even have pain relief up to 5 years). This is significantly greater than the reported benefits of other injections, such as: corticosteroids (up to 3-month effect, damaging effects on tissues); hyaluronic acid (synthetic lubricant, < 50 % response, 3 – 6 month effect); PRP (platelet rich plasma, 50 % response, variable data on magnitude of benefit, 3 – 12 month effect)."
About Nuffield Health
Nuffield Health is the UK's largest healthcare charity. For the last 60 years, Nuffield Health's experts have been working together to make the nation fitter, healthier, happier and stronger, all for the public benefit. As an organisation with no shareholders, income is invested back into the vision to build a healthier nation.
Nuffield Health Glasgow Hospital, located in the heart of the West End of Glasgow is one of Scotland's leading private hospitals. We recently completed phase two of our multi-million-pound refurbishment, adding state of the art equipment like our MAKO robotic arm for orthopaedic surgery and a new MRI scanner and scanning suite. We have a special focus in the areas of orthopaedics, spinal surgery, men's health, ophthalmology, weight loss surgery and cosmetic treatment.
The Charity does this through its day-to-day services across 37 hospitals, 113 fitness and wellbeing clubs, healthcare clinics, and over 200 workplace wellbeing services, and through flagship programmes to support communities by widening access. Through these flagship programmes, we aim to help to improve people's lives people who normally would not have access to Nuffield Health's services. One of these flagship programmes is developing the UK's first specialist rehabilitation programme to support patients in their recovery after they have received medical treatment for COVID-19. The programme, which blends together physical therapy and mental health support, works with local NHS trusts and referrers is now running at 57 of our fitness and wellbeing centres across the UK, including our Glasgow and East Kilbride gyms.
Our patients work with a rehabilitation specialist for personalised advice and on a recovery plan, consisting of a six-week virtual programme of at home exercises, before moving to one of our fitness and wellbeing centres. We will share the outcomes with the NHS and other healthcare providers.
Nuffield Health provides connected care spanning from personal training and health MOTs to supporting people on their fitness journeys, helping patients recover with physiotherapy or emotional wellbeing counselling, or providing hospital treatments for illness and serious conditions like arthritis or cancer.